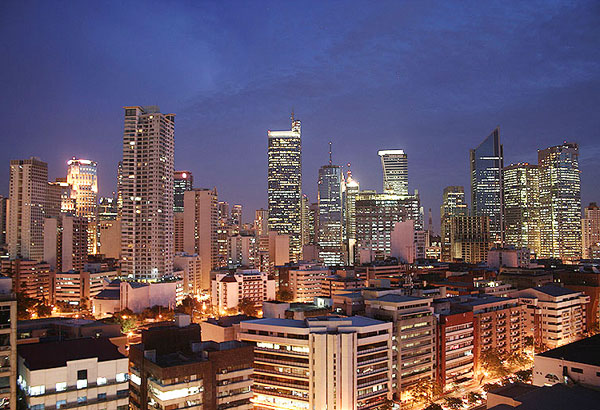 In a report released yesterday, the PSA said growth in the fourth quarter was slower than the revised seven percent expansion in the third quarter and flat from the fourth quarter of 2016, the tail end of an election year. Economic expansion for full year 2016 registered at 6.9 percent. File
Philippine economy expands by 6.7% in 2017; 3rd fastest in Asia
(The Philippine Star) - January 24, 2018 - 12:00am
MANILA, Philippines — The Philippine economy expanded by 6.6 percent in the fourth quarter to close 2017 with a full year growth rate of 6.7 percent, falling within market expectations and still among the fastest in Asia, data from the Philippine Statistics Authority (PSA) showed.
In a report released yesterday, the PSA said growth in the fourth quarter was slower than the revised seven percent expansion in the third quarter and flat from the fourth quarter of 2016, the tail end of an election year. Economic expansion for full year 2016 registered at 6.9 percent.
The economic growth in 2017 trailed China's 6.9 percent and Vietnam's 6.8 percent expansion during the same period.
Socioeconomic Planning Secretary and National Economic and Development Authority (NEDA) director general Ernesto Pernia said the fourth quarter growth is still considered a solid economic performance considering there is a traditional slowdown in expansion after an election year that sets a high base for growth.
"To me this is a good performance, given the fact that it is already normal for post-election years to witness a decline in economic growth," he said in a briefing yesterday.
On the supply side, a turnaround was seen in the agriculture and fisheries sector which registered a growth rate of 2.4 percent in the fourth quarter of the year, reversing a negative 1.3 percent growth in the same period the prior year.
Industry rose at a steady although slower pace of 7.3 percent in the last quarter of 2017 compared with a growth of 7.9 percent in the comparative period the previous year. Growth was steady in subsectors such as mining and quarrying and manufacturing.
The services sector likewise grew at a slightly slower pace of 6.8 percent in the fourth quarter from 7.2 percent the previous year, mostly supported by transport and communication, trade, as well as public administration, defense and social security.
On the demand side, growth was driven by government spending which rose 14.3 percent in the last quarter of 2017 from 4.3 percent the previous year as greater resources were spent for hiring new state employees and provision of bonuses. Expenditure in relief works and operations in Marawi and payment of completed ASEAN-related events contributed to the expansion.
"This is very much in line with the government's commitment to timely delivery of public services and social protection programs, including assistance to victims of typhoons as well as in the Marawi conflict, public scholarship programs and health expenditure programs," Pernia said.
"Government consumption is also set to expand, following higher salaries of government personnel in line with the third tranche of the Salary Standardization Law," he added.
Household consumption rose slightly slower at 6.1 percent in the fourth quarter from 6.2 percent in the same period in 2016. Growth was faster in housing, water, electricity, gas, as well as household furnishing and equipment. Slower consumption of alcoholic beverages and tobacco, meanwhile, were seen during the period.
Construction activities carried out by the private sector, meanwhile, grew significantly slower in the fourth quarter of 2017 at 2.9 percent compared with 9.3 percent in the comparative period the previous year.
NEDA officials attributed the slowdown in private construction activities to a mixture of factors such as near saturation of the market for office spaces, smaller floor area of residential units built, and the natural business cycle for the industry.
"It's possible that it reflects the impending glut of office space for BPOs for example," Pernia said.
NEDA Undersecretary for policy and planning Rosemarie Edillon said private construction activities may be following the natural course of business cycle in which it undergoes normalization after hot activity.
"We have observed that private construction usually follows a cycle and it's been very, very strong particularly last year and early this year and so it's actually part of a normalization of the business cycle," she said.
National Statistician Lisa Grace Bersales said it may also have to do with the fact that smaller office and residential units are now being built compared with before.
Public construction spending, on the other hand, registered a steep growth of 25.1 percent, from 19.2 percent growth in 2016.
"This keeps the overall construction growth in positive territory, which is a boost in line with our Build Build Build program," said Pernia.
Also on the expenditure side, external demand improved with growth in exports of goods rising 20.2 percent in the fourth quarter of 2017 from 12.8 percent in 2016. This offset the slowdown in the exports of services which registered a slower growth of 12.6 percent from 15.7 percent the prior year.
Pernia attributed the slowdown in the exports of services to the weakening of the business process outsourcing (BPO) industry which continues to churn out lower value services.
"We must note that a major contributing factor to this decline was miscellaneous services, which includes the BPO industry – business processing outsourcing. We can take this as an indication that the current market profile of the BPO sector is ripe to move into higher value added services," he said.
Pernia said government expenditure would continue to be a key driver of the economy in line with its Build Build Build program.
"The Build Build Build program, of course, will continue its momentum in providing more opportunities to our country such as investments, job creation, connectivity, and dependable delivery of public services," he said.
"At the core of the program are 75 high-impact infrastructure flagship projects that represent the major capital undertakings of the government, which will be implemented within the medium-term. This includes transport, energy, irrigation and water supply projects to promote growth centers outside the urban-industrial region centered around Metro Manila," he added.
He expressed confidence that growth this year would range between seven to eight percent as domestic demand picks up as more take home pay is placed in the hands of workers.
"In the next quarter, we see the domestic demand picking up as household consumption will likely improve, following the recently approved tax reform package, which will result in higher take home pay for 99 percent of Filipino taxpayers. Household consumption is also seen to benefit from expanded employment opportunities from the Build Build Build program," Pernia said.