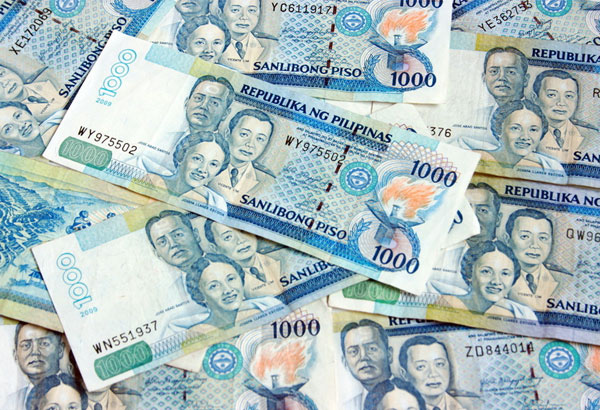 The government is set to borrow P889.7 billion from local and foreign lenders in 2018 to plug the budget shortfall, the Bureau of the Treasury said yesterday. File
Government set to borrow P889.7 B in 2018
MANILA, Philippines - The government is set to borrow P889.7 billion from local and foreign lenders in 2018 to plug the budget shortfall, the Bureau of the Treasury (BTr) said yesterday.
In an interview, National Treasurer Rosalia de Leon said the amount is 22.27 percent higher than the P727 billion revised debt ceiling for 2017.
The borrowing program for 2017 was originally set at P631.3 billion, but was revised by the Development Budget Coordination Committee (DBCC).
The borrowing program for 2018 was raised to accommodate the Duterte administration's plan to widen the budget deficit to three percent due to its massive infrastructure and human capital spending program.
"Because we are working here on a three-percent deficit. Last year it was about 2.4 percent, a much lower deficit. But this is really the program assuming a three-percent deficit for next year," De Leon said.
The Treasurer said the government will be maintaining its 80:20 borrowing mix in 2018, with P711.78 billion to be sourced from domestic lenders, and P177.94 billion from external creditors.
De Leon also did not specify if the revised borrowing plan for 2017 already takes into consideration the maiden panda bond issuance or yuan-denominated being eyed by the government for the second half.
"We still have to see the emerging developments in the panda market so we have not really definitely said that we will go to the panda market. It will be a maiden issuance so we have to learn the process and learn the market more and make sure that whatever rates we get will also be competitive for the secondary rates of our issuances right now," she said.
The Duterte administration is planning to embark on an extensive public spending program to accelerate infrastructure development and invest in human capital development in the country.
To achieve this, the government has raised it budget deficit ceiling from two percent to three percent over the medium term.