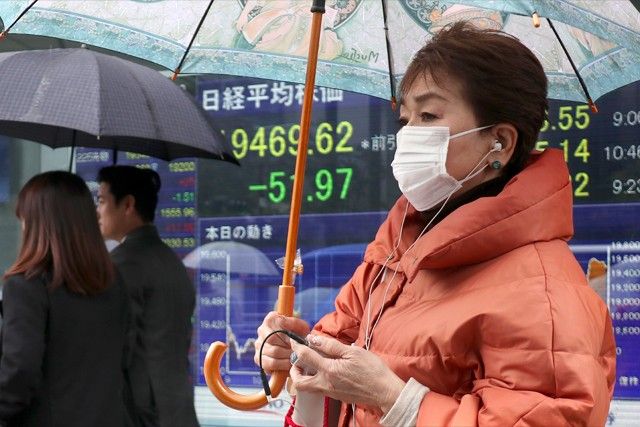 People walk past an electronic stock indicator of a securities firm in Tokyo, Tuesday, March 21, 2017. Asian shares were mixed in lackluster trading on Tuesday, as markets searched for a dominant theme, weighing currency fluctuations, signs of growing protectionism and other uncertainties.
AP/Shizuo Kambayashi
Asian shares tumble on jitters over Trump reform agenda
SEOUL, South Korea — Shares fell in Asia on Wednesday, with Tokyo tumbling more than 2 percent, after U.S. stocks took their biggest loss in five months. The sell-off overnight on Wall Street was spurred by legislative obstacles to a health care bill backed by President Donald Trump that also raised questions over prospects for his agenda of boosting growth by cutting taxes and regulations.
KEEPING SCORE: Japan's Nikkei 225 stock index fell 2.1 percent to close at 19,041.38 and Hong Kong's Hang Seng index dropped 1.4 percent to 24,242.17. Australia's S&P ASX 200 lost 1.6 percent to 5,684.50. South Korea's Kospi lost 0.5 percent to 2,167.14 and the Shanghai Composite index fell 0.6 percent to 3,241.62.
ROUT ON WALL STREET: Banks plunged as bond yields fell, implying lower interest rates on loans. Transportation companies including airlines, railroads and rental car companies dropped. So did materials companies like steel and chemicals makers and small-company stocks that stand to benefit the most from Trump's policy proposals of lower taxes and looser regulations. The Standard & Poor's 500 index tumbled 1.1 percent to 2,344.02, its biggest drop since Oct. 11. The Dow Jones industrial average also lost 1.1 percent, to 20,668.01. The Nasdaq composite shed 1.8 percent to 5,793.83. Four-fifths of the stocks on the New York Stock Exchange fell.
HEALTH CARE AGENDA: The U.S. House of Representatives is scheduled to vote Thursday on the Republican-backed American Health Care Act, but it's not clear if the House or the Senate will approve the bill.
ANALYST'S VIEWPOINT: "As this market correction extends, investors may now get an answer as to just how much current stock valuations are actually dependent on the assumed boost from the Trump administration's plans for fiscal stimulus, or whether recent gains have been mainly about improvements already evident in the US and other economies," Ric Spooner, chief market analyst for CMC Markets, said in a commentary.
JAPAN TRADE: Japanese shares sank after the U.S. dollar weakened against the yen, potentially hurting earnings of exporters. The government's report that Japan's trade surplus more than doubled in February from a year earlier as exports to Asia surged failed to make up for the yen's gains, which inevitably drive shares lower.
ENERGY: Benchmark U.S. crude lost 34 cents to $47.90 a barrel in electronic trading on the New York Mercantile Exchange. It fell 67 cents to $48.24 a barrel on Tuesday. Brent crude, used to price international oils, fell 27 cents to $50.69 a barrel. It closed down 66 cents, or 1.3 percent, to $50.96 a barrel in London.
CURRENCIES: The dollar slipped to 111.44 yen from 111.72 yen. The euro gained to $1.0816 from $1.0810.
___
AP Markets Writer Marley Jay contributed to this report. He can be reached at http://twitter.com/MarleyJayAP
His work can be found at http://bigstory.ap.org/journalist/marley-jay