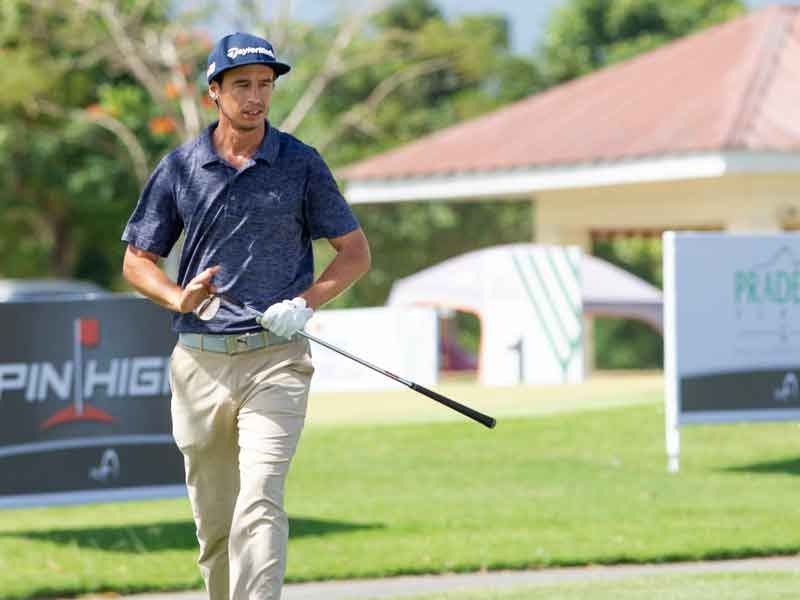 Wild finish up in ICTSI Pradera Verde Classic
LUBAO, Pampanga, Philippines – Putting on a surface that continued to bedevil the games of the contenders but which he likened to the ones in Japan, Toru Nakajima buried delicate putts and came away with five birdies, producing the first bogey-free round of 67 and putting him on the cusp of a victory in his first Philippine Golf Tour Asia event here yesterday.
But Spain's Marcos Pastor charged back late with three birdies in the last seven to fire a 69 and force a tie in another day of changing fortunes, going low on a course that continued to produce big numbers, setting the stage for a thriller of a finish to the ICTSI Pradera Verde Classic.
Nakajima's flawless touch hauled him from 15th to a share of the lead at 212 with Pastor but a host of others stood just a stroke, two or three behind, ensuring a scrambling finish in the $100,000 event which serves as the penultimate leg of the milestone third season of the region's emerging circuit.
Tony Lascuña likewise stepped up his bid in moving day, banging in a pitch-in eagle on the closing par-5 18th to spike a 69 and grab a share of third with erstwhile joint leader Joe Knox of England, who held on to the lead despite a three-birdie, three-bogey effort before settling for pars in the last two for a 72, paving the way for a new set of leaders to show the way in the penultimate leg of PGTA's third (2019-20) season after back-to-back defending champion Jhonnel Ababa, Dutch Guido Van der Valk, Aussie Jack Lane-Weston and Clyde Mondilla wrested control Tuesday.
"The greens are fast, sloping, very much like in Japan," said Nakajima, who became the first foreign player to win in the PGT when he humbled Cassius Casas and Jay Bayron in sudden death in November 2013 at Wack Wack. He, however, struggled in the succeeding seasons then went back to Japan the last two years where he posted not-so favorable finishes.
He decided to resume his campaign here, saying: "because the golf courses are beautiful and I like it."
But he struggled with his long game in his first PGT Asia event and limped with a 75 Tuesday before settling down with a 70 and then flashing superb putting touch to birdie Nos. 1, 9, 12, 15 and 16.
"No three putts. Winds strong but didn't bother me, I just go on and play," added the 35-year-old shotmaker from Tokyo. "I'll just enjoy my game and go for it if there's an opportunity (today) because it's my dream (to win again)."
Nakajima actually bested Lascuna and Mondilla in one of the featured flights, then said in jest: "It was like a championship flight" before breaking out in a grin.
He hopes to flash that winning smile today.
But Pastor also put himself in strong contention from joint seventh with that strong finish and hoped to sustain his charge in a bid to finally joint the elite circle of PGTA winners.
"I played pretty well," said the 30-year-old ace from Cordova, who considers the county his second home. "I played nine tournaments last year and got eliminated just once."
But Lascuna and Knox stood just a stroke behind at 213, the same output put in by pint-sized Rupert Zaragosa, the most consistent among the contenders with a third straight 71, and Keanu Jahns, who shared the halfway lead with Knox, recovered from a bogey-double bogey misfortunes from No. 2 and saved a 73 to stay within striking distance at 214 with Ira Alido, who blew a two-under card after 11 holes with two bogeys in the last seven for a 72.
"I was just lucky to hole out with that eagle. Now, I feel good about my chances," said Lascuna
Reymon Jaraula, who scored his maiden win on the PGT at Pueblo de Oro in a playoff over Lascuna last September, pulled within two with a four-under card after 14 holes but bogeyed the next and settled for a 69 for joint eighth at 215.