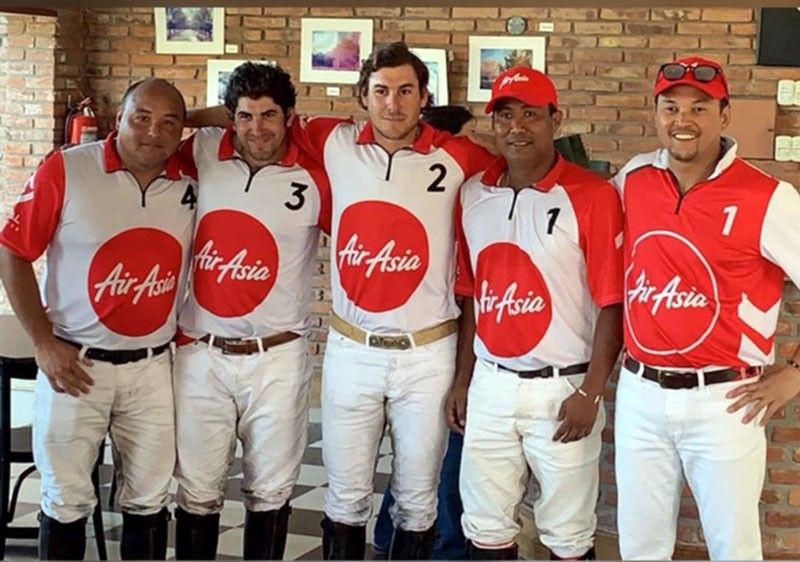 Rep. Mikee Romero with polo teammates Coco Garcia, Mariano Obregon, Facundo Obregon and Noel Vecinal in Argentina.
But Won't Miss Sea Games
MANILA,Philippines — Rep. Mikee Romero took a bad fall during polo practice in Argentina recently and couldn't walk for two days but it won't stop him from playing for the country at the Southeast Asian (SEA) Games.
Romero and the Philippine team trained in Argentina for two weeks to prepare for the SEA Games where polo action begins in the 4-6 high goal event at the Miguel Romero and Inigo Zobel fields in Calatagan, Batangas, on Nov. 24. The championship match and playoff for third in the first of two events will be on Dec. 1. Matches in the 0-2 low goal event will start on Dec. 3 and end on Dec. 8. The Philippines, Brunei, Indonesia and Malaysia are vying for two gold medals in polo.
Romero, founding member of the Philippine National Federation of Polo Players, came from training in Chicago before joining his teammates in Argentina for the final push. Aside from riding with the Philippine team in Argentina, Romero played in a high goal invitational competition at La Canada Polo Club. He suffered the fall in practice before the La Canada final which his team, carrying the Air Asia colors, won in Pilar, a city in the Buenos Aires province. The championship squad included the Obregon brothers Mariano and Facundo of Argentina and Filipinos Anthony (Coco) Garcia and Noel Vecinal. Romero said the Air Asia team will play in the 2021 US Open high goal tournament which he described as "one of the highest levels of polo and most expensive."
Romero was thrown off his horse at practice. "The accident was quite serious," said Romero before leaving Argentina for the flight back home last Tuesday. "I couldn't walk for two days. Eventually, my therapist worked a miracle. I rolled twice in the air and four times on the ground. My horse hit my side, too. Luckily, hindi ako natapakan. My back and hips were hit hard. When I got up, I couldn't walk straight. My PT worked me up every day but it was still painful. I have to take an X-Ray once I return to Manila."
Regardless of the X-Ray findings, Romero said he'll play in the SEA Games. "Even if I can't walk, I'm playing in the SEA Games," he said. "It's my first SEA Games and probably my last. I went to Argentina to train with the Philippine team and also played at the La Canada Invitational which was a testing or tryout for the 2021 US Open. My accident happened before the Pilar final so I couldn't play. My teammates are world-class so we ended up winning the championship anyway." In the SEA Games, Romero said the Philippines will be ready to win for sure.
SEA Games polo competition manager Camila Lastrilla said the draw to determine the pairings will be held at the welcome dinner on Nov. 23. At the moment, the official entries of each country by name have not been released. But Romero said Brunei will be represented by an all royalty team and Malaysia will compete with one royalty player.