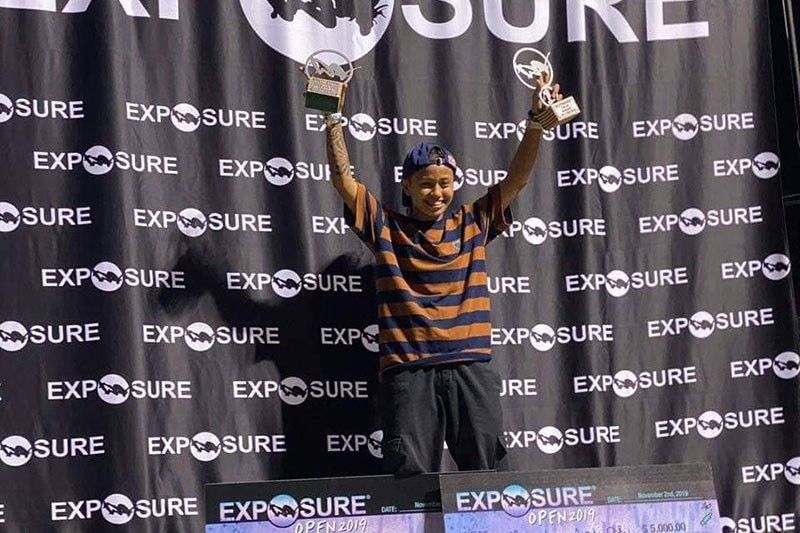 Didal strikes twice in California
MANILA, Philippines — Margielyn Didal has further cemented her status as the heavy favorite in the upcoming 30th Southeast Asian Games after dominating two separate international skateboarding events over the weekend in California, USA.
The 20-year-old Filipina skateboarding sensation dazzled in the Exposure All-Women's Skateboarding Championships held in Huntington Beach, copping the best trick and 15-above division of the street skate battle.
Didal, a gold medalist in last year's Asian Games, prevailed over Georgia Martin of the US and Itzel Granados Flores of Mexico.
The pride of Cebu also reigned supreme in the Ladies Day Skate, winning the best trick over Japan' Kaya Isa in another skating event held at The Berrics in Los Angeles for a twin-kill that kept her on track for a gold medal finish in the SEA Games and qualification to the Olympics. For her twin victories, she won $10,000.
This overseas brilliance definitely thrilled Skateboarding and Roller Sports Association of the Philippines president Monty Mendigoria who has strong confidence in the chances of Didal and the rest of the national squad in dominating the biennial meet set Nov. 30-Dec. 11 here.
"We are looking for a sure gold medal win for Margie," said Mendigoria on Didal, who is bound to win two of eight gold medals at stake in the skateboarding competition to be held at the new skating park in Tagaytay City.
Didal, who will compete in the women's street and game of skate event of the SEA Games, however, has her sights set on the upcoming Olympic qualifiers this month before going home midway through this month in time for the biennial meet.
Along with fellow national team members Daniel Ledermann and Jericho Francisco, Didal will vie in the OI STU Open Street/Park Skateboarding in Rio De Janeiro, Brazil on Nov. 11-17. It is a 5-star qualifying event for the 2020 Olympics in Tokyo.
Earlier this year, Didal placed fifth in the prestigious Street League Skateboarding World Tour, which is the highest finish for a Filipino skateboarder in history.
She was also named one of the 25 most influential teens last year after a scintillating run in the Asian Games where she won the gold medal at 19 years old.