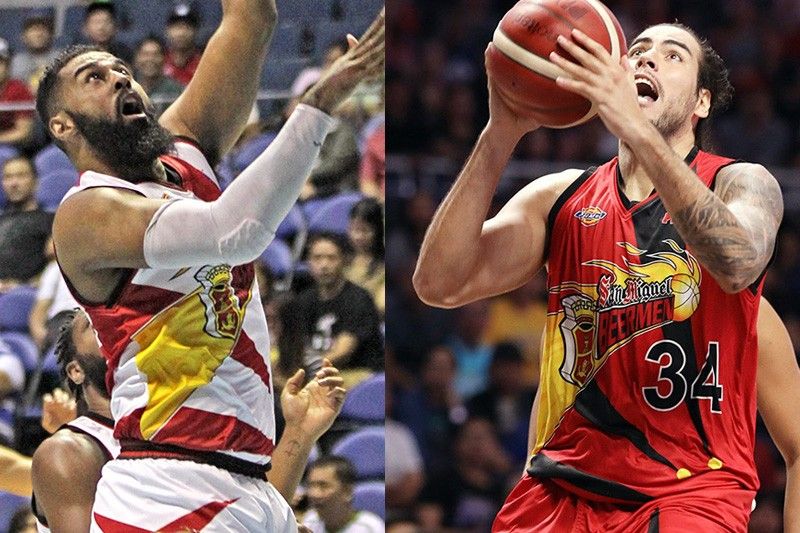 Moala Tautuaa and Christian Standhardinger
'Stand' faces former SMB pals
Olmin Leyba
(The Philippine Star) - October 23, 2019 - 12:00am
MANILA, Philippines – Nine days after swapping marquee big men, San Miguel Beer and NorthPort mix it up in an explosive PBA Governors' Cup battle that may serve as a gauge as to who benefitted more from the blockbuster Christian Standhardinger-Moala Tautuaa exchange.
Tautuaa already made his debut for SMB (5-1) in the Beermen's 113-107 victory over Columbian Dyip last Sunday, delivering 10 points and five rebounds in over 19 minutes, and he looks forward to taking on his former Batang Pier teammates (2-4) in tonight's 7 p.m. tussle at Cuneta Astrodome.
Standhardinger, depending on the status of his hurting left knee, may see action for the first time for NorthPort, along with its new import, former G-League campaigner Michael Qualls.
"I know what that team (NorthPort) is capable of so we have to come out strong and hard. I wanna win, that's what my team needs and that's what I wanna do," said Tautuaa, whose new squad can take solo second if it hurdles his old buddies at NorthPort.
"I will try to play. It's going to be fun out there competing. Let's hope that it works and if it bothers me, I will sub myself out. Coach (Pido Jarencio) told me that if you wanted to be subbed out, just let me know. I like it that way, I can give my best. I'm appreciative of that," said Standhardinger, who expects more playing time at NP.
Meanwhile, eighth-running Blackwater (2-4) and No. 10 Rain or Shine (1-5) hit the court at 4:30 p.m in a battle of struggling teams out to inject life into their respective quests.
"Five games remaining, we have to make our move. It's tight in the lower rungs of the standings and we want to get out of that, especially with tougher opponents coming up," said Elite coach Aris Dimaunahan.
Needing to sweep their last five assignments to salvage a quarters seat, the E-Painters have brought in former NLEX reinforcement Kwame Alexander in place of Kayel Locke.