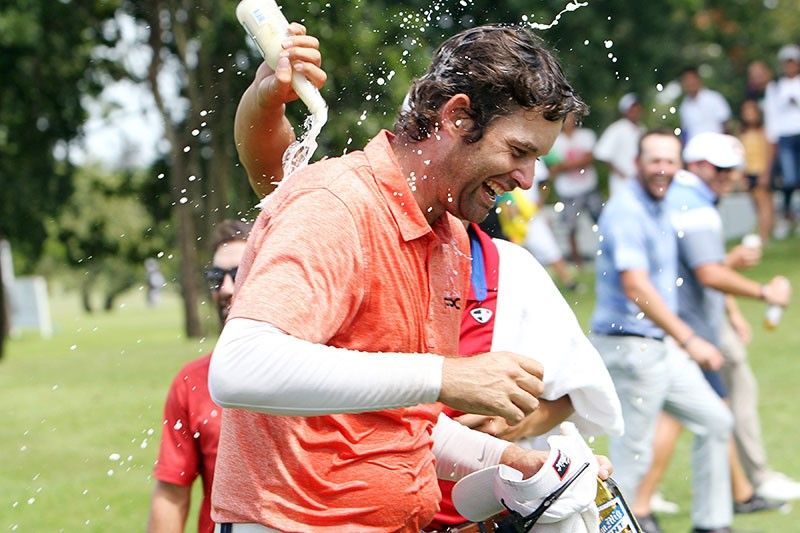 A douse from pals washes away years of frustration for new champ Tim Stewart.
Stewart finally crowned champion after 76 tries
TARLAC, Philippines — Tim Stewart washed away 11 years of frustration in a creepy escape from his own undoing, foiling Clyde Mondilla with a routine par in sudden death to claim the ICTSI Central Azucarera de Tarlac Open crown here yesterday.
In a bizarre finish in regulation, the tall Aussie cracked under pressure and squandered what had appeared to be big three-stroke lead with two holes to go but recovered his bearing in time to salvage the victory, his very first in 76 tournaments around the globe, including 26 on the Philippine Golf Tour and PGT Asia.
"Finally, I made it," said Stewart, visibly relieved after saving himself from what could've been the biggest embarrassment in a pro career spanning 11 years. "This is sweet. I couldn't ask for more."
But that's not after he turned what had appeared to be a trouble-free romp into a scary triumph that saw him blow a three-stroke lead after No. 16 with a bogey-double-bogey finish for a 72, enabling Mondilla to force a playoff at 15-under 273 after the latter charged back with an eagle-aided 66.
But in a sudden twist of fate, Stewart came out the victor with a two-putt par in their return trip to the par-4 18th and Mondilla the vanquished after barely hitting the green and flubbing a par putt from five feet that would've extended the match in a fitting ending to a week of uncertainties despite the former threatening to blow the field away with three straight 67s to post a huge four-stroke lead over Guido Van der Valk after 54 holes.
But the 34-year-old Stewart, who received the replica of the check worth $17,500 from ICTSI Public Relations' Jupiter Kalambakal and Luisita club manager Jeric Hechanova, said he won't be vying in next week's ICTSI The Summit Point World 18 Challenge in Batangas next week for a three-week break in the US.
Stewart's 15-under total also bettered the previous best of 14-under output put up by James Ryan Lam in ruling this event last year with the victory also erasing the stigma of a number of failed bids, including a pair of near-misses in the Luisita Championship of the PGT.