Mayweather lights up Boracay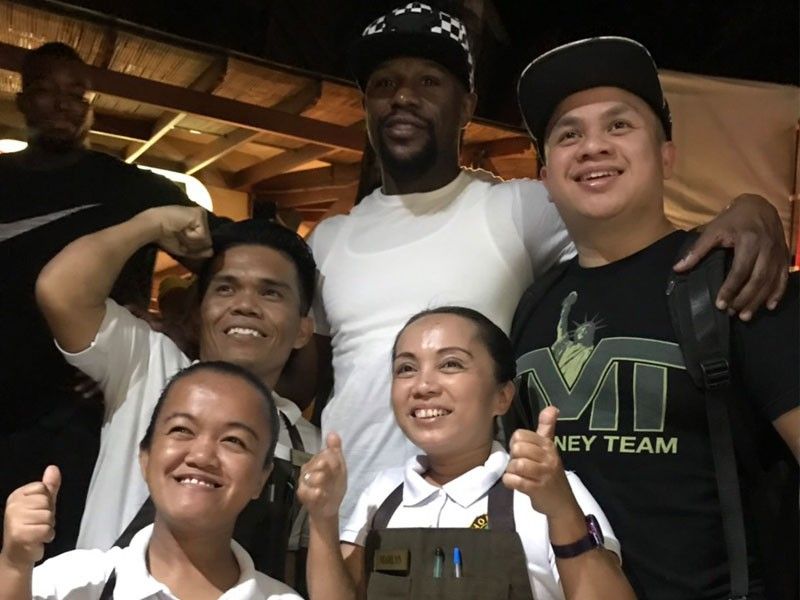 MANILA, Philippines – Floyd Mayweather Jr. walked the beach, shot hoops and mingled with the crowd as the retired boxing superstar spent his first day in beautiful Boracay.
He arrived in Manila at 3:30 a.m. Sunday. After a brief rest, he boarded his private plane and headed to the famous island paradise.
Mayweather flew in from Maldives, and was met by his Filipino hosts led by businessman Lester Codog at a private hangar.
By mid-morning, he was in Boracay.
It's Mayweather's first visit to the island known for his white, powdery sands, and clear waters. He flies back to Manila on Tuesday.
According to Wendell Cunanan, one of Maywether's hosts, the 42-year-old superstar is enjoying his stay in Boracay.
Mayweather is billeted at Movenpick Resort and Spa, a five-star hideaway nestled on the northern tip of the island's Punta Bunga Cove.
In the evening, Mayweather and his entourage walked the five-kilometer beachfront from his hotel in Station 1 all the way to D'Mall.
ATM: @FloydMayweather taking a stroll around D'Mall in Boracay. pic.twitter.com/60rxxc93fc

— Philstar Sports Hub (@StarSportsHub) March 31, 2019
Mayweather drew all the attention and fans watched his every move. He shot hoops in an arcade-type basketball court.
Later on, the richest athlete in history and his Filipino videographer, James Dayap, had a picture taken with the famous staff of Hobbit House Boracay.
He also joined members of the Philippine National Police SWAT unit for a souvenir shot.
A meeting with Filipino senator and reigning WBA welterweight champion Manny Pacquiao is not in the agenda of Mayweather, according to insiders.
.@FloydMayweather shooting hoops at D'Mall in Boracay. pic.twitter.com/qKe5VEzFlM

— Philstar Sports Hub (@StarSportsHub) March 31, 2019
It will only happen when it happens.
Thousands of miles away, Floyd Mayweather Jr. told Ivsportsnetwwork.com that his son might come out of retirement to face Pacquiao in a rematch of their 2015 encounter.
It was reported many times the past few months that Pacquiao and Mayweather may fight this year.
Cunanan said he texted Pacquiao of Mayweather's arrival.
Pacquiao acknowledged the text but did not say anything more than "Thank you."
It's the second time Mayweather is in Manila. The first one was in May last year. It was for business.
Mayweather plans to spend a couple of days in Boracay before heading back home. The last time he was in the country, he visited Palawan. In Metro Manila, he went mall-hopping.
This time, he wanted to see Boracay.