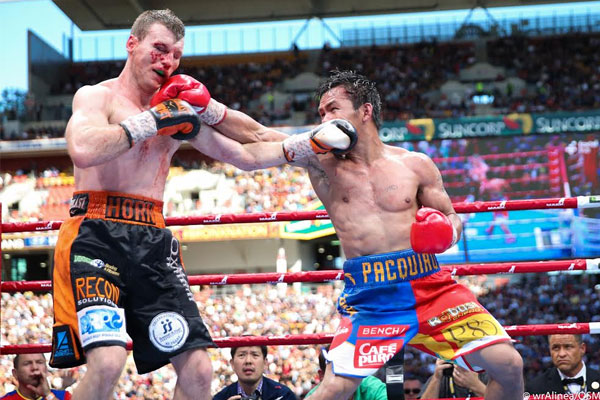 Manny Pacquiao lands a right hand to Jeff Horn's jaw during their WBO welterweight title fight at the Suncorp Stadium in Brisbane, Australia on Sunday. | Wendell Rupert Alinea
Pacquiao says no to Horn rematch, blasts Aussie boxer's camp
MANILA, Philippines — Manny Pacquiao has ruled out a rematch with Jeff Horn, saying the burly Australian already blew his chance.
Just a day after Pacquiao routed Adrien Broner, Horn's promoter, Dean Lonergan of Duco Events, called out the Filipino icon to agree to a sequel to their 2017 clash.
"In his last five fights, Manny Pacquiao has only been beaten once, by Jeff Horn. Given Pacman's last two fights, a destruction of (Lucas) Matthysse and an easy win over Broner, Manny has shown he has plenty of gas left in the tank. It also shows that Jeff horn didn't beat an old Manny Pacquiao," said Lonergan.
But Pacquiao, who controversially lost to Horn, is hardly interested.
"Let them be," the reigning WBA welterweight champion told a select group of Filipino sportswriters at his Senate office Wednesday.
"I kept asking him for a rematch to no avail. They avoided me and fought in America," added Pacquiao, referring to Horn's decision to take on welterweight star Terence Crawford last September in Las Vegas.
Horn ended up getting stopped by the vastly superior Crawford to win the WBO welterweight title, which Horn interestingly took from Pacquiao when he upset him in Brisbane.
When Pacquiao knocked Lucas Matthysse out to become the WBA welterweight champion, Horn again came knocking on his door.
"Then when I won a belt and he lost, he's challenging me again. But when I challenged him right after I lost to him, nothing. He wouldn't fight me," Pacquiao continued.
Now Pacquiao, who is eyeing a May or July ring return, is looking at Premier Boxing Champions' wealthy stable of welterweight stars for his next opponent.
Horn, for his part, can kiss goodbye his hopes for another shot at Pacquiao — and the lucrative payday that goes with it.