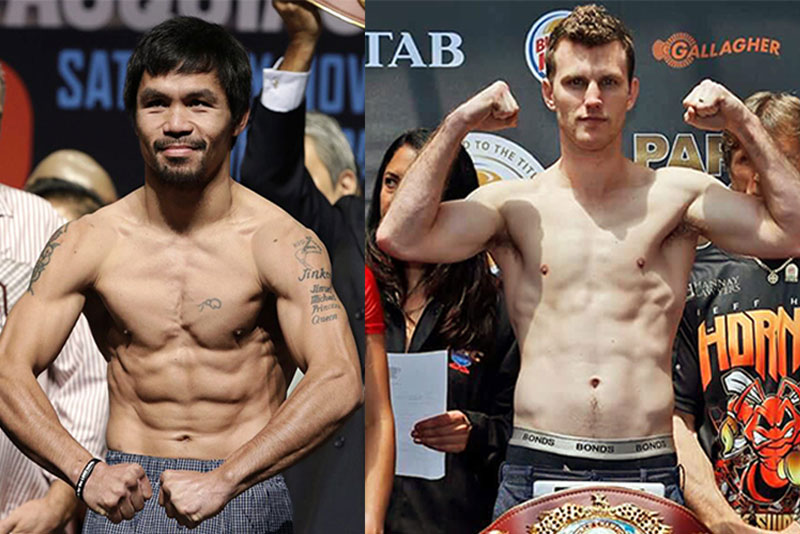 Manny Pacquiao and Jeff Horn
Horn's promoter calls out Pacquiao
LAS VEGAS – Jeff Horn's promoter dared Manny Pacquiao to agree to a rematch following the Filipino icon's dominant victory over Adrien Broner to defend the WBA welterweight title at the MGM Grand here Saturday (Sunday Manila time).
According to Dean Lonergan of Duco Events, which promotes Horn, Pacquiao has to settle the score with the burly Australian, who defeated Pacquiao in a controversial fight in Brisbane in 2017.
The lopsided victory over Broner, Lonergan said, proved that the 40-year-old still has what it takes to compete at the elite level.
"In his last five fights, Manny Pacquiao has only been beaten once, by Jeff Horn. Given Pacman's last two fights, a destruction of (Lucas) Matthysse and an easy win over Broner, Manny has shown he has plenty of gas left in the tank. It also shows that Jeff horn didn't beat an old Manny Pacquiao," Lonergan said in a report by World of Boxing's Ray Wheatly.
Horn escaped with a unanimous decision win over Pacquiao, a result that raised some eyebrows in the boxing community. While Pacquiao was entitled to an immediate rematch, he did not exercise it for various reasons.
And after routing Broner in front of a 13,000-strong crowd last night, Pacquiao again expressed interest in luring Floyd Mayweather Jr. out of retirement for another lucrative duel.
There was no mention of Horn.
"I'll ask my promoter Al Haymon to see what's next," Pacquiao said at the post-fight presser, referring the influential but elusive boxing figure who runs Premier Boxing Champions.
In aligning himself with Haymon's outfit, Pacquiao has positioned himself for possible fights with PBC fighters and fellow welterweight champions Mikey Garcia, Shawn Porter and Errol Spence Jr.
More importantly, the Haymon alliance brings Pacquiao closer to another shot at Mayweather, who outpointed the Filipino in boxing's record-setting showdown in 2015.
Lonergan, for his part, believes the best way for Pacquiao to get to Mayweather would be through Horn.
"If Pacquiao wants to build towards a big fight with Mayweather, and make MayPac 2 more credible than it currently is, and with more credibility, it makes more money, surely Manny has to revisit Jeff Horn before a Mayweather fight," he added.
Lonergan said Pacquiao can fight Horn either in Las Vegas or Brisbane.
He can only hope that Pacquiao would listen.