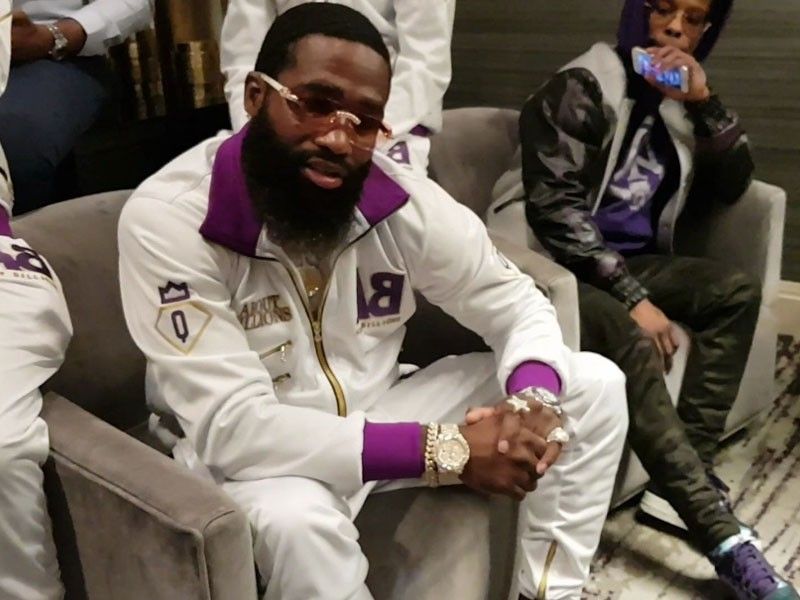 Adrien Broner
Philstar.com/Dino Maragay
Broner feeling underestimated ahead of Pacquiao clash
LAS VEGAS – Embracing his underdog status, Adrien Broner said he feels Manny Pacquiao and his team have been underestimating him and vowed to shock the world on Saturday (Sunday Manila time).
Broner, who will try to take the WBA welterweight title from Pacquiao's waist, showed up at the grand arrival ceremony of the MGM Grand here Tuesday (Wednesday Manila time) in style and brimming with confidence.
"I'm just excited I'm the underdog and I know there are a lot of people that are here to see me lose," he told the crowd.
After a few more words, he and his team — all of them sporting a white tracksuit trimmed with purple and emblazoned with his "About Billions" reality show logo — were ushered into a nearby meeting room for a private session with the media.
With gold necklaces dangling in his neck and a diamond-studded watch in each wrist, Broner talked about various topics about the fight, including feeling underestimated not just by Pacquiao's team but also by the rest of the boxing community.
"I think they're underestimating me a lot. They don't know what Adrien Broner can or can't do. This is a fight where I can show the world all the things that I've been gifted with. A lot of people will look differently at me after this fight," he said.
Despite winning titles in four divisions, the 29-year-old Broner has come up short when fighting big-name foes. He was dropped twice by Marcos Maidana en route to a decision loss in 2013, and got outpointed by Shawn Porter and Mikey Garcia in 2015 and 2017, respectively.
Against Jessie Vargas — whom Pacquiao dominated — Broner only managed a draw.
The outspoken fighter from Cincinnati, Ohio, acknowledged that he could've done better in those fights.
"In my losses, it isn't what they did. It's what I didn't," he told a handful of reporters.
Pacquiao enters Saturday's fight bolstered by his TKO win over Lucas Matthysse in Kuala Lumpur last year — his first stoppage victory in almost a decade. He wants to start a fresh streak with Broner as his next victim.
But Broner isn't making a big deal of it.
"You make (expletive) out of him (Pacquiao). He had a knockout. I see what you're trying to get at. I don't know what he was shooting in his glove, I just know he had a knockout that time," he added.
Instead, Broner is looking forward to "the start of another chapter in my book."
"It's only up from here. After this win, it puts me right back from where I was supposed to be, from where my name should have been. It all starts on January 19," he said.