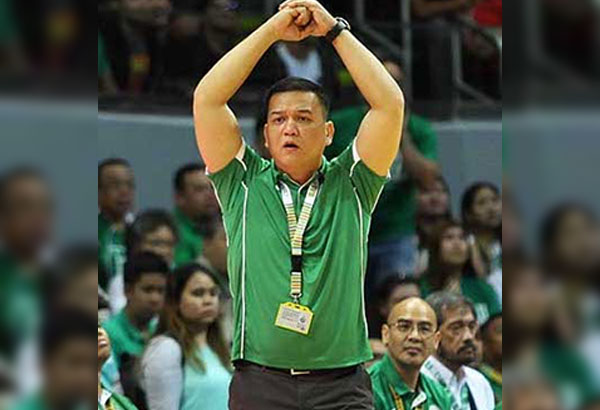 Sources: La Salle to fire coach Louie Gonzales as part of major overhaul
Rick Olivares
(The Philippine Star) - December 14, 2018 - 12:41am
MANILA, Philippines – De La Salle University is letting go of Louie Gonzales as head coach of the Green Archers, sources told Philstar.com.
Gonzales was in his first year as head coach of DLSU after taking over from Aldin Ayo earlier this year. He posted an 8-7 record with the Archers, good for fifth place in the eight-team UAAP standings.
The finish, while short of the Final Four, is nevertheless remarkable considering that the Taft-based squad lost Ben Mbala and Ricci Rivero from Season 80 and Taane Samuel to a freak injury that hit him in the Green Archers' Season 81 opener against FEU. Team captain Kib Montalbo was also out for several games (as he was also part of the preseason) due to injury.
Philstar.com tried to get in touch with Gonzales but the latter did not return any messages.
Late in the second of the eliminations, the Green Archers were in third place. A loss to Ateneo and UP sent them into a knockout match with nemesis Far Eastern University where the Tamaraws dispatched them, 71-70, via an Arvin Tolentino triple with 3.1 seconds left in the game. Gonzales drew an inbound play that they nearly executed to perfection but Santi Santillan missed an undergoal stab.
According to one source, Siot Tanquincen is the lone assistant left with everyone else let go. There is no word as to the status of the players recruited by Gonzales such as Joaqui Manuel, who he pried away from Ateneo.
The source added that La Salle is looking at the possibility of hiring a foreign if no top Filipino coach is available. One name mentioned was Englishman Tim Lewis, who is currently the head coach of Qatar's national basketball team that figured in the closed door match against the Philippines where Gilas had to rally in the third period for a 92-81 win.
Filipinos were first introduced to Lewis when he coached Thailand to a bronze medal finish (4-2) in the 2017 Seaba tournament held in Manila. He was also briefly brought in by former Gilas head coach Chot Reyes to teach some defensive schemes that he threw up against the Philippines during their SEABA encounter.
One other name tossed about as a potential new coach is former National University head coach and current Alaska Aces assistant Eric Altamirano, who when contacted by Philstar.com denied any appointment to the position. It should be noted that Altamirano's eldest son, Anton, was an assistant with DLSU and briefly coached their Team B. Like the others, the younger Altamirano was also supposedly let go.