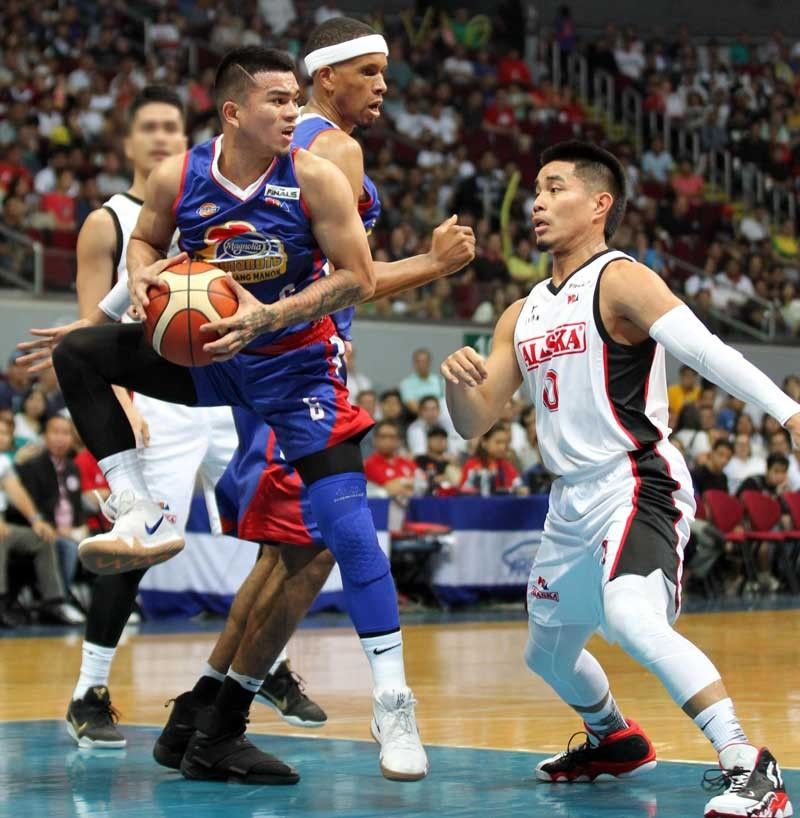 Magnolia guard Jio Jalalon surveys the floor as he pulls down the rebound in this bit of action in Game One won by the Hotshots at 100-84. Looking on are Hotshot Rafi Reavis and Alaska Ace Simon Enciso.
Hotshots brace for Aces fightback
MANILA, Philippines — Despite their lopsided triumph Wednesday, the Magnolia Hotshots are keeping their mindset and bracing themselves for a grind-out battle versus the Alaska Milk Aces in Game Two of their PBA Governors Cup best-of-seven title playoff tonight at the Smart Araneta Coliseum.
"We'll look at the good things and so with the bad things we'd done. Then we will stick with the plan to treat all the games as do-or-die. We will prepare ourselves for a dogfight," said Magnolia coach Chito Victolero.
With a dogged determination, the Hotshots pulled off an empathic 100-84 victory in the series opener.
Hardly getting into the fight in Game One, Alaska coach Alex Compton is now articulating on his troops the need to be at their best as they're up against the team now playing the best basketball in the conference.
And somehow, Compton deemed it better to suffer the blowout loss.
"Maybe, we need to experience that to know the truth," Compton said, ruing his team being terribly outworked by the Hotshots.
"It's been our trademark but I think we gave only 85 percent of effort while Magnolia 100 percent," Compton pointed out.
"Obviously the poor start didn't help. And we had a lot of fundamental breakdowns," he added.
Meanwhile, the Hotshots seemingly pushed all the right buttons as they turned to a cakewalk what was expected to be a fierce series opener.
A big key was the Magnolia backcourt showing up its Alaska counterpart, with Mark Barroca, Jio Jalalon and Paul Lee all dishing out wondrous jobs.
"We know the imports are evenly matched and would cancel each other out. Key matchups are in the backcourt because of our similar brand of play, and we made a conscious effort to at least match the energy and effort of their guards," said Barroca.
Romeo Travis put in a game-high 29 points, Barroca, Paul Lee and Ian Sangalang added double-digit outputs while Jio Jalalon came up with a superb all-around game with 12 rebounds, nine assists and seven markers to lead the Hotshots against the Aces side that struggled all night to find rhythm.