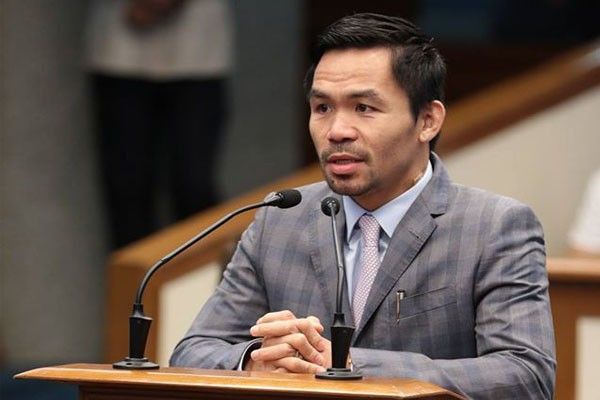 Pacquiao at Oxford: Dreams come true
MANILA, Philippines – Manny Pacquiao, the Filipino boxing icon and sitting senator, spoke before the distinguished Oxford Union, and described himself Monday as a "respectful underdog" against those who have spoken before him.

"I have fought some of the best fighters in history. And yet I have to admit, as I stand before you, I am intimidated when I think of the kind of main event headliners who faced you over the years," he said.
The honorable list includes Albert Einstein, Sir Winston Churchill, Mother Teresa, Margaret Thatcher, Dalai Lama, Robert Kennedy and American Presidents Richard Nixon and Ronald Reagan.
It also includes ex-heavyweight champion George Foreman.
"And here am I, Emmanuel Dapidran Pacquiao, standing before you armed with just the equivalent of a sixth form education, an undisguised respect for what your group and your university represent," he said.
A copy of Pacquiao's speech before the university that was established 922 years ago was provided to the Philippine press Tuesday.
Pacquiao, the only boxer in history to win world titles in eight weight divisions, spoke of his humble beginnings.
He caught everyone's attention.
"We were dirt poor. I had to work since the age of five, to help my mother feed my three siblings and me. Many days, I was lucky to have one full meal," said the 39-year-old superstar.
"On days when we had no food I would drink lots of water just to fill my stomach. But my mind and spirit were never hungry. I read anything I could get my hands on," he said.
"I even read the newspaper that my lunch or dinner came wrapped in… I would read the labels on the carton boxes that served as my bed on the street pavement."
It's an understatement for Pacquiao to say he was "dirt poor."
But he rose to occasion, using the sport of boxing as a ticket out of poverty. He earned millions, more than a hundred of them, through boxing. These days, there's nothing his money can't buy.
"Think of David and Goliath. Look at me. I am not very big and I never had five smooth stones to throw at any obstacle, but determination Is a power tool. I won a lot fights," he said.

Pacquiao fought inside and outside the ring.
"I am a fighter, not just because it is my profession. I was a fighter long before I first set foot in a boxing ring. All my life I have fought to live. Every single day in my youth, I fought for survival," he said.
Pacquiao recalled the day when he visited the victims of Typhoon Yolanda in Tacloban in 2013, and how he brought joy to the people simply by playing basketball with the children.

"The smiles, the laughter, the whoops of joy of those boys during that game are memories forever etched in my heart… Those boys, who had nothing left, gave me hope," he said.
"Manny Pacquiao is the best fairy tale every Filipino could tell and re-tell to all generations yet to come. Manny Pacquiao's story is incredible, but true," added Pacquiao.
In wrapping up his speech, Pacquiao reminded those gathered in front of him that miracles happen.
"Dreams do come true. Being poor does not mean one must die poor. Hard work and persistence will set you free from the shackles of poverty. But it is faith that will take you to the very top," he said.
On Wednesday, Pacquiao speaks before the Cambridge Union, the oldest debating society in the world.
Again, he will tell his story.