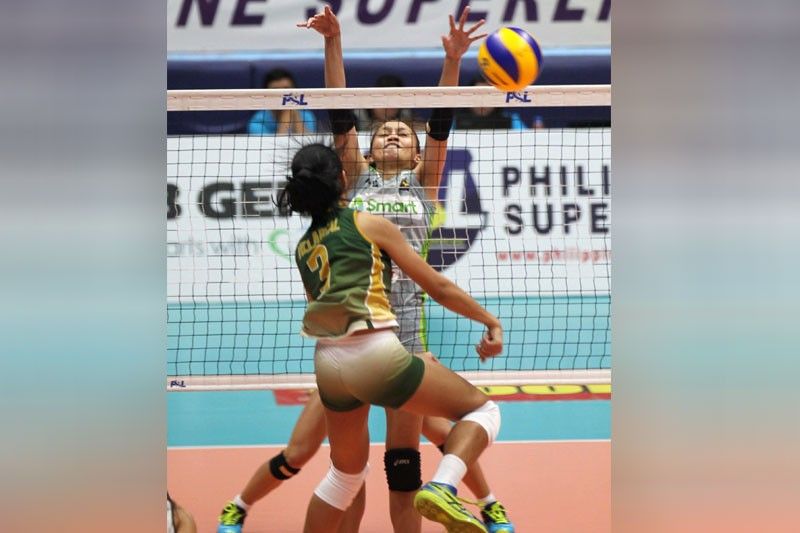 Joyce Sta. Rita of Smart blocks a spike by Jeanette Villareal of Sta. Lucia in the opening game of the Chooks to Go Philippine Superliga All Filipino Conference at the Filoil Flying V Center.
Jun Mendoza
Stars return to Superliga in style
Olmin Leyba
(The Philippine Star) - October 31, 2018 - 12:00am
MANILA, Philippines — Petron got its title-retention bid in the Chooks to Go Philippine Superliga All Filipino Conference off to a blazing start, clobbering Cocolife, 25-18, 25-15, 25-18, last night at the Filoil Flying V Center.
Veteran Aiza Maizo-Pontillas and Ces Molina turned in 14 and 10 points, respectively, while the ever-reliable Rhea Dimaculangan tossed 28 excellent sets as the Blaze Spikers hurdled the challenge of the youthful Asset Managers in one hour and 17 minutes.
In the first game, Smart coach Roger Gorayeb and ace Grethcel Soltones returned to the league in style as the retooled Giga Hitters nipped Sta. Lucia in straight sets, 25-20, 25-19, 25-23.
"It's a good feeling, first game, first win. Hopefully mas maging consistent pa yung laro namin, medyo nag-struggle din kami, especially in the third set. Buti na lang ang ganda ng habol namin," said Petron mentor Shaq delos Santos.
"Great game for us, straight set namin nakuha pero hindi ganoon kadali. Marami pa kaming dadaanan, first game pa lang ito," said Molina, who also had 14 digs in her return outing after suffering a stress fracture in her left shin.
Maizo-Pontillas and Molina went to work as Petron broke out of an 18-16 contest in the opening set, landing pinpoint kills and drop shots to help the Blaze Spikers close it out with a 7-2 exchange. The duo were again on point in the second, leading Petron to a 17-9 cushion for a 2-0 upperhand. The Asset Managers jumped the gun on Petron in the third before the Blaze Spikers restored order and completed the job.
"Hindi naman namin pine-pressure ang sarili namin but as defending champion, kailangan naming panindigan ito," said Molina.
Cocolife's Fil-Am recruit Kalei Mau punched in 13 on her debut match.
Meanwhile, playing her first game after her long suspension, Soltones scored a game-high 17 points, all on attacks, to spearhead Smart to the opening victory.
"Sobrang saya kasi nakabalik po ako dito after one year," said Soltones, who was banned in 2017 for a breach in the PSL's "One-League Policy" but got reinstatement for this tournament.