Red Sox finish off Dodgers in 5
October 30, 2018 | 12:00am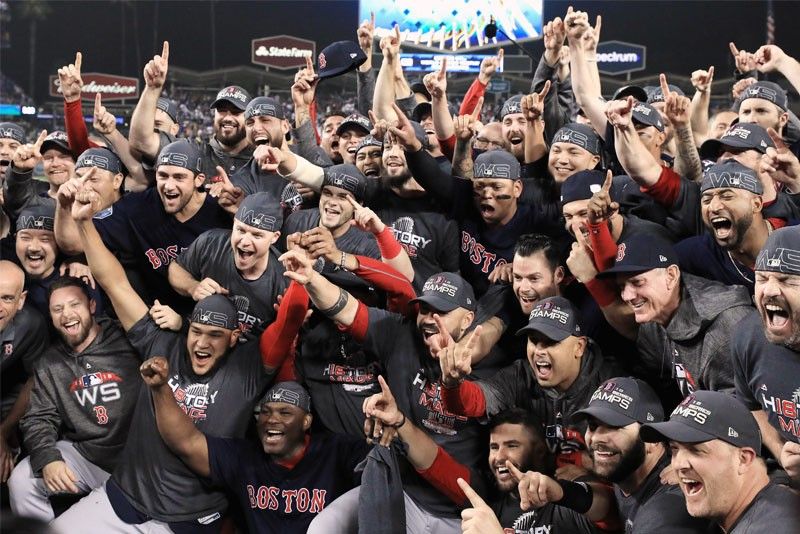 4th World Series crown in 15 seasons
LOS ANGELES – Chris Sale's final pitch for this Boston juggernaut triggered a celebration on the Dodger Stadium infield, among thousands of fans who made their way to California – and even outside Fenway Park back home.
The quest is complete. Yes, these 2018 Red Sox really are that great.
A team to remember from top to bottom. A season to savor from start to finish.
David Price proved his postseason mettle, Steve Pearce homered twice and Boston beat the Los Angeles Dodgers 5-1 on Sunday to finish off a one-sided World Series in five games.
A tormented franchise during decades of frustration and despair before ending an 86-year championship drought in 2004, the Red Sox have become baseball's team of the century with four titles in 15 seasons.
"Seeing all these grown men over there, just acting like kids, that's what it's all about," Price said after pitching three-hit ball into the eighth inning on short rest. "This is why I came to Boston."
After losing on opening day, Alex Cora's team romped to a 17-2 start and a club-record 108 wins, then went 11-3 in the postseason, dispatching the 100-win New York Yankees and the 103-victory and defending champion Houston Astros in the playoffs. Cora, a player on Boston's 2007 champions, became the first manager from Puerto Rico to win a title and just the fifth rookie skipper overall.
Pearce, the World Series MVP, hit a two-run homer on Clayton Kershaw's sixth pitch. Solo homers by Mookie Betts in the sixth inning and J.D. Martinez in the seventh quieted the crowd, and Pearce added a solo drive off Pedro Baez in the eighth.