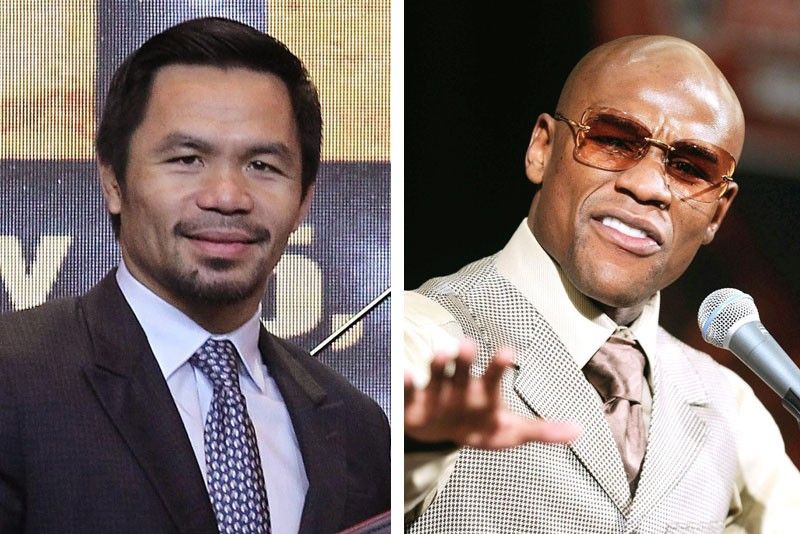 Manny Pacquiao, Floyd Mayweather Jr.
Pacquiao: Rematch with Mayweather a 'big possibility'
Floyd plans 2nd Manila visit this weekend
MANILA, Philippines — Filipino boxing icon Manny Pacquiao said there's a "big possibility" that his rematch with Floyd Mayweather Jr. will push through.
"We'll just talk about the timing, the month, and what will be the agreement, the conditions (for the fight)," Pacquiao told Senate reporters yesterday.
"It's being arranged and discussed," added Pacquiao.
He said he wants to fight in December, and regardless of his next opponent, whether it's Mayweather or someone else, everything should be finalized this week.
Sources said Mayweather, who is in Japan, is visiting the country for the second time in four months. Unless his schedule changes, he will be in Manila this weekend.
Mayweather blew into town last May for a personal engagement, working on an endorsement deal and a business venture with a local ride-sharing company.
The flamboyant American also visited Palawan, and spent a couple of days at the beach. But he never got the chance to meet Pacquiao.
Those handling Mayweather's second visit could not tell whether the richest athlete in history will use the chance to work the details of his rematch with Pacquiao.
The two boxing superstars had a chance encounter during a rave concert in Tokyo last Saturday, and the rematch of their record-breaking showdown in 2015 was discussed.
"Malaking laban 'yan (It's a big fight)," said Pacquiao, who earned more than $100 million for fighting Mayweather despite a shoulder injury.
Mayweather won on points and stayed undefeated as a boxer. Last year, he fought and defeated UFC king Conor McGregor then retired with a 50-0 record.
Pacquiao said based on the fan reaction to their Tokyo meeting, a rematch will once again make headlines, not mentioning a lot of money.
"He (Mayweather) said 'easy fight, easy fight.' I said, 'Let's get it on. Let's go back to the ring. Let's fight,'" said Pacquiao when asked about their exchange in Tokyo.
Aside from Mayweather, other candidates are British idol Amir Khan, Kell Brook and Mikey Garcia.