Melindo ready for IBFunification
December 24, 2017 | 4:00pm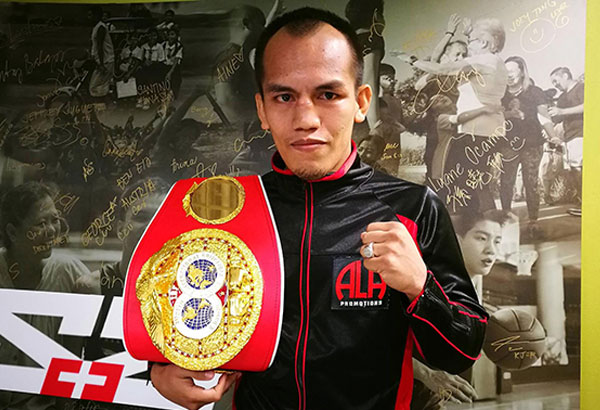 MANILA, Philippines — IBF lightflyweight champion Milan Melindo of Cagayan de Oro is ready to battle a freezing climate in a unification showdown with WBA counterpart Ryoichi Taguchi at the Ota City General Gymnasium in metro Tokyo on Dec. 31.
Melindo leaves Manila for Tokyo on a morning Philippine Airlines flight tomorrow. Yesterday, he was eight over the 108-pound limit without gym work so trainer Edito Villamor said it won't be a problem making weight. Melindo had serious weight issues in his last two fights but won anyway.
Against Taguchi, Melindo faces an experienced opponent who's a boxer-puncher with a record of 26-2-2, including 12 KOs. Villamor said Melindo will decide how to fight Taguchi depending on what style the Japanese chooses. "If Taguchi comes forward, Milan will counter," said Villamor. "If not, he'll take the initiative and fight from distance. Either way, Milan is prepared. It's always been his dream to unify the championship and now is his chance."
Boosting Melindo's morale will be his girlfriend Miki who has lived and worked in Tokyo as a nurse for 10 years. They found each other on Facebook seven years ago and they've since nurtured a long distance relationship. Miki was at ringside when Melindo wrested the IBF crown from Akira Yaegashi on a first round knockout in Tokyo last May.
The temperature is expected to drop to two degrees Celsius on fight night. Villamor said weather shouldn't be a bother as the gym is heated and Melindo will be wrapped in thermal wear from when he lands tomorrow. Villamor, his brother Edmund and former fighter Michael Domingo will work Melindo's corner for the bout.
"Milan has to dominate," said Villamor. "It's Taguchi's hometown so we're expecting loud crowd support. The ring has to be Milan's. He has to control to show the judges his ring generalship. Milan is sacrificing a lot during the Christmas season. He's very disciplined so getting him to work in the gym isn't difficult. We're now at the stage of mental preparation. We're reviewing Taguchi's fights on tape, re-studying his moves and thinking of strategies."
Villamor said Taguchi reminds him of Thailand's Fahlan Sakreerin, Jr. whom Melindo outpointed for the interim IBF lightflyweight title in Cebu last year. Fahlan is 5-6 with a 67-inch reach while Taguchi is 5-5 1/2 with a 67 1/2 inch wingspan. Melindo is 5-2 with a reach of 65 1/2 inches. Villamor said Taguchi's advantage in height and reach won't be a factor. "Milan knows how to handle taller fighters," he said. "He'll do to Taguchi what he did to Fahlan. Milan will be aggressive from the start."
Not known as a power puncher, the methodical Melindo surprised fans by scoring a first round knockout over Yaegashi. He has scored only one stoppage in his last eight wins. Villamor said Melindo is capable of knocking out an opponent with the right opportunity. Melindo doesn't rush things in the ring, said Villamor. He takes what the defense gives and if that means going for a knockout, it will come. Melindo's record is 37-2, with 13 KOs.
Taguchi has fought only two Filipinos so far and won on points in a pair of eight-rounders. His victims were Ryan Bito in 2013 and former IBF minimumweight champion Florante Condes in 2014. Eight of his last nine outings were staged at the Ota City General Gymnasium which is also the venue for the showdown with Melindo.