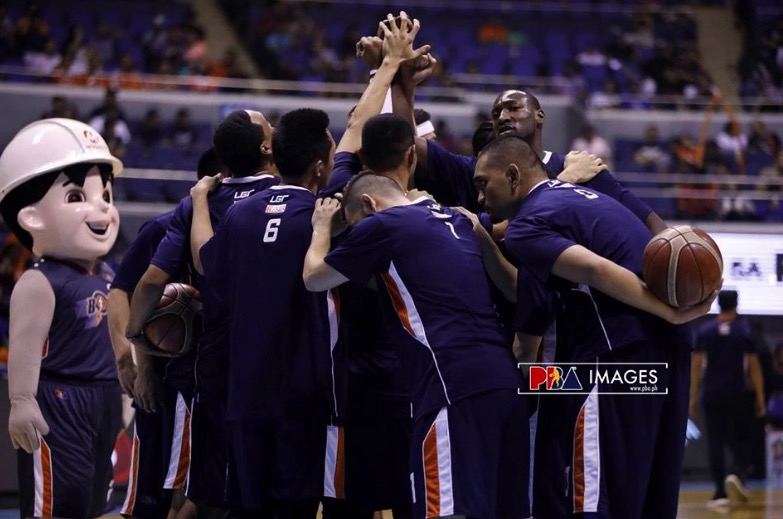 The Meralco Bolts during the season-ending Governors' Cup last November. | PBA Images
Bolts looking to boost Philippine Cup reputation
FINISHES:

Philippine Cup: 11th

Commissioner's Cup: 5th (Clinched Quarterfinals berth)

Governors' Cup: 1st (lost to Ginebra in Finals)

Head coach: Norman Black

Addition/s: Jason Ballesteros, Nico Salva, Mac Baracael, KG Cañaleta
MANILA, Philippines — The Meralco Bolts are not a team to beat early in the new PBA season, and head coach Norman Black is perfectly aware of that.
"We haven't fared well in the last couple of all-Filipino conferences," he said. "I don't expect anybody thinking that we would be favorites. I mean, it's obvious that San Miguel is the strongest team. Ginebra and TNT are very strong."
But that doesn't mean his crew is shying away from the challenge to be with those teams' level.
"We want to be competitive — winning as many games as we can," he offered. "We want to improve on our performances in the last Philippine Cups and take it from there."
The Bolts were unable to even qualify in the second round of the last two all-Filipino skirmishes. Last season, they were only able to make the quarters twice — only when teams are allowed to infuse foreign talent into their fold.
And Black is also aware of that perception — that they're only strong during import-laden conferences. Now, he's bent on proving those people who think so, wrong.
"I really don't pay attention to what other people are saying," he noted "I'm more concerned with my players making sure they're in shape, making sure they execute well."
And as far as execution goes, Black went on to note how well his new acquisitions are making that happen.
"We brought in some new players — Nico Salva, Jason Ballesteros, Mac Baracael and KG Cañaleta — and they've been mixing well with our players," he said.

"We're missing two guys to injury: Ranidel (de Ocampo) and Cliff (Hodge). They won't be back until the third, fourth game, so that's going to hamper our performance a little bit."
Asked about what his agenda this season-opening conference, Black took a pause before baring his answer.
"It's really a question mark how well we're gonna do this conference," he shared. "Like I said, we haven't done well. But it's obvious to me that I have a much better team this year. So I'm expecting us to improve, our performance to be a lot better than it's been in the past."
The Bolts open their 43rd PBA Season campaign this Friday against the young, hungry and retooled Blackwater Elite at the Cuneta Astrodome in Pasay City.