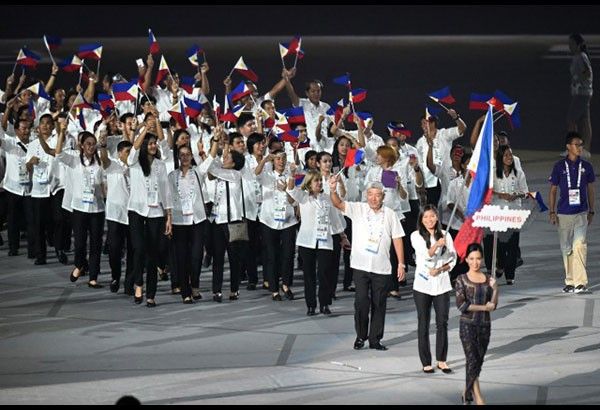 Volleyball superstar Alyssa Valdez led the Philippine delegates in the 28th Southeast Asian Games in Singapore.
Acaylar targets volleyball silver in 2017 SEAG
MANILA, Philippines — Newly appointed national men's volleyball team coach Sammy Acaylar is eyeing nothing less than a silver medal in the 29th Southeast Asian Games slated August 19-31 in Kuala Lumpur, Malaysia.
"Since I have won a bronze medal already, I hope to make the finals and win a silver or a gold this time," said Acaylar, who was the head coach when the Philippines snared a bronze in the 1991 Southeast Asian Games in Manila.
But achieving such feat would be easily said than done as the team will only have eight months to prepare.
And monetary support will also be a problem.
"I will be a hypocrite if I say we don't need it. We need financial support to fund our preparation," said Acaylar.
In the meantime, Acaylar bared plans of combing the countryside of talents with a series of tryouts in the coming weeks since he is also forming the Under-23 team.
"We all know that we have so many talents from the provinces so we're planning to hold tryouts in Cebu, Davao and some other parts of the country not just Manila because I want a team of veterans and young ones," he said.
In Manila, Acaylar wants to get players from the UAAP, NCAA and the Armed Forces.
The players he is eyeing to join his team are Mark Alfafara, Mark Espejo, Ysay Marasigan, Raymark Woo, Bonjomar Castel, Reylan, and Rey Taneo and Johnvic de Guzman among others.