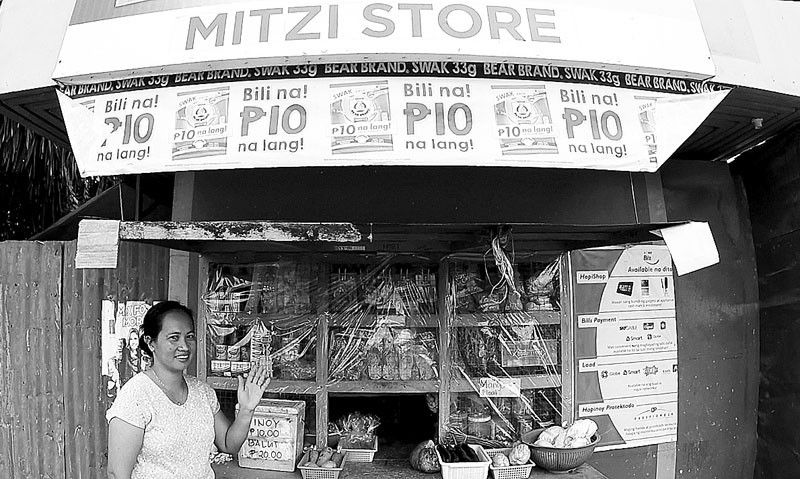 She lived a simple life, Mitzi relays. She managed to finish high school and after getting married and giving birth to two children, put up a small sari-sari store using 200 pesos as her capital.
Dream On: One Woman's Post-Yolanda Journey
PALO, LEYTE, Philippines — For the past decade, Mitzi Bacalan has not dreamed of anything big; they were not well off, she says, something that prevented her from daring to do so. Looking at Mitzi, who's dressed in a white shirt and a pair of blue jeans, it's hard to reconcile her statement with her appearance - she gives off a confident aura during our conversation at the Leyte Academic Center, after all.
But that wasn't always the case, Mitzi, 37, clarifies.
She lived a simple life, Mitzi relays. She managed to finish high school and after getting married and giving birth to two children, put up a small sari-sari store using 200 pesos as her capital.
"We lived very simple lives; we had a small store. Our only concerns were putting food on our table, and getting medicine for our children," Mitzi says to me in Bisaya.
As with everyone else in Leyte and Samar though, Mitzi's life and that of her family took a drastic turn when super typhoon Yolanda – known to the rest of the world as Haiyan - lashed out that fateful November day.
"Washed out!" Mitzi says, describing the state of her family's house and store right after the storm.
Being the plucky woman that she is however, Mitzi did not let that stop her, choosing to pull herself up by her bootstraps to rebuild their store with donations and what was left of their stocks, adding that through hard work, they managed to get their capital back.
But while they managed to find their footing almost immediately after the storm, it was only when they decided to try their hand at the Bagong Araw (New Day) Philippines: Rebuilding Through Microinsurance and Women's Microenterprises (PREMIUM) project that Mitzi and her family finally got to breathe more comfortably.
A three-year-long project backed by the Government of Canada and the Co-operative Development Foundation of Canada in partnership with Center for Agriculture and Rural Development, Inc. (CARD), Microventures Foundation, Inc. (HAPINOY), and Mi-MBA Association of the Philippines, Inc. (RIMANSI), the PREMIUM project sought to help sari-sari store owners in Yolanda-hit Leyte and Samar provinces through a series of seminars and workshops on basic business management, cash flow monitoring, product diversification, business continuity planning, and disaster preparedness, as well as access to additional capital and micro-insurance products with the high hopes of improving their economic well-being.
"For me, Hapinoy and Project PREMIUM helped me learn how to handle a business; I learned how to manage my capital, my customers. The most important thing for me though is that the project helped my family and I to dream again," Mitzi says, her voice tinged with emotion.
"Before, whenever my daughter would say that she wants to take up Medicine in college, I couldn't give her a straight answer, not even a comment, because at that time, I knew that I couldn't afford to send her to med school" Mitzi tells me.
"But when we started our business again, and after we started training under Hapinoy and PREMIUM, I told my husband that we would do what we can to help our daughter achieve her dream even if it's difficult. You really only need to motivate yourself and do what you can in order to fulfill whatever dreams you may have."
And it's not just Mitzi who managed to get help and training.
According to statistics provided by the PREMIUM partners, Project PREMIUM has produced 2,449 graduates, of which 94% are women. Not only that, PHP 35,100,000 loans had been distributed to 2,456 project beneficiaries throughout its three-year run, or 153.5% of its end project target of 1,600 loan beneficiaries and graduates.
Far from being the meek and introverted woman she once was, Mitzi is now proud and determined, and is now planning to expand her business.
"Aside from managing our store, I'm also trying my hand at making dishwashing liquid and detergent. My goal is to expand my business and hopefully, make my products known not just here in Tacloban, but also, online," Mitzi says, adding that she learned how to formulate the household products under CARD.
A veritable businesswoman in every sense of the word, Mitzi has advice for those who still doubt their capabilities: "You won't stand a chance if you're constantly afraid. If you have dreams and aspirations, you really have to let go of fear and just keep going."