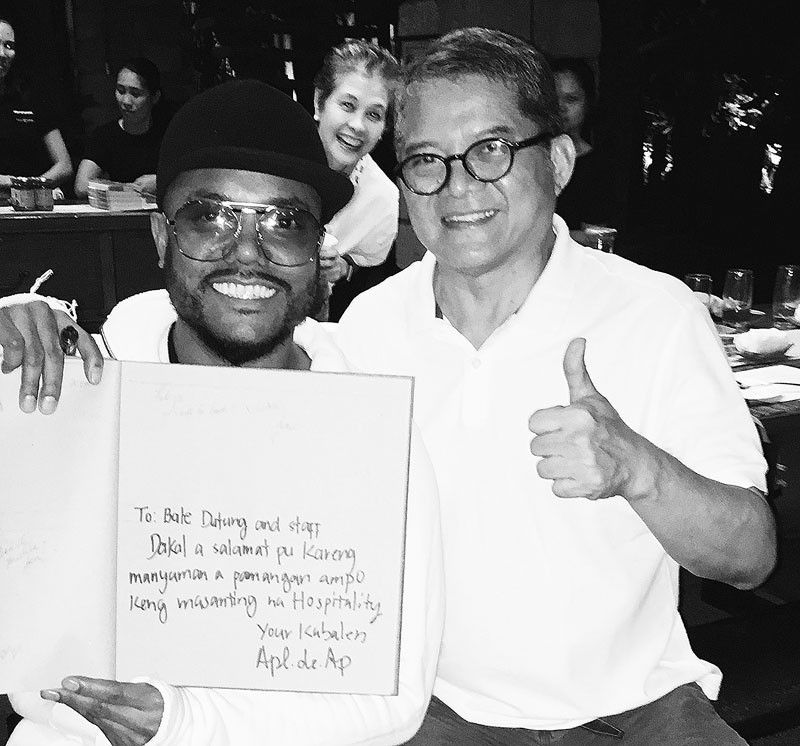 Just when I thought I had my moment with the legendary Apl.de.ap, another equally famous bright star fell on our back. When I asked him what he missed the most when he left for the US at age 14, he said it's his mother's adobo and bistek.
Claude Tayag
(The Philippine Star) - February 25, 2019 - 12:00am
MANILA, Philippines — Sometime last week, I received a text message from Cathy Villarba, a member of Apl.de.ap's team management based in Manila. She was booking dinner at our Bale Dutung upon Apl's request (pronounced as apple), wanting to treat the mostly-doctors volunteers of a medical mission to a Kapampangan dinner. Apl was to formally turnover a donation of a $250,000 Retinal Camera at the Jose B. Lingad Memorial Regional Hospital in the City of San Fernando, Pampanga on February 19, 2019.
When I forwarded the message to my darleng Mary Ann, she became fidgety and excited at the same time. You see, after me and our son Nico, she has two other apples (no pun intended) in her eyes – John Lloyd Cruz and Apl.de.ap. She had her moment with JLC years ago, and now Apl's visit is beyond her wildest dream. She is simply star struck.
The moment Apl stepped into Bale Dutung, wifey excitedly greeted him: "Oh, I'm so happy to finally meet you. I'm not a fan of your rap. I do not understand it. But I am a big big fan of yours because of your big heart," she said without missing a beat, unable to let go of his hand. This elicited laughter from those around us.
Apl's rags-to-riches story is the stuff of legend. His unusual yet catchy stage name, Apl.de.ap stands for Allan Pineda Lido of Angeles Pampanga. Born and raised in Sapang Bato, Angeles City, Apl is the first born child of Pampango Cristina Pineda and African-American father, a military serviceman stationed at then Clark Air Base. The father left them shortly after his birth. Cristina had six other kids, and raised all seven as a single mother. They were poor and Apl was legally blind afflicted with nystagmus (a visual condition that causes uncontrolled movements of the eyes.)
Fortunately, through the Pearl S. Buck Foundation that helps abandoned or orphaned American children, he was able to go to America at age 14 for eye treatment. (In his somewhat autobiographical song, "Mama Filipina" the lyrics go: "mama, mama Filipina, I never meant to give you up. I have to go to America". And then he raps about his poverty.) Eventually, he was adopted by an American lawyer Joe Ben Hudgens. Thus, the beginning of his American life. In John Marshall High School, he met and became friends with William Adams (stage name: will.i.am). It was their love of dancing that got them closer and together in a band, The Black Eyed Peas that became famous and won awards, including the distinguished Grammy Awards.
Fame and success were not enough for him. On Nov. 18, 2008, he founded the Apl de Ap Foundation International whose first priority is Education. It built a music studio and a computer lab in the two schools in Pampanga that Apl attended; Sapang Bato National High School and Holy Angel University. It also now has 14 scholars at the Angeles University and has built 15 new schools, one of which is in Zamboanga Mindanao.
In October 2015, he started his healthcare program, "Campaign for Filipino Children". To date, he has donated five Retinal Camera machine (each worth $250,000) in the county, 4 in Metro Manila, 1 in Davao City. The sixth is at the Jose B. Lingad Memorial Regional Hospital in City of San Fernando, Pampanga.
When asked what delivering this medical equipment to his home province meant, Apl.de.ap said: "I'm really proud to donate this in my hometown of Pampanga. As a kid who grew up with visual impairment, I know firsthand what it is to navigate this region without being able to see. I'm glad I can make a small impact to changing this, but there's still a long way to go."
The state-of-the-art machine diagnoses retinopathy of prematurity (ROP). Through this Retina Viewing System, premature babies can be checked and if detected early could prevent life-long blindness. (As an aside, Apl's idol Stevie Wonder wouldn't be blind had the machine been available at the time of his birth.)
As Sonia Delen, Chairperson, and a member of the Apl.de.ap Foundation International Executive Committee said,: "It is a medical issue that hits home for Apl.de.ap because he himself has a visual impairment".
It was a humbling experience to have served Apl and his team in Bale Dutung. There is something about THE man when you meet him – you are easily endeared to him. The man stands only at 5 feet 6 inches tall, yet he seemed like a six-footer walking among us. He is a larger than life figure, not because of his flamboyant appearance, but of his pleasant demeanor. In spite of his accomplishments and accolades, he exudes an aura of humility and generosity. I, too, was star struck.
And it was our blessing that he came with people we know and have such high regard for. Dr. Tony Villalon (pioneer of medical oncology in the country), the doctor my darleng disturbs every now and then; his wife, the endearing Dra. Pearl Villalon; Dra. Pam Pantig Astudillo and Dr. Rolan Mangahas, who, together will perform pro bono the eye surgery of our valuable staff's husband, and of course the foundation's Chair, Sonia Delen who hosted my cooking event in San Francisco some 5 years ago. Mary Ann said they all have one thing in common – they are all generous in sharing their time and talent, and their big hearts in giving back. May their tribe increase.