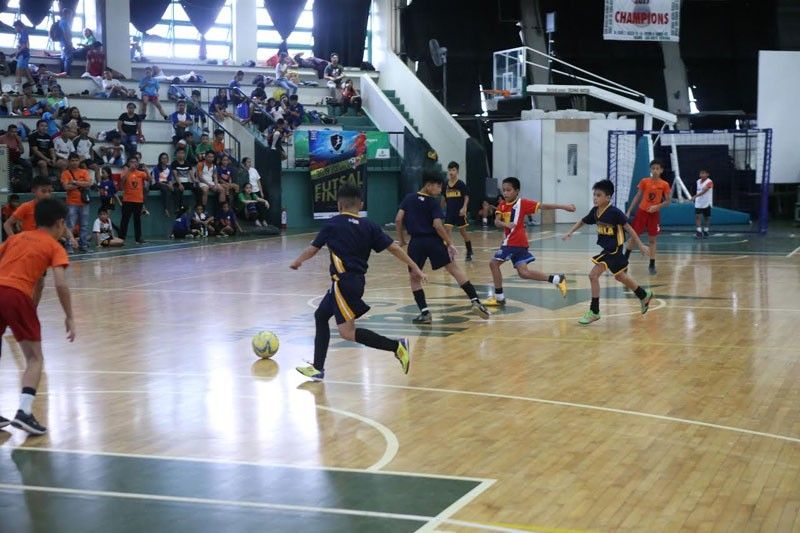 Boys and girls play futsal at the Liga Eskwela 2019 finals participated in by over 300 public schools from all 16 DepEd school divisions in Metro Manila covering Elementary, Junior High School and Senior High School divisions both for boys and girls.
Photos by Joey Mendoza
Futsal develops school kids for the better
MANILA, Philippines — The MVP Sports Foundation (MVP Sports), together with Meralco, The Henry V. Moran Foundation (Moran Foundation), the Department of Education (DepEd), Toby's Sports, the Philippine Football Federation (PFF) and La Salle Greenhills batch '73 (LSGH 73), recently held the 4th Liga Eskwela Futsal Festival, an event that capped off several months of futsal development activities for public schools.
The Liga Eskwela Futsal Finals, which was recently at a private school in Mandaluyong served as the culminating activity of the 2017-2018 Liga Eskwela Futsal Program, an initiative that started was started by Moran in 2016 to promote and develop futsal for public school children, teachers, and parents.
Futsal is a modality of football that is played with five players indoors. Given the lack of football infrastructure in the country, the PFF, DepEd, the Philippine Sports Commission and private sector groups like Allianz PNB and MVP Sports have begun supporting the sports growth in the country through training programs and competitions.
"Statistics show that 85 percent of Filipino children are enrolled in public schools, and many of these children are aware that the sport of football exists and would like to play football," says Goco, futsal department head, PFF. "However, because of the lack of field infrastructure and the lack of access to play areas, majority of these public school children can't regularly play football. Futsal is a cost effective solution that addresses these barriers."
"From just 11 participating schools in 2016, we grew the number of schools to 68 in 2017. By 2018, over 300 public schools from all 16 DepEd school divisions in Metro Manila participated in the Liga Eskwela covering Elementary, Junior High School and Senior High School divisions both for boys and girls," add Moran. "Now, DepEd Divisions in provincial areas have approached us to expand the our program to their public schools. This is all demand driven, and we are encouraged by the fact that the DepEd is very enthusiastic in promoting this sport because it has a direct correlation to improved performance of students in school and it is cheap and low cost activity to organize and promote within their existing infrastructure."
The Philippine Sports Commission (PSC) last year reintroduced the sport in their Batang Pinoy games and in 2019 will hold additional regional legs for the futsal category. The Liga Eskwela and the Philippine Futsal programs now have key supporters from the private sector in the form of Toby's Sports, MVP Sports and Allianz PNB Life.
"Toby's Sports has always supported our program from the very start together with LSGH Batch 73. Last year, Allianz PNB Life, who traditionally supports football in other parts of the world, saw that futsal makes perfect sense for the Philippine setting and supported the Allianz National Youth Futsal Invitational, which engaged over 4,400 players from traditional and non traditional teams across Luzon, Visayas, and Mindanao," Gocco adds. "Allianz got excellent media mileage, engagement, and even a regional recognition from the Sports Industry Asia Awards. In 2019, MVP Sports will be supporting futsal development because they see futsal as a great way to engage more communities and they truly feel with a well-crafted plan, we can eventually field a competitive national team, especially for women."
The Liga Eskwela Futsal Finals gathered 1,000 participants from the top public school futsal teams across all 16 cities of Metro Manila who had to go through local and cluster eliminations. Teachers, who were trained by coaches and instructors from the PFF on the very basics of futsal coaching, tournament management and officiating also played in their own futsal match cheered on by their players and students. In between the games, freestyle and juggling competitions were organized among entries from public school across Metro Manila. "Under an hour after putting up online signups for the teachers exhibition and side games, all slots were surprisingly filled up, with teachers demanding to be on a wait-list," adds Goco.
"This is just the start, and its encouraging to see so much enthusiasm coming from the teachers and students," says Moran. "I believe that for Philippine football to sustainably grow and succeed, it ultimately needs millions of fans to support it. Futsal is a format that can really engage local communities and ultimately create fans who will love both futsal and football. With more focus and attention from DepEd, other government agencies, the PFF, and the private sector, we can grow this sport from the ground-up and perhaps even one day field competitive national teams in what is the world's fastest growing indoor sport."