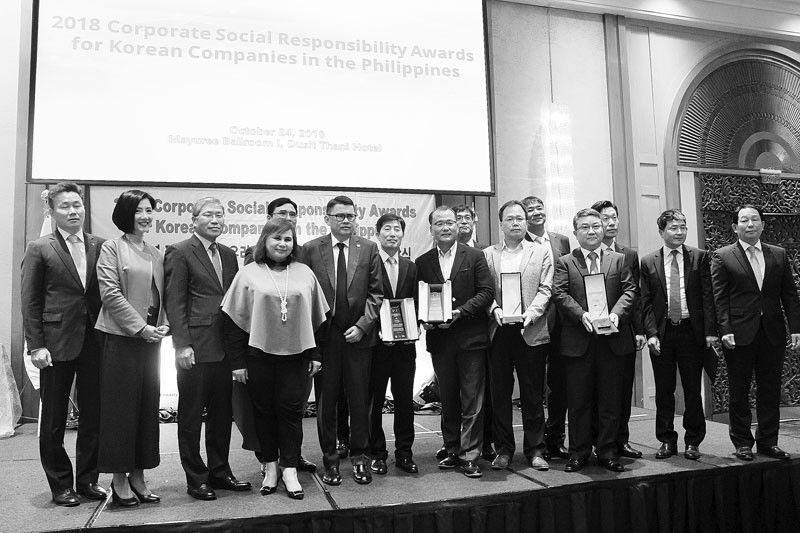 Awardees of Platinum, Gold, Silver and Certificates of CSR activities are shown with AIM president Jikyeong Kang (second from left), South Korean Ambassador Han Dong-man (third from left), PEZA Director General Charito Plaza (fourth from left) and Presidential Adviser for Entrepreneurship Joey Concepcion (fifth from left).
South Korean government honors Korean companies with CSR activities
MANILA, Philippines — Recognizing that to do well in business means not just to make profit, but also to take care of the people and the planet, the South Korean government encourages and honors companies that make corporate social responsibility (CSR) an important part of their operations.
Apart from helping South Korean businesses thrive, CSR activities are also seen to help foster stronger ties between South Korea and the Philippines.
South Korean Ambassador Han Dong-Man said the South Korean government recognizes Korean companies undertaking CSR activities every year, as doing such has been seen to be beneficial for the firms in the long run and in having closer ties with other countries.
"We recognize Korean companies with CSR activities in China and in many developing countries. To have confidence and trust building for Korean companies as a good brand, it is better to increase CSR activities. It is necessary for Korean companies to continue their business abroad," he said.
With trust and confidence in the brand, it is easier for companies to do business and keep customers.
Han said even global players have to continue their CSR activities to sustain and grow their business.
"Otherwise, consumers in the world will look for another company," he said.
In the Philippines, the Korean government has been recognizing since 2015 Korean companies which have embraced CSR.
This year's CSR Awards for Korean Companies in the Philippines held recently at the Dusit Thani Hotel in Makati City, was hosted by the Embassy of the Republic of Korea with the Korean Chamber of Commerce Philippines and the Asian Institute of Management (AIM).
During the event, 13 Korean companies were recognized.
Samsung Electronics Philippines Corp., KEPCO Philippines Corp., and Hyundai Engineering & Construction were given the Platinum Award.
Companies given the Gold Award are Pepsi-Cola Products Philippines Inc., Hyundai Rotem Manila Branch, and LG Electronics Philippines Inc., while those granted the Silver Award are KEB Hana Bank Manila Branch and Samsung Electro-Mechanics Philippines Corp.
During the event, certificates of recognition were also given to DOOSAN Heavy Industries, Shinhan Bank Manila Branch, ILSUNG Construction Co. Ltd., Asiana Philippines GSA Inc., and POSCO Engineering & Construction Co., Ltd.
Companies were awarded for various CSR activities which included building smart classrooms, supporting local communities by building homes and offering scholarships, and providing humanitarian assistance for the damaged areas and victims in the Marawi siege, as well as natural disasters such as typhoon Mangkhut.
AIM president and dean Jikyeong Kang said the management school is supporting the CSR awards as promoting sustainability is part of its thrust.
"AIM has always been strong and believing in sustainability and making sure sustainability is a big part of our teaching and learning," she said.
While CSR used to be only a small activity for organizations, she said times have changed and companies now recognize the value of such undertaking and make it a big part of their daily operations.
"It is encouraging to see many companies who really believe in meaningful and relevant CSR also happen to be doing very well in terms of profit. We want to emphasize that people, planet and profit can all work and act together. It doesn't have to be separate," she said.
More than helping build Korean companies' brands in the country, Han said CSR activities are also seen to promote closer ties between South Korea and the Philippines.
"The strategic point is to increase social responsibility to make win-win solutions benefitting their companies and also participating countries and the people. That's why we are encouraging more CSR activities," he said.
As CSR activities undertaken by Korean companies in the country involve local communities, Presidential Communications Operations Office Secretary Martin Andanar said CSR helps strengthen the bonds of friendship and cooperation between the two countries.
To date, there are more than 300 South Korean companies registered with the Philippine Economic Zone Authority.
These Korean companies employ more than 250,000 individuals.
South Korea is also among the Philippines' major trading partners.