Water for lasting peace in Marawi
November 26, 2018 | 12:00am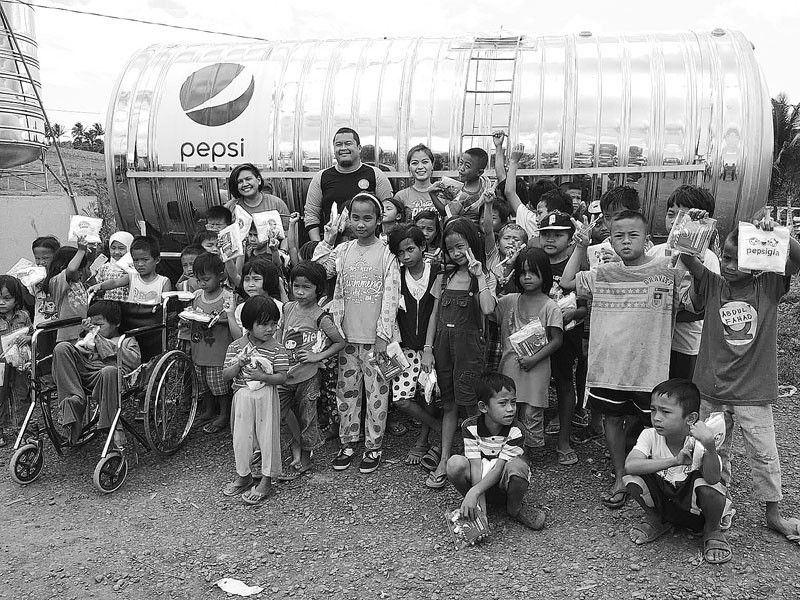 MANILA, Philippines — Local government heads in Mindanao must prioritize education if they want to give their constituents a better chance of breaking the cycle of poverty.
Jimuel Que, mayor of Bongao in the island province of Tawi- Tawi in the Autonomous Region of Muslim Mindanao (ARMM), is making this call for fellow local government chiefs in Mindanao, home to two-fifths of the country's poor according to the World Bank (WB) report Making Growth Work for the Poor: A Poverty Assessment for the Philippines.
"You've seen the data. The less education, the greater the poverty incidence," he says, citing the presaentation of economist and former Economic Planning Secretary Solita Collas-Monsodat at a recent Seal of Good Education Governance Awarding Ceremony. Held by Synergeia Foundation, in partnership with USAID, PLDT and Smart Communications, the annual event recognizes municipalities and cities for their outstanding efforts in the field of education.
Education and Poverty
Monsod, who is also a trustee of the Synergeia Foundation, presented data from the Family Income and Expenditure survey of 2015. The said research showed that the likelihood of poverty among families headed by persons with no education is 46.7%; elementary graduates, 20.7%; high school graduates, 9.3% and college graduates, 1.4 %.
The figures vindicate Que and other mayors who are working with Synergeia to improve the quality of education in their locality, and whose efforts are slowly paying off. Bongao is one of six LGUs in Mindanao that are among the 34 that were recently recognized for good education governance.
As Seal recipients, they have met Synergeia's criteria for good education governance: They ensured the active participation of their local school boards (LSB) and School Governing Councils (SGC) and reduced the number of non-readers and frustrated readers in their locality by at least 20 percent. They also surpassed the national average of 80% for cohort-survival rate (percentage of first graders who went on to sixth grade), and increased their budgets for education.
Aside from Bongao, a recipient of Synergeia's Seal of Good Education Governance in Mindanao is Datu Paglas of Maguindanao and Cagayan de Oro City. The towns of Parang and Upi in Maguindanao and General Santos City also received the Jesse Robredo Award in Education Governance.
Challenges
It was no mean feat, even for the first-class, highly-urbanized city of Cagayan de Oro (CDO). Mayor Oscar Moreno says that when he was elected in 2013, he had to address the very basic problem of classroom shortage.
"There were three shifts in a day, which means that the students spent very little time learning in the classroom because they had to make way for the next shift and the teachers were overburdened. I was worried that the quality of education was deteriorating and we were developing leaders whose quality would be a lot less than their predecessors," he details.
By maximizing the use of the Special Education Fund (SEF) and with the help of the community through the SGC and the LSBs, CDO built "more than 500 classrooms in five years, and came up with new campuses for at least 10 high schools."
Moreno says he feels honored, humbled and challenged to receive CDO's second Seal of Good Education Governance. "I know that success gives rise to greater expectations and having listened to the other Seal recipients and knowing what they are doing also inspires us to level up," he expresses.
Technology package
Seal recipients will get customized technology packages from PLDT and Smart that include the provision of Infocast, a web-based solution that will allow the LGU to broadcast announcements and receive feedback via text message.
The technology package also includes the Smart School-in-a-Bag, which contains a solar panel to serve schools without electricity, mobile devices, curriculum-based educational content, teacher training, monitoring and evaluation.
Que finds the portable digital learning package ideal for the island province. Bongao is a Seal recipient for the second straight year, so the Smart School-in-a-Bag that they received as part of their prize last year is "passed from school to school" to enable more teachers and students to benefit from digital learning.
"The students are amazed that they can even draw using the computer. It is the first time for some of them to see and touch a computer or tablet. The experience opens their eyes to how technology can open learning opportunities for them," Que says.
Catch-up
Moreno agrees, saying that hands-on learning is very crucial, especially among millenials. He acknowledges that providing quality education "is more difficult for us in Mindanao since we need to catch up to at least be at par with the rest of the country."
Results from the Functional Literacy, Education and Mass Media Survey (FLEMMS) show that in 2013, 96.5 percent of 74 million Filipinos 10 years old and over were basically literate or could read and write a simple message in any language or dialect. While most Luzon regions registered higher than the national figure with NCR the highest at 99.5%, all regions in Mindanao registered lower, with ARMM having the lowest at 86.1% along with SOCCSKSARGEN (90.8%).
The survey also shows that nine out of 10 Filipinos were functionally literate (90.3%) or can read, write, compute and comprehend. Majority of regions in Luzon posted functional literacy rates higher than the national average with NCR at 95.3%, but with the exception of Northern Mindanao (94.0%) and CARAGA (91.9%), all regions in Mindanao registered lower with ARMM having the lowest functional literacy rate in the country (72.1%).
Que, however, is up to the challenge. So are the other awardees, four of which come from Maguindanao, which is also located in ARMM, where over 50 percent of the population is poor, according to WB figures.
"The dream is to make education in Bongao at par with the rest of the country so that we can give our children a brighter future," he says.
For more information about the Synergeia Foundation, visit www.synergeia.org.ph.