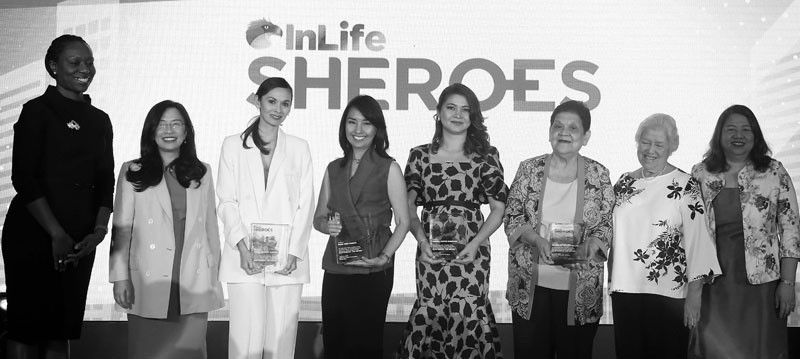 (From left) Esther Dassanou, International Finance Corp. senior operations officer, gender secretariat; Noemi Azura, InLife EVP and corporate strategy and partnership division head and concurrent president of Insular Health Care Maria; InLife Sheroes influencers – Amina Aranaz-Alunan, creative director and owner of Aranaz, and founder of School of Fashion and the Arts; Rose Fres-Fausto, author, columnist and financial expert; Sherill Quintana, Oryspa Spa Solutions founding president; Suzette Gaston, Negros Women for Tomorrow Foundation director for administration and finance; Cora Henares, Dungganon Bank Inc. president; and InLife president and COO Mona Lisa de la Cruz. Geremy Pintolo
They're called InLife Sheroes
Their mission: Financial inclusion, security for women
MANILA, Philippines — Who is a 'shero'?
She is a unique human being as she is an expert in multitasking; she does not divide time and love, she multiplies them. She fights for causes she believes in and turns obstacles into opportunities."
She listens to her head as well as her heart. She walks in when everyone else walks out.
Even though she is Miss Universe, she knows her real measurements have less to do with numbers or statistics.
Her ingenuity, diskarte and intuition are unflappable.
Thus spoke Nina Aguas, executive chairman of Insular Life, at the recent launch of Insular and International Finance Corp. (IFC)'s new advocacy dubbed InLife Sheroes, which aims to empower Filipino women to take charge of their economic, social, health, and overall well-being.
The program is expected to impact the lives of one million Filipino women by providing risk-mitigation solutions throughout their lifetime and educating them on financial management, health and well-being. It aims to reach out to the relatively untapped segment of women in the Philippines, starting with women entrepreneurs who need life and health protection as well as financial solutions to expand businesses.
An IFC report, She for Shield: Insure Women to Better Protect All, estimates that women's market opportunity for the insurance industry will grow up to $1.7 trillion by 2030 globally, most of which will come from emerging markets such as the Philippines.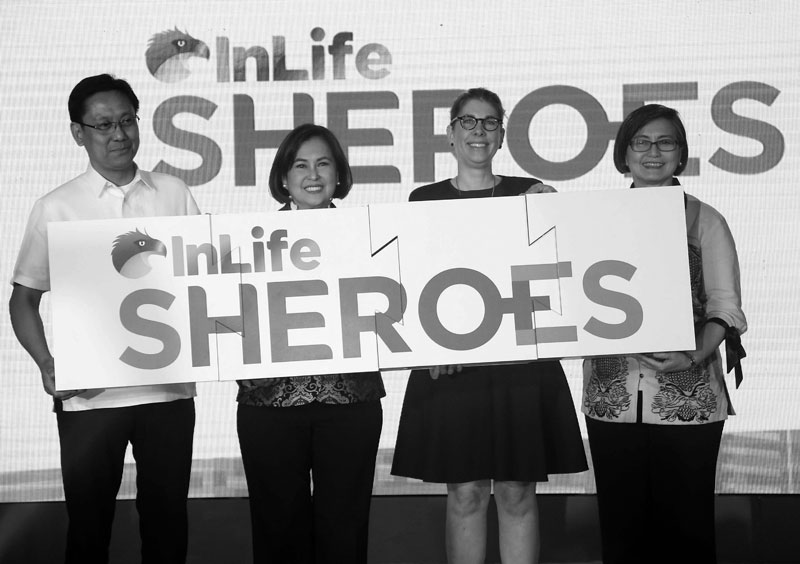 (From left) Deputy Insurance Commissioner Ferdinand George Florendo, InLife executive chairman Nina Aguas, International Finance Corporation (IFC) Gender Secretariat Manager Henriette Kolb
and Philippine Commission on Women executive director Emmeline Verzosa.
IFC, a World Bank Group member, partnered with Insular in 2017 to expand women's access to insurance in the Philippines. With IFC's support, Insular is now developing insurance solutions designed for women with specific coverage, bundling of products, and customized add-on services.
Aguas said, "As a Filipino financial institution that has been serving Filipinos for 108 years, we are keen to contribute to the financial inclusion agenda for women in our country. We will provide protection and risk mitigating solutions to women along with investment opportunities. Subsequently, this will help them survive a loss of income or an unforeseen event."
Last year, the two companies collaborated on data collection and workshops on gender sensitivity, among others. The findings reveal that a large number of women in the Philippines lack knowledge of proper saving, investing, and risk protection. It is therefore essential to bridge the knowledge gap through financial literacy programs and address women's limited access to business and social networks.
Henriette Kolb, manager of IFC's Gender Secretariat, said: "The InLife Sheroes program, through expanded financial protection, will help ensure economic well-being of women, thereby bolstering the Philippines' growth trajectory. We are pleased to support Insular Life in its efforts to strengthen every Filipina's role in nation-building through solutions that increase their ability to cope with financial challenges and protect their assets."
The InLife Sheroes program is part of Insular's broader strategy to empower Filipino women to achieve a better life. Insular has also started implementing a gender-sensitive distribution model, training both women and men advisors to have an increased awareness of their women customers' specific needs. The company is also working towards becoming a women's employer of choice and is working towards obtaining an EDGE certification, a global business certification standard for gender equality.
IFC has been working with insurers since 2016 to develop specific approaches to address the needs of women at various stages of their lives as well as for women-owned SMEs, while creating income-generating opportunities for women as insurance employees, advisors, and distributors.