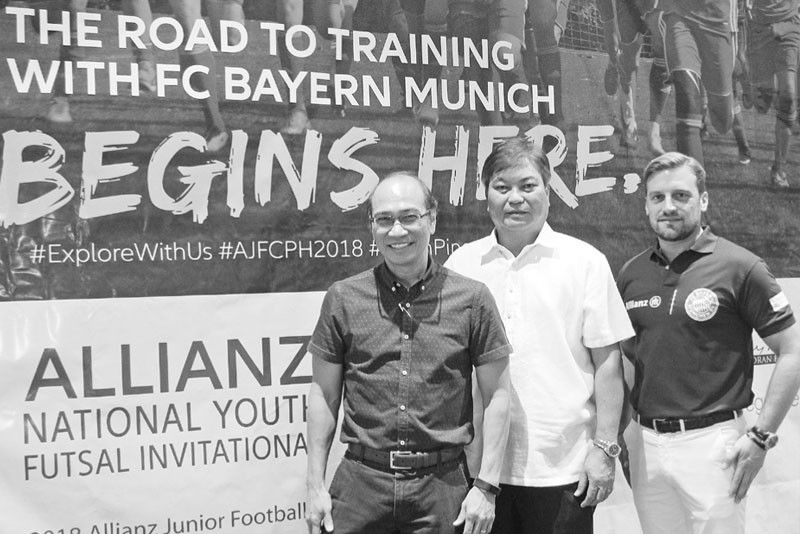 Preparing the young for a better tomorrow: (From left) Danny Moran, chairman, The Henry V. Moran Foundation; Mariano Araneta, president, Philippine Football Federation; and Alex Grenz, COO, Allianz. Jun Mendoza
Getting the right kicks in life
MANILA, Philippines — "Futsal has produced some of the best football players in the world such as Pele and Ronaldinho," Philippine Football Federation (PFF) president Mariano Araneta shared during the recent launch of the Allianz National Youth Futsal Invitational (NYFI) and the Allianz Junior Football Camp (AJC), showcasing Allianz's strong commitment to futsal, football, and youth development in the Philippines.
The NYFI is the first privately-led youth futsal tournament in the Philippines that is nationwide in scope. It aims to promote, develop, and spur interest in the sport across the country. Allianz, one of the largest insurance companies in the world, launched the event together with the Henry V. Moran Foundation, which promotes futsal development throughout the country, especially in public schools.
Sanctioned by the PFF, the competition, which caters to boys and girls aged 12 to 16 years old, is ongoing until the national finals slated on June 2 to 3 at the Laguna Sports Complex in Sta. Cruz, Laguna. Eliminations are taking place in nine areas across the country – Bacolod, Iloilo, Cebu, Cagayan De Oro, Dipolog, Davao, Baguio, Naga, and Metro Manila.
"The program speaks of Allianz's continued commitment to the promotion of the sport of football in the Philippines at a time when we're seeing a renaissance in a country that produced the likes of Paulino Alcantara, Eddie Pacheco, Phil Younghusband and Chieffy Caligdong," Allianz COO Alex Grenz said. "Allianz believes in the values of teamwork, passion, and discipline, to name a few. We are committed to instilling these values into the next generation."
The NYFI also serves as the nationwide search for the Allianz Junior Football Camp (AJFC), a global talent identification program that Allianz organizes together with FC Bayern Munich, a German club whose stars include Filipino-Austrian and world football star David Alaba.
The football camp paves the way for the selection of eight fortunate Filipino youth aged 14 to 16 through the sport of futsal to participate in the FC Bayern Munich camp that will be held in Bangkok in July 2018. Of the eight, three Filipinos will be selected to further participate in the AJFC camp to be held in Munich, Germany.
Futsal is a growing sport in the world and is seen as an excellent complement to football development. In a country like the Philippines, it is an ideal modality for the sport's promotion and development.
"Futsal can be played indoors, and given the lack of fields in the country, we feel that it is an ideal way for us to engage millions of Filipinos into playing the sport, and even football. We see it as a way to increase participation and community engagement in the football ecosystem," says Danny Moran, chairman of the Henry V. Moran Foundation.
From engaging only 11 public schools in the sport in 2015, the number of participating schools has reached over 300 as of 2018, with some of these teams performing well in national competitions.
"We are grateful that Allianz recognizes this and is helping us take our efforts in developing futsal nationwide. Hopefully, we see the same success in terms of community engagement and participation that we have seen in our work with public schools."