Love of learning is at the heart of Teach for the Philippines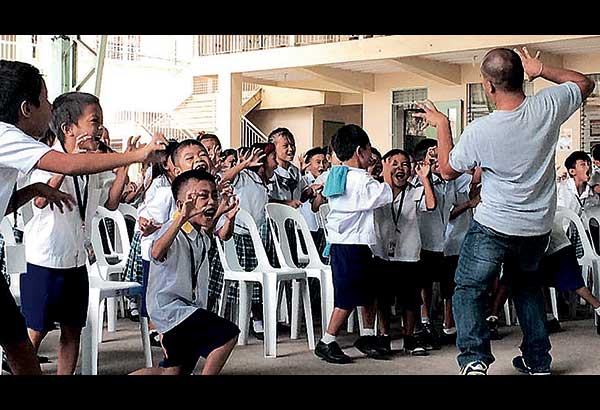 MANILA, Philippines - In a bid to improve the quality of education for public schools, independent organization Teach for the Philippines (TFP) enlists young leaders to teach in public schools and to create sustainable projects for local communities.
Among the recipients of TFP's initiatives are students of Malaban Elementary School (MES) in Biñan, Laguna. Here, students improved their reading skills with the assistance of TFP teacher fellows who would patiently guide non-reader pupils to hurdle their frustration in being unable to read and understand words and letters.
Elaine Quidato, one of the teacher fellows, shares that under the TFP program, 80 percent of the 40 Grade 3 students in MES picked up their reading skills in two months.
"It's great that we got to enable students who were once non-readers (alien to letters and sounds), to read a story," Quidato said.
"Kids can actually do it if they believe in themselves. We were there to help them achieve their dreams. It's one of the reasons why we push ourselves to go to school and teach even though there were times when we felt like giving up," she added.
MES is a public elementary school located in Biñan, Laguna that was founded in 1932 with enrollees from Kindergarten to Grade VI pupils.
Enlisting some of the country's most promising young leaders to teach for two years in public schools throughout the Philippines, TFP, a non-stock, non-profit organization, works to provide all Filipino children with an inclusive, relevant, and excellent education.
The organization has been in partnership with local government units in Biñan and the Department of Education (DepEd) Division Office in Laguna since 2014.
TFP started with only one school placement in Biñan with eight teacher fellows assigned to the Malaban Elementary School, later expanding to two to include Dela Paz Main Elementary School. A total of 10 teacher fellows are assigned in the area, five in each school.
Some of the projects that TFP is undertaking include the Theater Organization of Performing Pupils, Bin Stalk, Project IceSeaTea (ICT), Peace/Cultural Understanding Sessions and iLead.
The Theater Organization of Performing Pupils initiative enables the students to learn, read and be creative in telling stories through live performances while Bin Stalk project aims to teach students about proper waste management and financial literacy.
On the other hand, Project IceSeaTea is a workshop session that gets students to use their ICT skills to address social issues in Malaban in their own little way.
Peace/Cultural Understanding Sessions, meanwhile, allow students to gain a better understanding of the history of different ethnicities, religions, etc in the Philippines, while the iLead project hones students' leadership skills in their community.
Pilar de Castro, principal of Malaban Elementary School, vouched for TFP's initiatives in helping the school and its students through their academics as well as non-academic programs.
"These projects are a big help to our learners and TFP fellows are instruments in providing supplementary assistance for the needs of the school. I gave them full support in bringing out the talents of our learners. The programs are well-implemented and we are currently tracking the progress of our students," she added.
TFP creates sustainable community projects to improve the quality of education in public schools while engaging corporate partners to make an impact in local communities.
Starbucks-Philippines is one of its major sponsors.