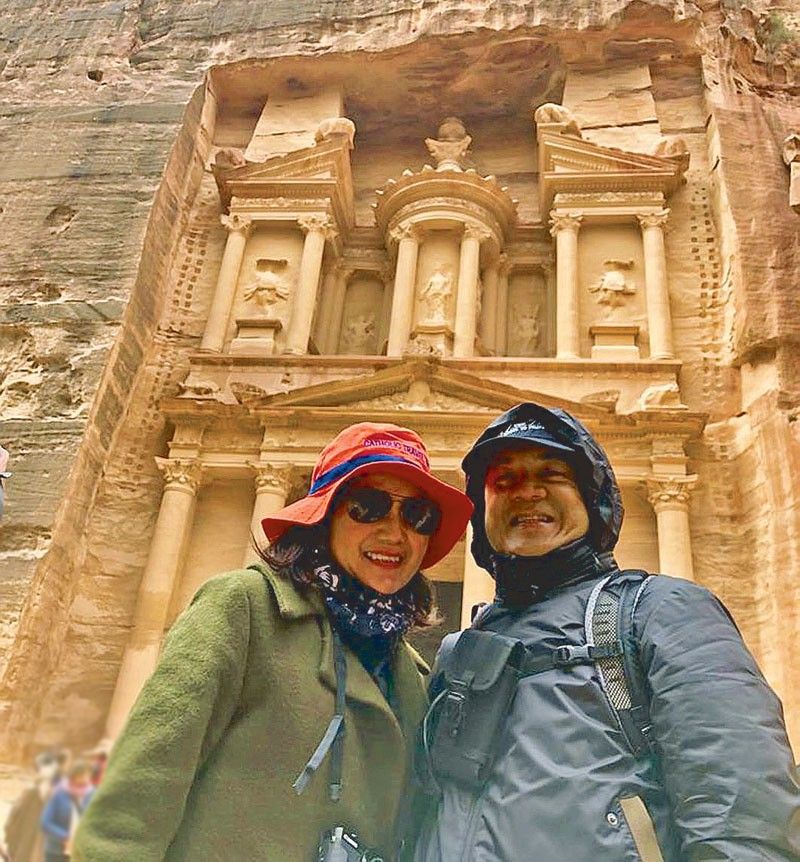 Carie and Tony Villena. Photo by Joanne Rae Ramirez
When I was checking in for a flight to Istanbul recently, a smartly dressed couple was on the same queue. We smiled at each other and introduced ourselves: they were Tony and Carie Villena, and we found out we were going on the same two-week pilgrimage to the Holy Land organized by Catholic Travel Inc. In the course of waiting for the counter to open, I found out that the Villenas are motivational speakers, and Tony, a bestselling eBook author. But that didn't awe me as much as their luggage did — their two pieces of check-in luggage were the size of carry-ons. Even the lady at Turkish Airlines' check-in counter was impressed — after all, the Villenas were travelling business class.
On our way home, I finally asked Tony and Carie their secret: "We travel light because we pack mostly only disposables and consumables." Carie leaves room in her luggage for things that make great impact: coats and scarves. In short, husband and wife make their burdens count. I presumed, from observing them, that they edit their lives the way they edit what goes into their suitcase. Those that unnecessarily weigh them down don't have room in their journey.
I recently bought Tony's bestselling eBook Being Better than Your Best (call 0917-5373484 for inquiries). I saw for myself that the Villenas simply practice what they preach. In one chapter of the book, Tony enumerated the ratios that we don't notice in our lives:
You have two ears, but you have three mobile phones. You have one pair of eyes, but you have several pairs of sunglasses. You have two hands, but you have many bags. You have two wrists, but you have many watches. You have one body, but you have so many clothes. You have one mouth, but you eat a lot. You have two feet, but you have plenty of shoes. You have 24 hours/day, but you work 12 hours and bring home more work. I can go on and on. But these few examples already prove how we have complicated our lives!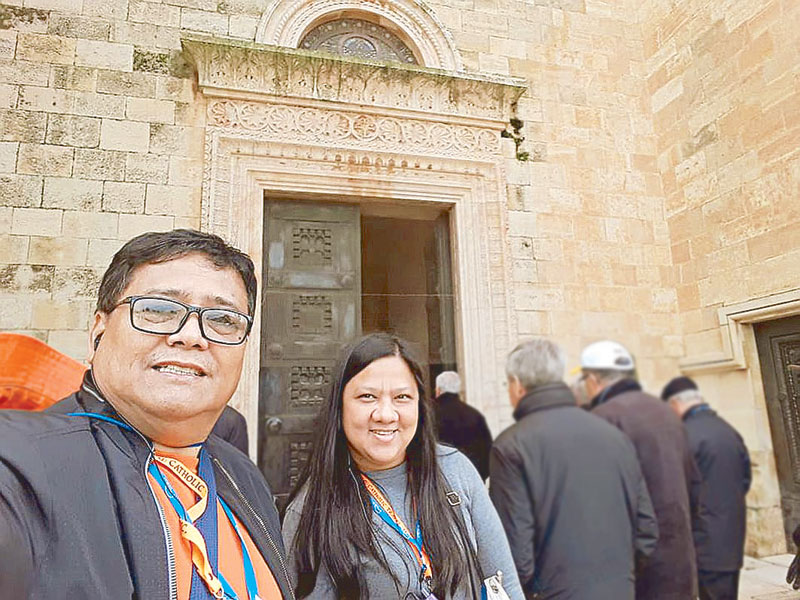 Fermin Santos and Ghee Panganiban.
"So…don't attempt to be perfect," Tony writes. "Don't try to have it all! Strike a balance in your life. Learn to say 'goodbye' and say 'no'…Avoid people and situations that will only 'complicate' your life. Don't think that your self-worth increases when you have plenty of money and material possessions. Neither does it decrease when you lose them! Ultimately, being simple is getting rid of complexity in your life that creates stress, exhaustion, and frustration. Trying to be all, doing it all and having it all, is the perfect formula to do less!
"And even if we manage to get it all done, we still end up being unhappy. Try giving some of your things away. Donate! Be ready to give them up! These are not 'yours' anyway. Clinging on to these won't help in being simple. Besides, these things get heavier and heavier as you climb the next mountain!"
We all have our mountains to scale, and as all of us who have gone against the pull of gravity know, the lighter our load, the easier our climb to the pinnacle.
Don't rid yourselves of essentials in your ascent: just make sure that if something is worth carrying on your back, it's going to have a place in your heart.
* * *
One of the 49 pilgrims in our group, which was headed by Fr. Dave Concepcion, was a pretty OFW named Jean Villa. She was scheduled to go on the pilgrimage last year but her beloved father passed away, so she had to postpone her trip. But before her father died, she promised him she would go this year.
Short on funds, Jean nevertheless made a down payment and prayed for a miracle. One day, her boss told her she was entitled to a hefty bonus that she had not yet claimed. The amount stupefied her because it covered the cost of the pilgrimage, and she was not expecting it!
Then, fellow OFWs gave her pocket money, "pay when able."
Jean made the trip. As Father Dave would say during our daily Masses during the pilgrimage, "Ask the Lord to answer your special intention. Ask Him."
Jean was fondly called the group's "Baby Girl." Once, when she was first at the luggage carousel, slim Jean took it upon herself to offload all the pieces of luggage (identified by orange ribbons) belonging to the group. Mortified, the men rushed to pull her away from the carousel.
A person who has been shown great kindness will move mountains, indeed!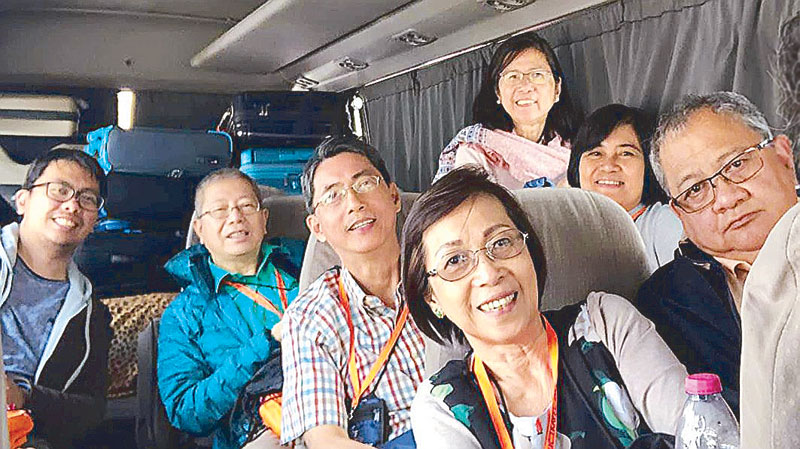 Patrick Flores, Bert Crisostomo, Dominic Dimalanta, Glo Flores, Dr. Thelma Crisostomo, Dee Dimalanta and Capt. Joey Flores.
* * *
Another interesting person I met was Fermin Santos, who wakes up at the crack of dawn every day to go to market. He comes up with 24 different viands weekly, puts them in a microwavable container and supplies them to the cooperative of the Asian Development Bank. He changes the menu every week.
Fermin determines the weight of each container by the quantity of food he scoops with a ladle from the kawa (cauldron). He doesn't weigh them but each container weighs virtually the same. Fermin used to run a catering business, but with the demand for his microwavable viands, he has had to give up catering.
Fermin and his wife are devout Catholics and travel is their reward for their hard work.
* * *
The youngest member of our group was Patrick Flores, the son of retired pilot Joey Flores and his wife Glo. After the trip, Aly Placino of Catholic Travel posted her gratitude to Patrick for being a helping hand and suddenly there was a chorus of "ayes." Someone thanked him for always waiting by the door of the bus to help the seniors in the group go down. I myself recalled that when I had to transfer stuff from my carry-on (dangerously overweight) to my check-in luggage, it was Patrick who suddenly appeared from nowhere to help me. Not only that, he accompanied me to the weighing scale and helped me weigh my luggage.
* * *
Another angel I met in the pilgrimage was Catholic Travel's Ghee Guardo Panganiban. Unflappable, efficient, helpful, but firm.
When I requested for a room change in our hotel in Jordan because of the stench of cigarette smoke left by the former occupant, Ghee came back to me to say it had been taken care of. It wasn't till I saw her luggage in my room that I realized it was Ghee who exchanged rooms with me.
"Wala po kasing extra room ang hotel. Fully booked sila," she apologized. The hotel had aired the room by then, but not before Ghee assured me. "Ako naman po ay madaling nakakatulog kahit nakaupo."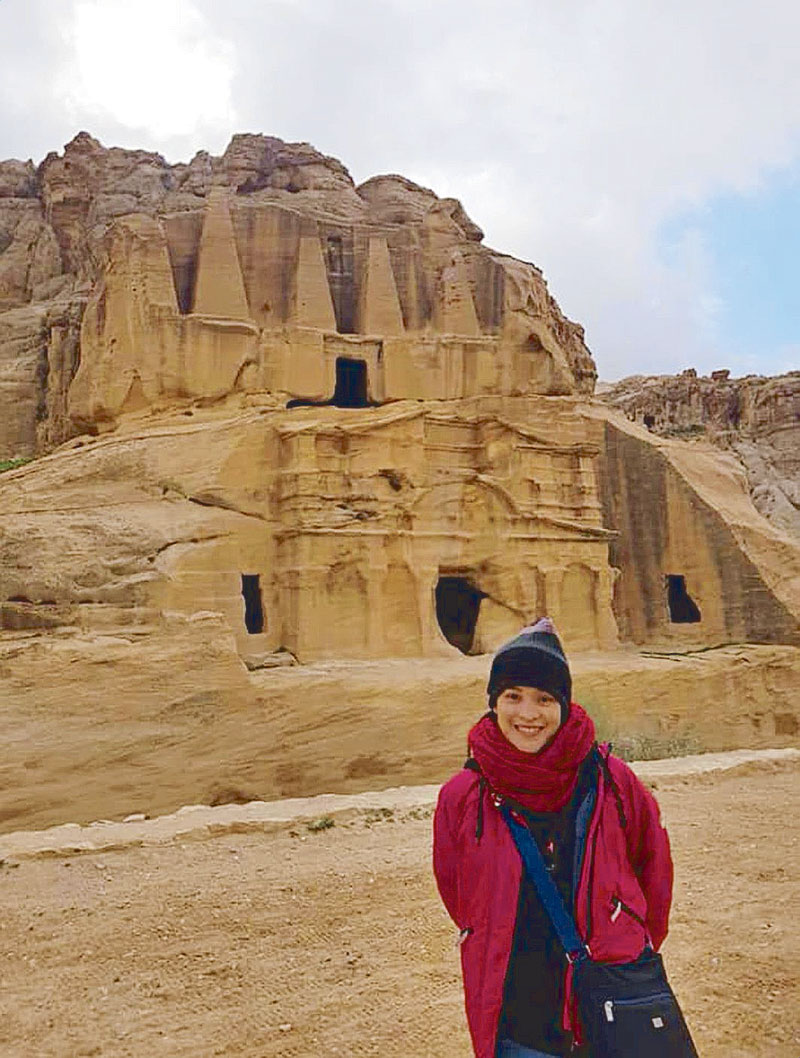 Jean Villa.
It could be true. But for Ghee's selflessness I give her a standing ovation.
You don't meet people by coincidence in this journey called life.