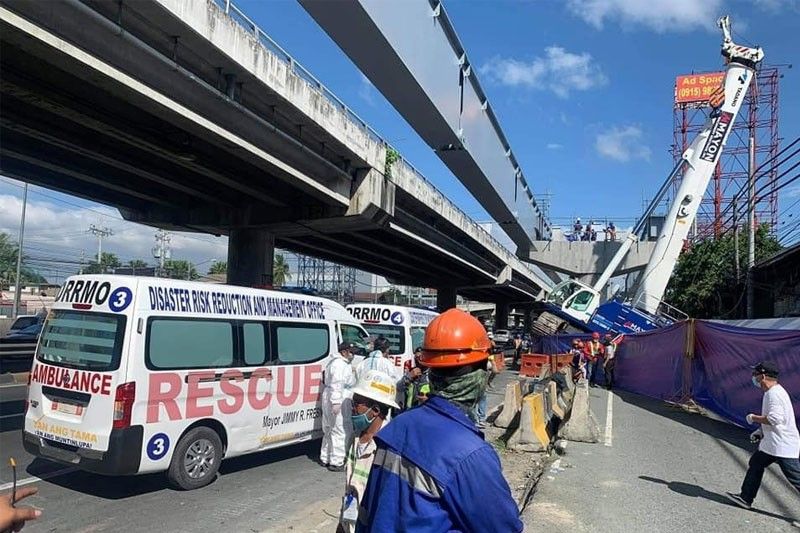 A steel girder of the Skyway extension project which is under construction collapsed November 21, 2020, crushing vehicles beneath the structure.
Muntinlupa City Department of Disaster Resilience and Management
Skyway crane operator faces raps
Ghio Ong
(The Philippine Star) - November 24, 2020 - 12:00am
MANILA, Philippines — Criminal charges have been filed by the police against the operator of the crane that hit and caused a steel girder to fall at the construction site of the Skyway Extension project in Muntinlupa, killing a motorcycle rider and injuring four others last week.
Enrico Navora Gregorio, 41, is facing charges of reckless imprudence resulting in homicide, damage to property and multiple physical injuries before the city prosecutor's office.
Gregorio underwent inquest proceedings on Sunday, a day after the Skyway accident.
Project contractor EEI Corp. said a crane that was being moved into position tilted and struck the girder, which fell on seven vehicles along East Service Road in Barangay Cupang.
Edison Paquibot, 43, was killed in the mishap, according to the Muntinlupa police.
Two of the injured victims remain confined at the Asian Hospital and Medical Center, police said.
Labor Secretary Silvestre Bello III has ordered the suspension of the construction of the Skyway Extension project following the accident.
The suspension was ordered by Bello to pave the way for an investigation, according to Rolly Francia, spokesman for the Department of Labor and Employment.
DOLE National Capital Region director Sarah Mirasol directed project manager Jose Ilagan of EEI to attend a hearing today.
The Muntinlupa government said EEI and San Miguel Corp. (SMC), proponent of the Skyway Extension project, should be held liable for the mishap.
"There was no coordination for traffic management during the installation of steel girders for the Skyway Extension project," Mayor Jaime Fresnedi said in a statement.
SMC president Ramon Ang has apologized to the victims of the accident, saying all their needs would be shouldered by the company.
Muntinlupa Rep. Ruffy Biazon met with the officials of EEI and SMC.
During the meeting, the EEI said Gregorio "made a maneuver, which was not part of standard movement" when he moved the crane from parking position to the assigned work area.
Biazon said the sub-contractor of EEI, Mayor Machineries, would assume legal responsibilities and provide assistance to Gregorio. – Sheila Crisostomo, Edu Punay, Artemio Dumlao