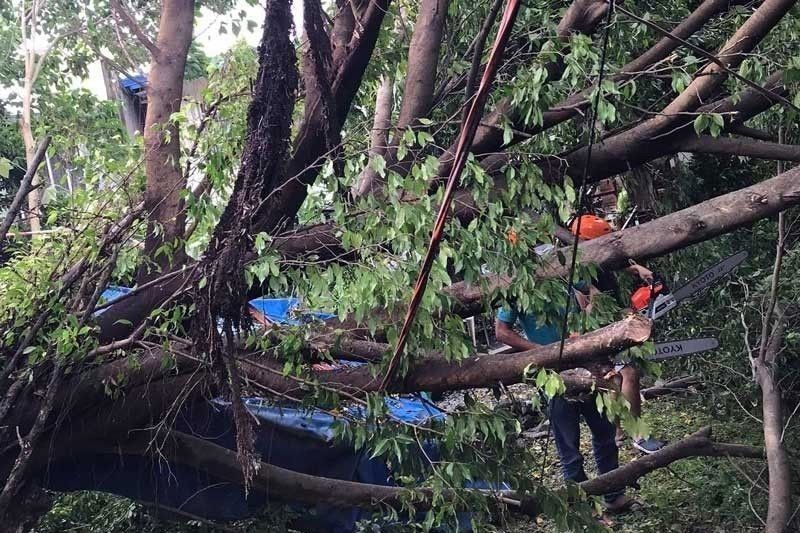 This October 26, 2020 photo shows operations to clear debris left behind by Typhoon Quinta
Batangas PIO Facebook page
Quinta death toll hits 16; agriculture damage at P1.7 billion
MANILA, Philippines — The death toll from Typhoon Quinta increased to 16 while four remain missing, the National Disaster Risk Reduction and Management Council (NDRRMC) reported yesterday.
Aside from the nine deaths recorded on Wednesday, the NDRRMC said two persons died in Calabarzon, five in Bicol and two in Central Visayas. The fatalities either drowned or were hit by fallen trees.
Twenty-two other people were injured.
A separate report from the Office of Civil Defense (OCD) said the number of deaths in Bicol due to the typhoon rose to eight after the bodies of three fishermen reported missing were recovered in the waters off Panganiban in Catanduanes.
OCD-Bicol director Claudio Yucot identified the victims as Joel Potenciano, 41; his brother Dante, 43, and Francia Valles, 45.
Three other fishermen remain missing.
In Quezon, two children were reported missing after they were swept away by the current while crossing a river in Barangay Ilayang Bukal in Tayabas City.
The NDRRMC said 57,742 families were affected by the typhoon, 65,000 of them still in 916 evacuation centers.
Damage to agriculture ballooned to P1.7 billion, according to the Department of Agriculture-DRRM operations center.
At least 73,098 hectares of agricultural land and 30,488 farmers were affected in Ilocos, Calabarzon, Bicol, Western and Eastern Visayas, Mimaropa and Zamboanga peninsula.
The rice sector was hardest hit at P1.13 billion or 66 percent of the damage.
High-value crops and the corn sector suffered losses amounting to P446 million and P118 million, respectively.
Damage to irrigation and agri-facilities was estimated at P3.64 million.The fisheries sector incurred P2.2 million in losses.
Rains fill up Angat
As this developed, the water level in Angat Dam was recorded at 200.20 meters or 20.20 meters higher than its minimum operating level at around 8 a.m. yesterday.
The water level in the dam was at its lowest on Sept. 14 at 176.61 meters.
The Metropolitan Waterworks and Sewerage System said the water level should increase to 213 meters by December to ensure a steady supply for Metro Manila consumers throughout the summer in 2021. – Cet Dematera, Michelle Zoleta, Gilbert Bayoran, Ramon Efren Lazaro
Related video: