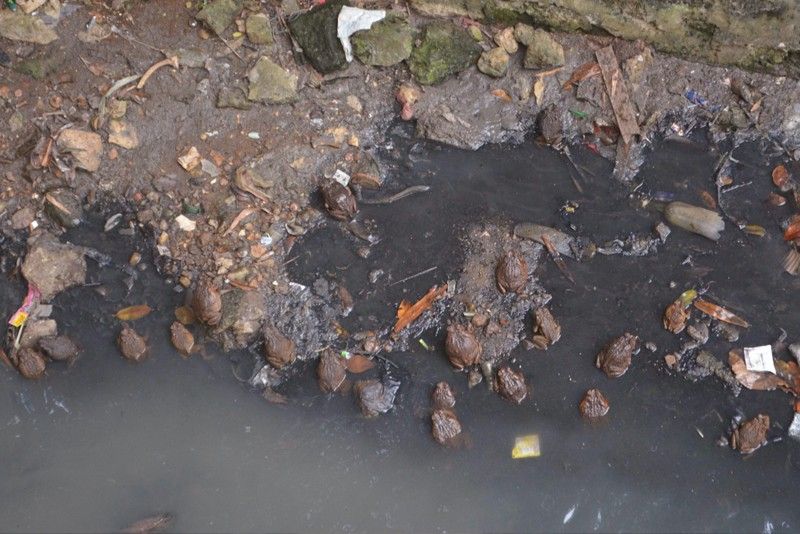 Personnel from Barangay Old Balara in Quezon City release frogs into a canal to control the spread of mosquitos that may carry the dengue virus.
Image taken from Barangay Matandang Balara's Facebook page.
2 Quezon City barangays release frogs, catch rats to fight disease
MANILA, Philippines — Two barangays in Quezon City are turning to catching rats and releasing frogs in a bid to combat the spread of diseases in their communities.
To control the spread of leptospirosis, Batasan Hills has been implementing for over a year a project offering a kilo of rice for every rat caught by a resident.
The project has so far netted at least 1,000 rats. Leptospirosis can be contracted by wading in floodwaters contaminated with the urine of infected rats.
The barangay council approved the project through a resolution in August 2018, when Batasan Hills was reported as having the highest number of leptospirosis cases in the city.
Captain Jojo Abad said the project has been good for the community, which was removed from the city health department's urgent list in less than six months.
Michell Saragcon, a health and sanitation staff of the barangay, said at least 100 live rats are turned over to the barangay hall per month.
The rats are drowned before being buried at a vacant lot near the barangay hall, she added.
A rat measuring 10 inches can fetch a kilo of rice. A resident has to turn over two medium-sized rats, or at least 10 small or baby rats, to get a kilo of rice.
In nearby Old Balara, barangay officials released bull frogs last week to control the spread of mosquitos.
Barangay captain Allan Franza led the release of the frogs along the barangay's waterways, saying this could help curb the breeding of dengue-carrying mosquitos.