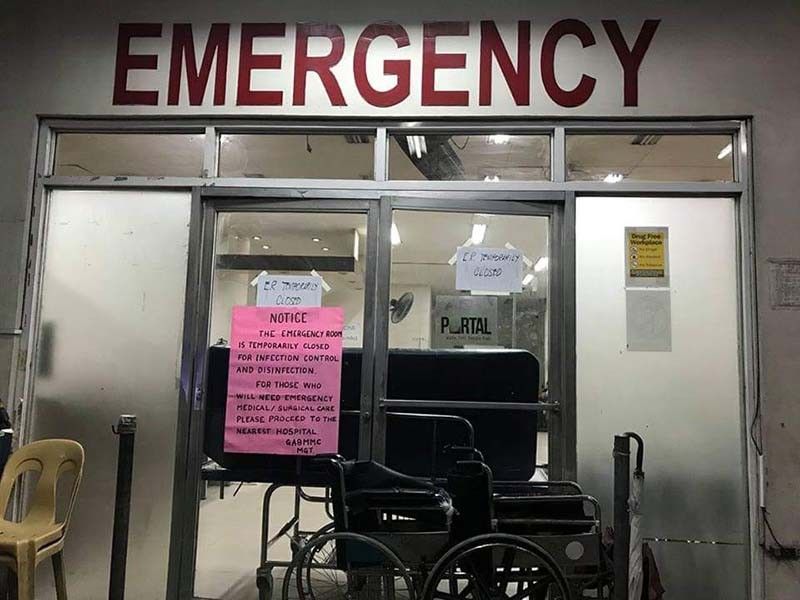 The emergency room of Gat Andres Bonifacio Memorial Medical Centre in Tondo is temporarily closed due to a suspected case of meningococcemia.
Via News5/Jen Calimon
ER at Manila hospital closed over suspected meningococcemia case
(Philstar.com) - January 23, 2019 - 8:23am
MANILA, Philippines — The emergency room at the Gat. Andres Bonifacio Memorial Medical Center in Tondo, Manila has been temporarily closed over a suspected case of meningococcemia, a bacterial form of meningitis that is transmitted from person to person.
In a video posted by The STAR, Dr. Rolan Mendiola, senior house officer at the hospital on Delpan Street, said that the 55-year-old patient had had a fever for around three days and had rashes, which led doctors to suspect meningococcemia. The patient has been isolated and everyone else in the emergency room, including hospital staff, was given a prophylactic against infection.
"This is just a suspected case but, of course, to avoid anyone else being potentially infected, we've temporarily closed (the emergency room)," Mendiola said in Filipino. He said results of confirmatory tests would be available in around five days.
WATCH: Dr. Rolan Mendiola, Senior House Officer of Gat Andres Bonifacio Memorial Medical Center, says they're still waiting for test results to confirm if the 55-year-old patient has meningococcemia. | via Ernie Penaredondo pic.twitter.com/GmOQHZICUX

— The Philippine Star (@PhilippineStar) January 22, 2019
Meningococcemia is caused by bacteria called Neisseria meningitis. Common early symptoms include fever, headache, rash consisting of small spots, nausea, irritability and anxiety.
At least 200 cases of meningococcemia are recorded annually in the Philippines, according to the DOH, which said last week that there is no reported outbreak of the infection in the country.
It said, though, that it was looking into the death of a one-year-old girl in Valenzuela City who died on January 16 and "exhibited signs and symptoms of the disease."
"Our team has collected laboratory specimens and is still awaiting results as of this writing. We are closely coordinating with our regional office for contact tracing," the DOH said then.
The local government of Valenzuela earlier said the alleged meningococcemia case in Valenzuela City Emergency Hospital was declared negative. As a safety precaution, the hospital conducted fumigation, ultraviolet light and disinfection, Health Undersecretary Eric Domingo said last week.