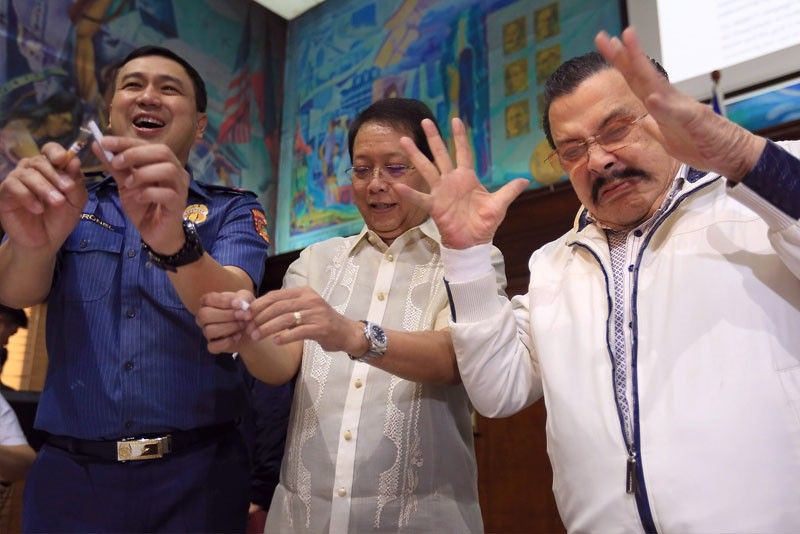 Manila Mayor Joseph Estrada and other city officials break cigarettes in half as part of the city government's observance of World No Tobacco Day yesterday.
Edd Gumban
FDA: No e-cigarettes registered in Philippines
MANILA, Philippines — Despite the proliferation of electronic cigarettes (e-cigarettes or vapes) in the market, no manufacturer or distributor has applied for a Certificate of Product Registration (CPR) with the Food and Drug Administration (FDA), an official said yesterday.
These products are "technically illegal," according to Ana Trinidad Rivera, FDA director for cosmetics regulation and research.
"Nobody has applied yet for the CPR because of the requirement for the clinical trials because (the device) is considered as part of smoking cessation," she said during in a press conference for yesterday's observance of World No Tobacco Day.
Under Department of Health (DOH) Administrative Order No. 2014-0008, all manufacturers or distributors of vapes have to apply for CPR after passing quality checks before the products can be sold in the market, especially if they are being marketed as smoking cessation devices.
Meanwhile, Mayor Joseph Estrada called on all smokers in the country, particularly in Manila, to "sacrifice for the youth" by quitting smoking.
The 80-year-old mayor said he quit smoking three years ago after being a chain smoker for more than 60 years. He started smoking when he was barely 20 years old.
Estrada warned city hall employees and officials to strictly follow the smoking ban in the city hall.
"Don't make me catch you smoking. I haven't punched a man in a very long time. I am not threatening you," he said, adding that they should set a good example to Manileños. – Jose Rodel Clapano