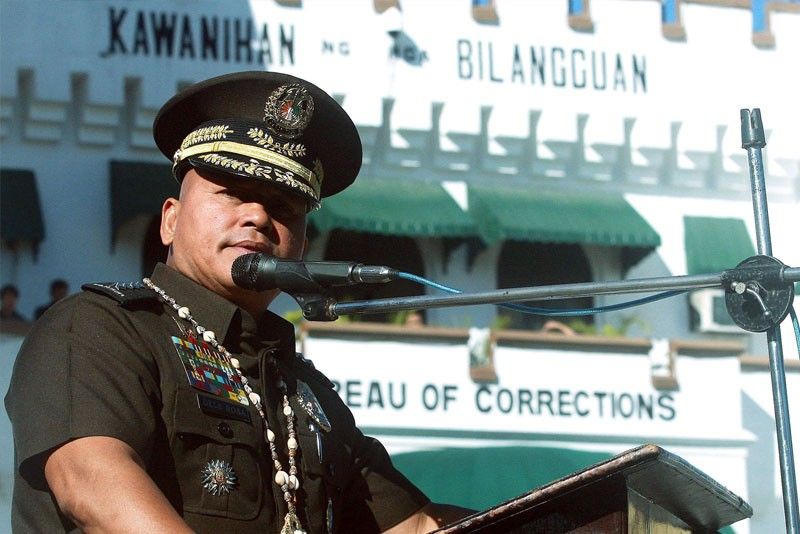 Bureau of Corrections director Ronald dela Rosa addresses prison guards in a speech during his first flag-raising ceremony as BuCor chief at the New Bilibid Prison yesterday.
Joven Cagande
Corrections head Bato dela Rosa tells guards: 'Be ready to kill'
MANILA, Philippines — Prison guards should be prepared to shoot drug lords and other convicts, Bureau of Corrections (BuCor) director Ronald "Bato" dela Rosa said as he officially assumed office yesterday.
"Takot kayo sa mga drug lord na 'yan? Kung pwede nila kayong patayin, sila rin kaya niyong patayin kasi nasa loob sila diba? Bakit kayo takot mamatay? Ayaw na ayaw ko kayo'y duwag (You're afraid of drug lords? If they can kill you, you can also kill them because they're in prison. You're afraid of dying? I hate cowards)," Dela Rosa said.
Speaking during his first flag-raising ceremony at the New Bilibid Prison (NBP) compound, Dela Rosa said cowardly employees should take off their uniforms as they do not deserve to be in the bureau.
He assured NBP personnel that he is ready to protect them should they end up killing an inmate.
"Bakit kayo hintayin pa na patayin kayo? Madali lang patayin yang mga gago na yan kung tinatakot kayo. So be sure 'wag kayong matakot sa mga drug lords na 'yan, sagot ko kayo (Why wait until you are killed? These fools are easy to kill if they are threatening you. So be sure, don't be afraid of these drug lords, I have your back)," he said.
Dela Rosa clarified that he is not promoting violence during his watch at the BuCor, saying he is only showing them the "disparity" of the guards' position over those who are behind bars.
He also warned the prison guards of intelligence reports he received that some of the inmates were used as guns for hire in killing some politicians and their supporters during the previous elections.
Dela Rosa said he will file charges against the guards if one of the inmates turns out to have been used to kill politicians or their supporters.
He also met with 60 high-profile inmates in the NBP's Building 14, telling them they will do well if they cooperate with his mission to eradicate the illegal drug trade in the state penitentiary.
Some of the inmates asked Dela Rosa to give them enough food and ease up on the procedures for getting medicine.
He took note of their grievances but reminded them that "ako ang siga dito, kaya ako ang masusunod (I'm the top dog here, so my orders will be followed)."