2 hurt in BIFF bombing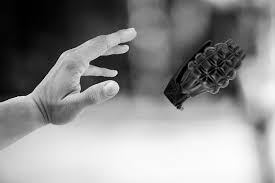 MAGUINDANAO, Philippines — Islamic militants bombed an Army detachment in Shariff Aguak town Friday night, wounding a soldier on duty and a bystander.
Senior Superintendent Agustin Tello of the Maguindanao provincial police said Saturday blast victims Kamarudin Malang and Corporal Ebrahim Meto of the Army's 57th Infantry Battalion are now confined in a hospital.
Local officials have pointed to the outlawed Bangsamoro Islamic Freedom Fighters as responsible for the attack.
One of two suspected BIFF members on a motorcycle lobbed a fragmentation grenade into the fenced roadside detachment of the 57th IB in Shariff Aguak and sped away as the explosive went off.
The powerful blast that ripped through the detachment caused panic among villagers in houses nearby.
Tello said personnel of the Shariff Aguak municipal police are now trying to identify the culprits for them to be prosecuted for the offense.
Tello said the bombing was an apparent retaliation for the BIFF's heavy losses in encounters with Army units in the province in the past three months.
The BIFF, which boasts of loyalty to the Islamic State, is feared for its practice of using explosives and home-made roadside bombs to avenge the deaths of companions killed by pursuing soldiers.