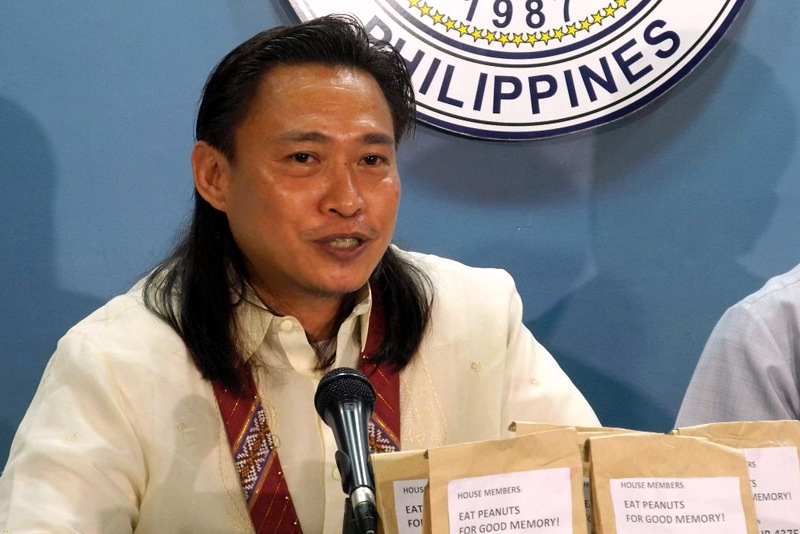 Ifugao Lone District Rep. Teodoro "Teddy" Baguilat Jr. was charged before the anti-graft court Sandiganbayan with violation of the Anti-Graft and Corrupt Practices Act. Baguilat staff/Released, File photo
Ifugao lawmaker faces graft raps for 'overpriced' vehicle
MANILA, Philippines — Ifugao Lone District Rep. Teodoro "Teddy" Baguilat Jr. was charged by the Office of the Ombudsman over his alleged purchase of an overpriced second-hand vehicle amounting P900,000 during his term as governor in 2003.
Baguilat was charged before the anti-graft court Sandiganbayan with violation of Section 3 (e) of Republic Act 3019 or the Anti-Graft and Corrupt Practices Act.
Named as his co-accused in the case were former provincial budget officer Virginia Farro, former provincial treasurer Samuel Marinay and private respondent Jose Man Singh, proprietor of JMS General Merchandise.
Based on the charge sheet prepared by graft investigation and prosecution officer Ma. Czarina Castro-Altares, the Ifugao provincial government, during Baguilat's term as governor in March 2003, purchased a second-hand Isuzu Wagon Trooper from Singh's JMS General Merchandise amounting P900,000.
The ombudsman said Baguilat "conspired" with Farro and Marinay in giving "unwarranted benefit, advantage and preference" to Singh as the purchase contract was awarded to the latter's firm supposedly without the benefit of a competitive public bidding required under Republic Act 9184 or the Government Procurement Reform Act.
Furthermore, the ombudsman said the purchase was attended with several other irregularities such as the absence of proper budget appropriation.
The Deed of Sale for the vehicle was also allegedly executed ahead of the preparation of the purchase request and canvass report and the issuance of the purchase order.
The ombudsman said this only shows "that the purchase was already negotiated even before the procurement process" started, "thereby causing undue injury to the government."
Baguilat was also solely charged with violation of Section 3 (g) of RA 3019 as the purchased vehicle was also allegedly overpriced "to the damage and prejudice of the Province of Ifugao.
Section 3 (g) of RA 3019 prohibits a public official from "entering, on behalf of the government, into any contract or transaction manifestly and grossly disadvantageous to same, whether or not the public officer profited or will profit thereby."
The ombudsman recommended to the Sandiganbayan to set Baguilat's bail bond at P60,000 and his co-accused's at P30,000.
The charge sheets were approved by Ombudsman Conchita Carpio-Morales on Jan. 3, 2018 but the cases were formally filed before the Sandiganbayan only on February 9. The court's Fifth Division is set to handle the cases.
In a text message to the STAR, Baguilat confirmed that he already received a copy of the case information sheets filed by the ombudsman.
He said he is confident that he will be proven innocent in court.
"Well, all I can say is that we are confident that we will be exonerated of these charges. This is a simple case based on allegation from an anonymous complaint done 15 years ago. And I'm confident that I can clear my name," Baguilat said.