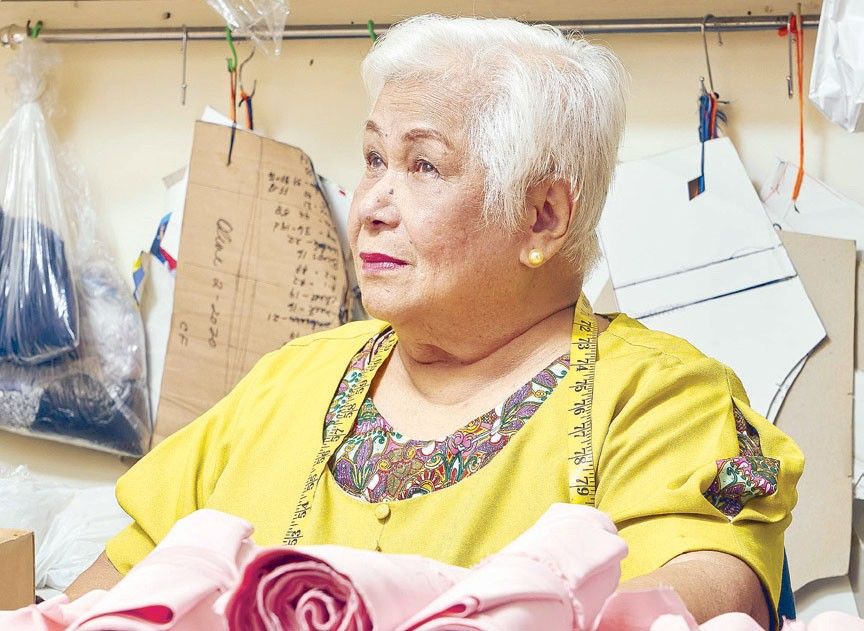 Sylvia Borja, 87, is busier than ever making fashionable protective jumpsuits.
Sonny Thakur
What's keeping Sylvia Borja inspired?
Sylvia Borja always looks forward to breakfast. It's her favorite meal of the day. But these days, she's cutting into something more purposeful. She's busy in her private factory in Marikina hand-cutting the most figure-flattering protective jumpsuits on the market.
Fashionable women who were out and about shopping in the 1970s might recognize her name from the labels of women's formalwear, semi-formal and smart casual pieces on the racks and in the display windows of Shoe Mart (now The SM Store) as one of its first suppliers when it opened in Makati.
For a new generation of fans, she is "Owa Sylvia," known for her spirited, love-hate repartee with her grandson (and our very own managing editor) Martin Yambao on his Instagram stories. You might not think someone quite so active would already be 87, but Sylvia is far from retired.
"This has been my livelihood since 1975. It has been my hobby since before I even got married, and when I got married, it became my business and, eventually, it turned out to be a good livelihood with which I raised my seven children," she says.
She works with two sewers who have been with her for 35 years. The wedding gowns of her four daughters, her nieces, granddaughters, and her grandson's wife — they are all made at her atelier.
"I have to be busy. If I didn't have this business, I wouldn't be busy, and I'd probably be dead. It's what gives me life. Otherwise I'd be sick, helpless. It's very important for anyone who's growing old to have a hobby and I am blessed to have a hobby that is popular to people. This particular hobby that I have has not gone out of fashion — the need for new clothes. I'm happy this way."
So what is it that gets her going? "Creation inspires me. I love creating, experimenting, making the changes and seeing how it turns out. Designing — of course I can design, but it doesn't give me that much joy."
She continues, "I don't like fashion. When I think about it, I only like to make the patterns. It's the construction talent that I have that got me into this business. Fashion is not my cake. But I like to construct and that's how I got involved in garments. I couldn't get into constructing shoes and houses. Tela lang ang kaya ko. It's the execution of the design that I love to do. It's what I enjoy most. I enjoy making the mistake and correcting myself," she adds.
Sylvia's protective jumpsuits are made of either washable nonporous microfiber or water-repellent silver back-lined fabric, but they had more humble beginnings. Her grandson, a surgeon working at San Juan de Dios, was one of the frontliners on the losing end of the Personal Protective Equipment shortage during the onset of the coronavirus outbreak.
"I didn't even know what PPE was, and I had no material, so I had to tear down my own shower curtain," Sylvia recalls.
Her knack for construction had her improving on the now-essential protective jumpsuit. Her jumpsuits have easy-access cargo pockets — two on the chest and another two on the hips. Other distinctions include a relaxed oversized fit with a drop-waist silhouette and a garterized wide waistband with an elastic-free front that smoothes out the midsection. The jumpsuits have a hood that's adjustable from loose to tight around the face with embroidered cording and tassel tips. It is also garterized at the wrists and hems for minimized exposure. She accepts customizations, among them dainty embroidery on the pockets. You can also have it made in not-so-protective '80s deadstock in a funky print.
With the help of Martin acting as her all-around manager, she has been accepting orders through Instagram. Starting at 55 jumpsuits, she now has 125 in the pipeline.
In-between, she takes breaks to perfect her favorite pastries. During our interview, it was cinnamon rolls. She meditates and prays. At night, she retires after marathoning episodes of Netflix TV series in historical settings like When Calls the Heart and The Crown.
Her days are now a sharp contrast to the days before the lockdown. Her made-to-order business — creating clothes for a loyal clientele of women with specific tastes and measurements not easily catered to in ready-to-wear — was not spared from the economic effects of cancelled gatherings due to the pandemic.
"All of a sudden, I had no more work. I thought, 'What's gonna happen? Maybe it's time for me to shut down,'" she recalls. "From lockdown up to now, the days went very fast. That's a blessing. The secret is being busy."
She emphasizes: "A hobby that you start when you're young is a treasure for one to carry into old age. It will keep you young for a long time."
But as for the young who have a long future ahead of them, Sylvia, who has lived through the Japanese occupation and World War II, has these words: "When I was your age, I was involved. You should be involved because in a few years I will be gone. I will not suffer the terrible consequences, but you will be here on Earth to suffer through the wrong things being done to your country. You own this country. Sino ang niloloko? Kayo. You can either enjoy or suffer in the coming years. If you're willing to be puppets, that's your choice, or if you'd like to be free and liberated — as I think you'd like to be — it's in your hands."
* * *
Send a message to @owasylvia on Instagram or contact Martin at (0917) 879 7985 to order.