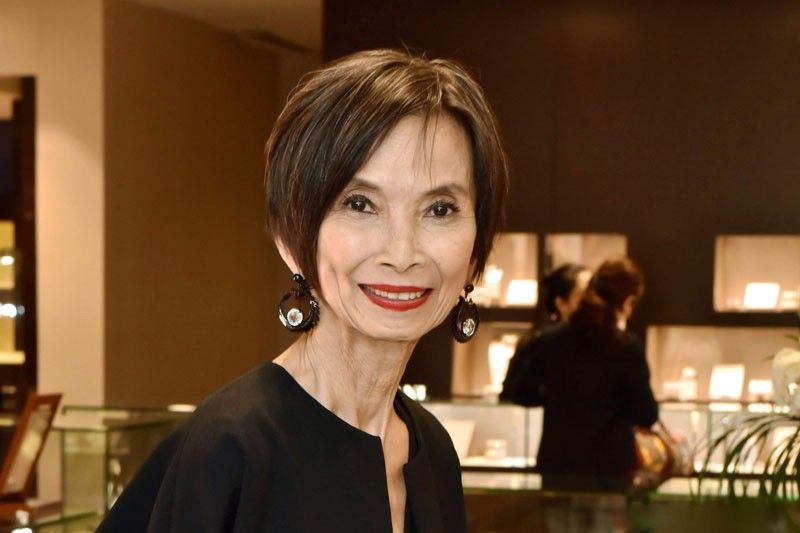 Josie Natori debuts fine jewelry line in Rustan's Silver Vault.
Josie Natori's black gold
Black dragons, each cradling a moonlit white topaz, dangle from the designer Josie Natori's ears. A mythological phenomenon immortalized in her lifestyle brand's first collection of fine jewelry, the Natori icons have been crafted out of a precious metal in a true black hue never seen before in the category.
"I forced them to do it," says Josie. The signature metal called Midnight Silver was developed by her fine jewelry partner, leading vertically integrated fine jewelry B2C eCommerce retailer Angara. "I wear a lot of black. To me, this design is very Natori. It's not the most commercial, especially in the States, but I wanted it exactly because it's something that hasn't been done."
Josie was right to launch her fine jewelry line first in the Philippines with Rustan's, where Natori has been sold exclusively for decades. Her East-meets-West, heritage-meets-avant garde aesthetic is loved the world over, expressed in ready-to-wear, lingerie, fashion jewelry, accessories, and home. But leave it to her home country to have a similar whimsy when it comes to something so precious: the black dragon earrings were the first to go once the Natori fine jewelry counter opened in Silver Vault.
Rustan's chair and CEO Zenaida Tantoco ordered one for herself, customized in her favorite white gold and diamonds. "The first thing I liked is the dragon. The dragon is very iconic to Natori. Executed like this, it is very young and very exciting," she says about her purchase.
She is drawn to the white gold bamboo hoops in diamonds and tries it on. "What a truly unique piece. The bamboo as jewelry," she marvels. "It's very cool!"
"Natori started as a close relationship among families. Josie's parents are very close to my grandparents. We're so lucky that from that great personal relationship, our paths crossed to becoming retailers that care deeply about passion, craftsmanship and great artistry, not only about product but also experience," says Rustan's Commercial Corporation president Donnie Tantoco. "Where we try to draw inspiration from is Filipinos. Retailing is about storytelling and we try to find those narratives. We love working together. We have the same values and same methodology. It's nice to see it evolve and diversify. Now it's jewelry. We're happy how it keeps growing every year."
Josie grew up around fine jewelry. "I mean, honestly, that's all I knew. Fashion jewelry came later on because I was working with artisans here in the Philippines to create large, bold statement pieces for Natori. I was working with Arnel Papa for 10 years. Fashion jewelry is a different kind of wonderful," she shares.
"But deep in my heart, there's nothing better than fine jewelry. It's timeless. You know it is never gonna go out. It's an investment. It's something else. I felt it when I first experienced putting this on," she says, referring to the black dragon earrings she's been wearing since October of last year. "It's precious. It's different because you know it's real."
"I'm fortunate to have a business that creates products that enhance a woman's life," she continues. Natori has been doing so since 1977. "What better thing to enhance your life than jewelry?"
The first launch is comprised of three collections, all Natori icons: Indochine, characterized by hexagonal bamboos; Dragon; and Kamon, the Natori crest. They are interpreted as earrings, pendants, necklaces, rings and bracelets in yellow gold, white gold, rose gold, silver, Midnight Silver, and embellished in diamonds, pearls, precious and semi-precious stones.
So why only now, I ask? "Well, because I didn't meet him until last year," she says, pointing to Ankur Daga, Angara's founder and CEO.
"We can't do everything ourselves right. You have to go with experts. We do that with our underwear, with our home. But Angara is more than just experts. They're also more understanding of the customers of tomorrow. When people in your generation want something, you have no patience to wait six months. By then you'll change your mind."
The Natori brand, while associated with the art of luxuriating, taking one's time in sumptuous silks and embroideries, and upholding the traditional Eastern codes and handmade craftsmanship, is now the quickest in fine jewelry. It's an advantage that the Angara partnership is able to give.
Ankur's family has been in the jewelry business for almost 400 years, first supplying gemstones from around the world and then stepping into the limelight as a jeweler in 2005. Harvard University is one of the company's partnerships, designing rings, earrings, and pendants for the alumni.
Ankur wanted to create a company that would transform and take the industry into the next century. To do this, the idea came to him over drinks with a friend, who would turn out to be his connection to one of the industry's most recognizable brands.
"I have been seeking the right fashion-forward, iconic brand that we can launch jewelry with," says Ankur. "We met and, within an hour, we were like, 'Let's do this.' Josie loves jewelry and we admire everything that she's done in the last 42 years. It's the perfect partnership for us. She was super hands-on, gave us design inspiration, we translated it into jewelry and she gave us feedback every step of the way and kept working to improve it until the point where we were both happy."
The structure of the license partnership reflects the future of distribution, strategized with the direct-to-consumer model in mind. Apart from Rustan's, you can also order online. The pieces are made to order, constructed and shipped within two days.
It only took Angara four months to complete all three Natori fine jewelry lines, while most design houses will take 14 to 18 months to launch one collection. It's a combination of Josie's specific design aesthetic and taste and a system that's unique to Angara.
"We're different in that we are vertically innovated. We have a gemstone-cutting factory that we own. We buy from the mines, cut our own gemstones into the designs we want. For example, the Indochine earrings with Josie's favorite hexagon shape, we had to custom-create the white topaz into that shape. We own our factory so we both design the jewelry and manufacture internally. Because we control the process end-to-end, almost like Zara for apparel, we're able to do it very quickly. Others have to source their material and then cut the material and then progress after. We can do it overnight. We have offices both in US and Asia; by the time we sleep, they're already working on the idea and we get feedback when we wake up. We're able to iterate very quickly. We get exactly what we want," explains Ankur.
Angara has reengineered the jewelry supply chain to be able to sell custom-made gemstone jewelry in a Dell-style model, where each design is offered in up to 128 permutations and the jewelry piece is created from scratch.
This system is how Natori's dream — true black Midnight Silver — became a reality. "It is created just for Natori. It has not been done in the industry," says Ankur. "It's a time-consuming process. It takes a couple of weeks to get that material that is essentially a coating over silver. It's a few different things mixed together; not just one material goes into it."
If you're thinking you've seen it elsewhere, you haven't. Anything similar is a lighter finish, along the lines of gray in rhodium. "Midnight Silver is more semi-permanent and will remain for a very long time. Because it's in the fine jewelry category, it can last forever," he points out.
"Because we own our own factory, customizing is easy. We can go from 14K gold to 18K. It's very easy for us. We can do it overnight," he says.
Josie suggests, "You can personalize all this. You can have it with rubies and yellow gold or in white gold with amethyst. Angara can make it happen."
Josie is already thinking of a new collection, but that's for the next season.
Ankur assures, "This is going to be a long-term thing with Natori. We're thinking in decades, not even years."
* * *
Natori's fine jewelry collection is in Rustan's Makati's Silver Vault.