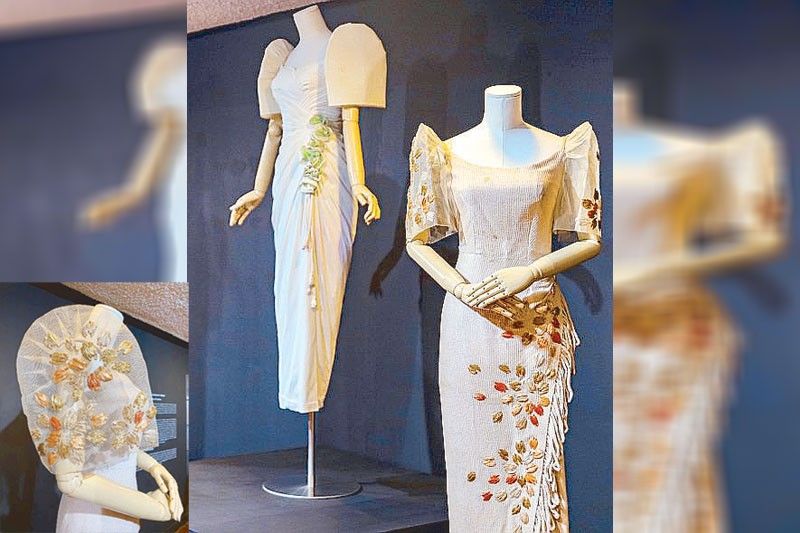 Nylon jersey formal daytime terno created for First Daughter Linda Garcia Campos in the late 1950s (left) and rayon chenille formal daytime terno created for First Lady Leonila Garcia in the late 1950s. Embellished with raffi a appliques (inset).
Modernizing the terno began in the 1940s with Slim's
You simply cannot talk about the terno without talking about the career of Salvacion Lim Higgins. While she did not invent it, her innovations on the Philippine national dress transformed it to an art form when she started her label in 1947.
An 18-piece exhibition of her work was on view for one day only during Ternocon 2020. Entitled "The Salvacion Lim Higgins Terno: A Heritage for Philippine Fashion," we got a summary of a career that changed the terno as we know it, featuring a selection ranging from 1948 to the early 1980s, each an embodiment of the styles and aesthetics of the decade.
"Ternocon artistic director Gino Gonzales specifically asked us to display formal daytime ternos because the public needs to understand what they are and what they look like. It is something that is missing at the moment," says Mark Higgins, director of Slim's Fashion & Arts School, founded by his mother in 1960.
Why is it relevant? Beginning her design career after World War II in a market fueled by renewed nationalism, Slim's was one of the first to modernize the terno, something that every Ternocon finalist aims to do today.
So it is ironic, Mark laments, that viewers during the exhibition simply assumed the ternos on display to be a random mix of vintage ternos, unaware of the pieces' legacy in our design heritage.
Slim's pushed boundaries with the terno's silhouette, manipulating fabrics with sophisticated draping, sculpting the woman's figure. Her sense of color and surface decoration, often including indigenous materials and themes, is simply impeccable, elevating the terno to haute couture that can be worn by the Filipina in different parts of her life.
Putting together the exhibition was a challenge. "Some of these ternos have never been seen before," explains Higgins. "Some of these masterpieces only exist in photographs. Reproductions are produced completely accurately because we have the original on hand, by selected students from our school."
Mark and his sister Sandy Higgins celebrated their mother's centenary just this Tuesday, days after Ternocon 2020, where all three Slim's graduates brought home awards: Hannah Adrias bagged Gold, Dinnes Obusan won Bronze, while Abdul Dianalan received the Chief Mentor's Medal given by Gonzales, chief mentor Inno Sotto, and judge and former Ternocon mentor Len Cabili.
Mark is proud of this accomplishment. "The philosophy of the school is to teach them how to create everything properly. Part of the final exam (is that) everyone who graduates the school knows how to make the national dress."
October marks Slim's 60th anniversary as the oldest fashion school. "Rather than being old, it's still churning out champions up to now. We must be doing something right," he says.
While there is a gap among designers, wherein a generation or two may not know how to make the terno, the terno is part of Slim's education. The school also has an archive of Slim's ternos as teaching tools. Students are allowed to look up close and inside out.
Does he see a comeback of the terno as everyday wear? "The terno will never be part of everyday wear. It fell out of use because the world changed. People like to blame Imelda (Marcos, the former first lady and proponent of the butterfly sleeve) but the real reason is because fashion in the mid '60s changed. It became very streetwear, very relaxed. The terno was born during a time when life was slower, when people had time to get dressed and resources to store it. The terno sleeves have to be removed each time," he says.
"As the national dress, it should continue to be worn for occasions that are appropriate," he concludes.
The siblings recently found a whole stack of actual fashion renderings, her early designs from the late 1940s, which is when their mother had just opened her shop. In commemoration of Slim's centenary, they are still deciding what to do with it.
As for the 18-piece retrospective, the exhibition is now held inside Slim's and will change every couple of months. "Next will be all cocktail. Next, Filipiniana. Next, all wedding gowns," Mark describes. For now, the students have the exclusive privilege to view them. But visit their Facebook and Instagram @slimsfashion for any changes and details.