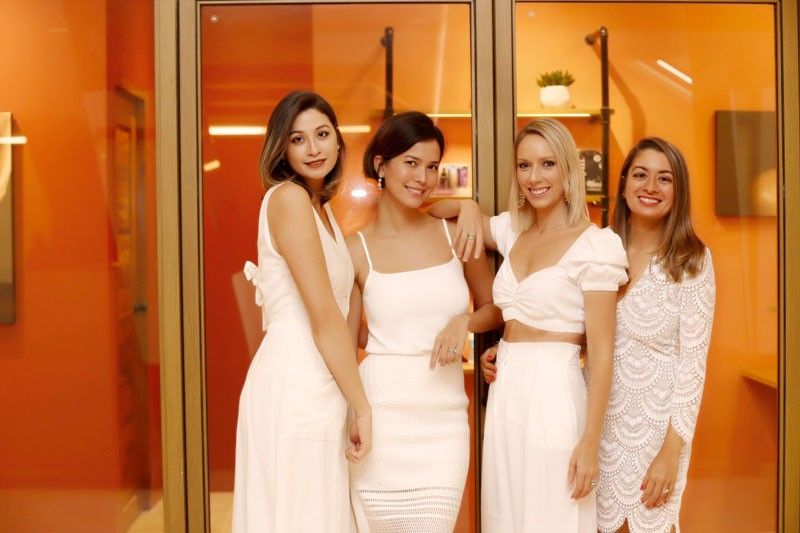 Spray managing partners Catalina Varona, Jessica Kienle Maxwell, Fabienne Aboitiz, and Nicole Coromina Sala
A shift in Philippine beauty standards has got more men and women glowing. You no longer need to be the fairest of them all to be perceived as beautiful.
More morenas now embrace and flaunt the color they are born with. For those on the other side of the skin shade spectrum, it's about staying sun-kissed, prolonging the imprint of a blissful break on their skin all year long, rain or shine, whether or not they've actually been deskbound most of the month. There are also those that love the automatic slimming effect you get from a tan. With a bit of color, your contours are enhanced and stretch marks and cellulites are stealthily concealed.
The tanning and bronzing category has expanded so much just this year alone. In the semi-permanent, beauty treatment category, we now have Spray, the country's first spray tanning studio, founded by good friends and co-managing partners Jessica Kienle Maxwell, Fabienne Aboitiz, Nicole Coromina Sala and Catalina Varona.
Finally — not another whitening treatment!
"Right now in Manila, there's a boom in beauty, fitness and health. People are investing more in themselves," says Jess. "Now is the perfect time to bring something like this in. Five years ago, maybe not so much, but if you go out on EDSA now, you'll see billboards with models that are tan. People are realizing that, hey, it's nice to have your natural morena skin."
The secret to Spray's consistency and non-orange tan is two Mystic Tan Kyss automated spray-tanning booths.
Fabienne points out, "This is the number one machine in the States and in Europe. We have the latest, top-of-the-line booth that's available on the market. These are the only two booths in Asia and we have it."
Cat explains, "This machine uses the right amount of solution at a time every single time. It's precise. It's got Magneton Technology that makes the solution wrap around your body on the sides as well, which is why even though you just did two positions, when you come out, you'll notice that you're tanned all over."
And for those who might be afraid of coming out orange? She adds, "The ingredient DHA is responsible for making you darker, but if you put too much DHA, that's when you get orange. Our machine is automated, and it's programmed to just give you the right amount every single time, so you never turn orange."
What's your mix?
There's no one "right" combo. The girls have different combos and they switch it up from time to time.
Fabienne and Nicole are the more experienced tanners. "I'm a bit daring," Nicole shares. She goes for Dark.
When she can sleep on it, Fabienne uses Light with Accelerator and keeps it on for 10 hours.
Jess, naturally morena, was skeptical as first. "I realized that even if you are morena, there is a difference. A tan gives you an even glow and an even color from head to toe," Jess shares. She gets Medium with accelerator without a scent. "I am sensitive to smell. I don't usually wear perfume. And it doesn't smell bad at all. It smells like red wine."
Cat is naturally fair-skinned but loves how a tan makes her look instantly fit and toned. Her combo? "Light with Accelerator. I like the scents and put two of fresh. I keep it on as long as possible."
My Spray experience
For a tan that lasted 10 days, my tanning appointment at Spray only took me six minutes, with four minutes, tops, spent inside the tanning booth. Here's what went down.
A session begins by selecting your mix: the intensity you want your tan to be — Light, Medium, or Dark — and then your add-ons, which include a tan accelerator, a bronzer, and scents for an aromatic experience. I was game to go Dark straight away, but the girls don't recommend it for first-timers.
This is because Spray's tanning solution reacts with the amino acids and melanin on the top layer of the skin, which dictates your color. "We suggest that people keep an eye on your color and once you're happy with it, take a shower, and the reaction stops. You have control over what you want it to look like," she continues.
I started my session with a briefing by the Spray staff: what to expect, and the importance of the blending cream and where to apply it. The blending cream is for areas that you don't want to tan (such as the palms and under the nails). I chose to be completely in the buff so I don't have any tan lines. I had a shower cap on my hair. The staff instructed me to not cover my hairline. Naturally, the sun hits that spot, too. As the last step, I wore footpads so my soles would not get solution on them.
Now, I am no newbie to fake tanning, but this was my first automated spray tan. Compared to this, the Spray experience is just so easy. There are only two positions to remember — front and back — but even if you forget, easy-to-follow voice prompts guide me throughout inside the warm, comfy booth. Gentle spray nozzles release a soft mist, enveloping me from head to toe. Warm air blows throughout my session and then to finish it up to help the tanning solution dry and become absorbed by my skin. I was in and out of the booth in four minutes.
Nicole recommends the bronzer for immediate color, which is an add-on that's like makeup. "We can add up to three bronzers depending on how much color you want. You emerge with an immediate glow. And under it, your color keeps building until you shower," she says.
There are two bronzer shades, brownish Mocha and reddish Sunkissed. "Sunkissed is a fresh-off-the-beach tan. That's my favorite," Nicole points out.
The first step ideally begins at home: exfoliate. For those who don't have time, Spray offers a single-use exfoliating mitt. If you're doing skin treatments or practice skincare that accelerates skin turnover (like retinols and acids), wait until the peeling. Come absolutely bare-skinned, nothing that can come between the skin and the solution.
Cat explains, "The tan is attaching itself to the top layer of your skin. When it peels, the tan peels also. If you want an even tan, your skin needs to be fresh and new."
While I got the accelerator, I didn't shower until six hours afterward. I watched my color deepen as I sat in traffic, but I was so happy with the golden glow showing up on my skin, I thought I'd be daring and try to see how dark I could get. It looked so natural — heck, even better than natural. I was never able to get such an even tan before.
My skin is quick to react to anything topically applied, but I didn't experience any irritation. It's also natural, cruelty-free, and non-comedogenic. (Mystic's DHA comes from beets.) Pregnant, breastfeeding women as well as those with eczema have come and got pray'd without any problems, but for your peace of mind, get clearance from your doctor first.
Keeping the skin moisturized prolongs the tan. My golden glow was perfect until I saw a bit of fading in spots such as my inner elbows on the fifth day, which is two days longer than when I tanned naturally, only I have zero sunburns, no sunspots, or new fine lines.
* * *
Spray is located at R4 of Power Plant Mall, Rockwell Center, Makati. Visit sprayph.com or email spraymanila@gmail.com to schedule an appointment.