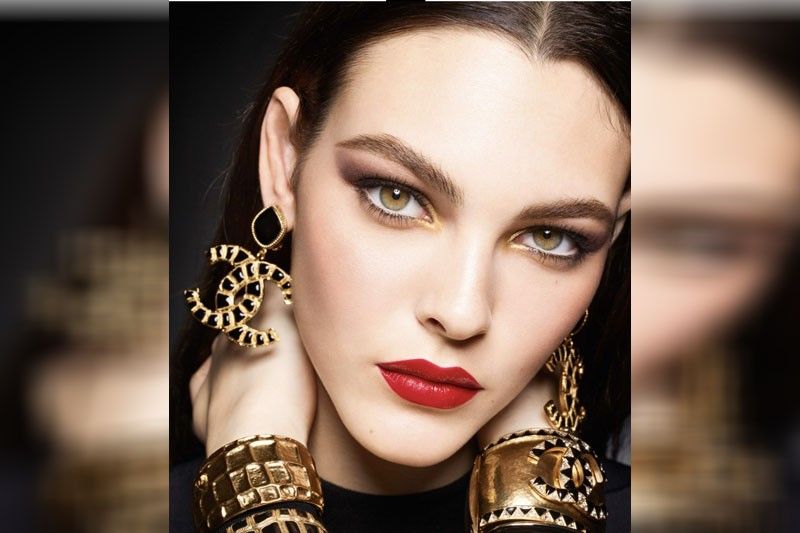 tThe limited edition Les Ornements de Chanel Holiday 2019 Collection is influenced by Byzantine splendor and the excess of the boroque movement the Gabrielle Chanel encounterd during her many visits to Venice.
Grandeur & Modernity À La Chanel
The designer Gabrielle Chanel loved to offset her understated style with Byzantine splendor and the excess of the baroque movement that she encountered during her many visits to Venice. This same flash of gold embellishes the shrugged-on elegance and insuppressible delight of Karl Lagerfeld's successor, Virginie Viard's debut collections for the fashion house. Chanel global creative makeup and color designer Lucia Pica extends the festive, bold, brilliant and sophisticated feel of Chanel jewelry to the face and body for the holidays with makeup and skincare that reveals a radiant complexion for the limited edition Les Ornements de Chanel Holiday 2019 Collection. It's a big drop. Are you ready?
Fans of the Sublimage anti-aging line will love the addition of cleansing products. The rich texture is truly sumptuous and packed with antioxidants from intense vanilla planifolia water and Harungana extract, both promising to help restore the skin's original radiance. The first step is to remove makeup with L'huile-en-gel de Démaquillage. Second, cleanse with Le Savon De Soin. Third, and only every few days, exfoliate with Les Grains De Vanille. Lastly, purify with L'eau de Démaquillage.
Now, makeup time! "The balance between grandeur and modernity is epitomized by the six Rouge Allure lip colors that stand at the heart of the collection," Lucia recommends, the shade range going from a rich burgundy in Rouge Noble and a vibrant true red in Rouge Spectaculaire, to surprising coral in Rouge Magnifique and a bright pink in Rouge Splendide. The satin-finish lipsticks are each presented in a limited-edition black and golden click case.
I suggest learning different ways of wearing the new Rouge Allure colors from the Chanel ladies at the Rustan's counters. My favorite is blurring it out, inspired by Korean beauty trends made famous by social media, by priming the lips with foundation powder and topping it off with lipstick (I prefer Rouge Noble) applied with a brush. It's also a flex on the lipsticks' intense pigmentation.
My favorite in the collection is the Éclat Magnétique de Chanel, an illuminizing powder in metal peach. A light dusting on the high points of my face and the inner corners of my eyes create a lit-from-within glow with a soft-peach shimmer. It's embossed with a limited-edition ornamental motif. If it looks familiar, it's because the pattern appears on vintage Chanel buttons!
The same pattern appears in the Lumière et Opulence, an eyeshadow palette that features four satin-finish shades in a range of earth tones to highlight, define and intensify. Don't be intimidated by the dark khaki, soft peach, bronze khaki and chocolate shades. They are especially flattering on Filipino black to brown eyes, bringing out golden undertones. Even without priming my lids, the long-lasting pigments deliver vibrant color. The texture is so soft and smooth that it allows for effortless application, even when dabbed on with my fingers.
Another instant favorite is the tiny and sleek Twist and Spray bottles of the world's most iconic scent, N°5, perfect for your teeny-weeny evening clutches. The actress Marilyn Monroe famously quipped that this forever-fragrance was all she wore to bed. Sensual, enveloping, it is characterized by bright citrus top notes and a smooth touch of bourbon vanilla. The perfume Twist and Spray comes in lacquered black and gold. A modern and fresh embodiment of N°5 is N°5 L'eau eau de toilette with citrus, ylang-ylang and white musk notes. Its Twist and Spray case is in matte black and white accents. Both are limited edition but are meant to be kept forever — and flash at every opportunity.
Complement the scent with the Gold Fragments Shimmering Gel for the body, a limited-edition silky body gel accented with delicate flecks of golden shimmer.
Also new and now in the Philippines are the Les Eaux de Chanel eau de toilettes, inspired by Chanel's favorite destinations. The newest is Paris-Riviera, a solar fragrance with the combination of sweet, tangy Sicilian orange and delicate neroli. It takes us back to the French Riviera, in Gabrielle Chanel's villa, La Pausa, on the Côte d'Azur. You can never go wrong with Chanel.
* * *
Chanel is available in Rustan's The Beauty Source.