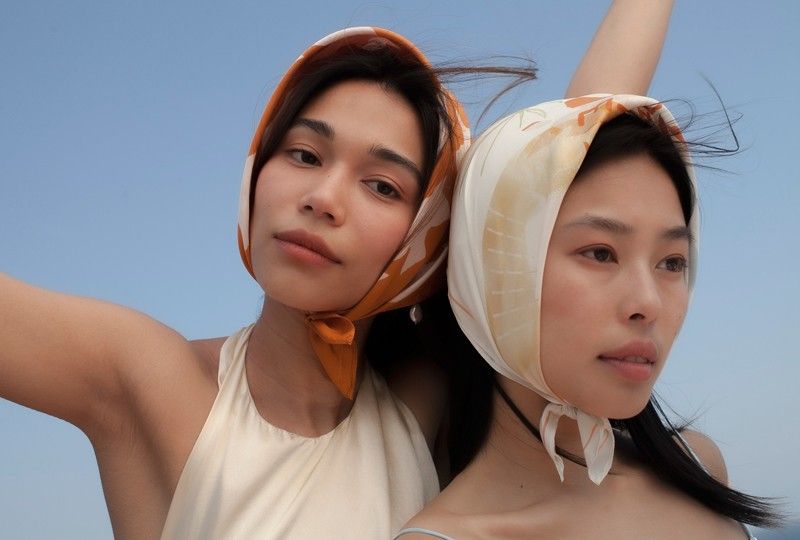 Paulina Ortega
NATALIA PARSONSON Modeled by AGGIE CHOI and PAULINA ORTEGA Shot on location in SYDNEY, AUSTRALIA
The things you call home Vol. 2
Long-time YStyle collaborator and muse, Paulina Ortega has done it again with the second release of her sought after scarves. For this series, the Australia-based designer and visual artist continues to look to home for inspiration but takes a different approach from her initial collection of hand-dyed and hand-painted silk scarves. Apart from her personal collection, Ortega collaborates with two other local independent labels with a capsule collection, and continues to be inspired by Filipino motifs and new mediums.
YStyle caught up with the multi-hyphenate to talk about her inspiration behind the collection, her collaboration with local independent brands Araw and Nami, and the importance of collaboration.
YSTYLE: How's life been lately? What has been keeping you busy?
PAULINA ORTEGA: Designing day in and day out — branding projects, logos, the scarves, our weekly home menu. Haha! Life's been busy and good. Thank you for asking!?For the initial release of "The Things You Call Home" series, you played with Filipino-inspired motifs like mangoes, sampaguitas and buko on your hand-painted and hand-dyed silk scarves. What can we expect from the second collection? What was on your mood board? Can you walk us through your process?
For this second collection, I wanted to progress the idea of "The Things You Call Home" both thematically and execution-wise. As opposed to painting the scarves, this time around I pulled from my collage practice. And in lieu of directly lifting from Philippine-rooted imagery and motifs, I wanted to instead use foreign imagery that still felt like home, and evoked the Philippines — almost like a sense of home while being away, familiarity in what should be foreign. As a Filipino who resides outside of the Philippines this felt to me like something worth digging into.
I spent a lot of time in Mexico this year (and got married there too!). A lot of the images in the scarves are drawings and collages of scenes and objects and themes that very much brought me back to the Philippines. The concept of home can be elusive, confusing, messy and sometimes transposed. So I guess that's what this collection is about! Haha.
The pieces are Filipino-designed, draw from local Mexican imagery, are printed in Australia on beautiful silk twill, hand-hemmed in the Philippines — so truly, even the production of these scarves are reflective of this idea.
What are your favourite ways to wear your silk scarves?
Headbands and bandeaus top that list for me when it's hot out. But I love a good scarf around the neck with a plain navy jumper in the winter.?Who else did you collaborate with? What was it like producing the collection with all these local independent brands?
I wanted to still keep some of the motifs I used in my first scarf collection (sampaguitas and santan flowers, in particular) and expand their application into other mediums. I love the idea of drawing from local motifs in everyday, contemporary wear.
I collaborated with my good friend Carla Sison of Áraw to do their first ever printed pieces. We made a sampaguita pattern, which was hand printed locally on silk dresses and bucket hats, and created our dream piña top made from embroidered sampaguita cut outs.
In the same spirit of expanding the use of these Filipino motifs, I also worked with Cath and Ina of Nami to produce a contemporary collection of fine jewelry pieces inspired by our local flower garlands (sampaguita necklaces, santan friendship bracelets, etc).
So proud of the collaborative we've made and very excited to share the pieces with everyone this Sunday! It was an amazing team effort.
How did you choose what kind of silhouettes, themes and fabrications for the collaborations?
For the Áraw dresses and bucket, we always knew we wanted to work with silk and linen. The silk tied in seamlessly with the scarves and Áraw was also just releasing their very first silk collection, so we wanted to be in keeping with the new things the brand was trying out. The linen came naturally too, it's a staple for the brand and for the Philippine heat. We also wanted to work with some piña, a traditional Philippine fabric, for our dressier piece (the kasama top).
With Nami, the minute I sent them the sampaguita and santan themed designs, they immediately said "pearls". Haha! Which made absolute sense as a Philippine, feminine and beautiful material. We added gold and small diamonds to give an added sense of elegance and refinement to the pieces.
What is your favourite item in each line?
I absolutely love everything! But the piña Kasama Top from Áraw and the sampaguita pearl choker from Nami are definitely pieces I will wear every chance I get.
How important is collaboration to you?
Very much so! It's important to me to continuously engage in the conversation of how we relate to our heritage, history and sense of being Filipino. I understand there are arguably any more impactful ways to go about this, but as a designer, I wanted to explore what little things I could in this regard through the design of everyday pieces.