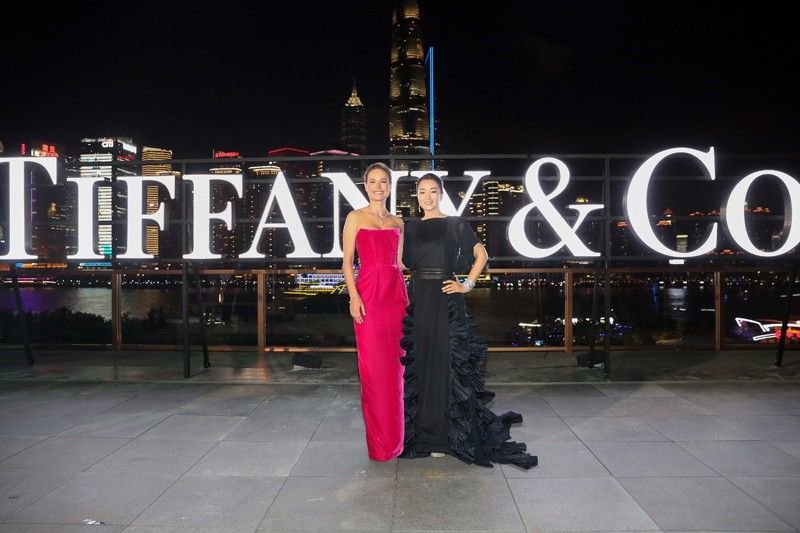 Academy Award winning actress Brie Larson wore a Tiffany diamond necklace featuring a rare fancy yellow green diamond of over five carats and white diamonds of over 19 total carats while Chinese superstar Gong Li wore a diamond bracelet, totaling approximately 86 carats during the launch of "Vision & Virtuosity" at Fosun Foundation Shanghai.
Breakfast, dreams & superstars at Tiffany's
Gong Li and Brie Larson light up Shanghai
SHANGHAI, China — Two priceless encounters are juxtaposed in Tiffany & Co.'s "Vision & Virtuosity" exhibition. In one chapter is the legendary Tiffany Diamond, worn only by three women in history. Audrey Hepburn is one of them, and it was for the promotional photographs for the film Breakfast at Tiffany's, since then never brought outside its vitrine on the main floor of the Fifth Avenue store until Lady Gaga wore its 128.54 carats and 82 facets to the Oscars. Back in the Shanghai exhibition launch, the chatty Academy Award winner Brie Larson is one of 700 attendees breathless in its presence.
Next to one of the most important diamonds in history is a photo-op area with an oversized Tiffany ring box and a giant tilted porcelain Tiffany cup, next to the gift shop which sells the real thing. The Chinese superstar Gong Li treaded the exhibition slowly with a sinuous gait not unlike her Memoirs of a Geisha character, unsmiling, save for one photo on the red carpet. When she saw the room, she let out a big grin.
It's a scenario that captures what "Vision & Virtuosity" is about. Just like a Blue Box, it'll make you smile. And it's not just about what's inside.
A kinetic Shanghai landmark on The Bund Finance Center, Fosun Foundation is transformed into a Tiffany Blue box on the big night. It's the biggest event in the New York luxury brand's 182-year history featuring key pieces from its archives and important artifacts and jewelry acquired from top auction houses and beloved collectors, like a puzzle that is now completed, all put together in 18 months. Inside is a thematic journey divided into six sparkling chapters, executed with whimsy, humor, and inclusivity that only a brand built on the American Dream can pull off.
"Tiffany has created experiences, long before experience was in retail, even before sponsorships," Tiffany & Co. CEO Alessandro Bogliolio shares. He points out Breakfast at Tiffany's; the film is being projected in its own room, an ode to the brand's most famous fan, next to a run-through of Hepburn's script which still has the annotations she made for herself, across a recreation of the Fifth Avenue store's facade, complete with a yellow cab on standby. "That was not a product placement. It just happened naturally."
Like Holly Golightly peering into the Fifth Avenue store, the first chapter, Blue Is The Color of Dreams, presents recreations of the flagship's most whimsical, theatrical shop windows including those by Gene Moore, Robert Rauschenberg, and Jasper Johns from the '50s, presenting Tiffany icons like the Jean Schlumberger-designed Bird on a Rock clop with an emerald-cut aquamarine (the original setting of the Tiffany Diamond) and a brooch flaunting Tiffany's first tanzanite designed by Donald Claflin.
Next is The World of Tiffany, a wall of fame showcasing Tiffany in pop culture ­­— Elizabeth Taylor's Schlumberger Fleur de Mer brooch is displayed alongside her portrait wearing it while Marilyn Monroe is pictured acting like she was trying to break into the Fifth Avenue flagship — and the evolution of another pop culture star, the Blue Box.
Founder Charles Lewis Tiffany pioneered many aspects in the way we perceive jewelry as we know it, but he also influenced the way we shop. One of the ways he did so is The Blue Book in 1845, the United States' first mail-order catalogue. The historical catalog itself is displayed with an archaeological style necklace, an example of the earliest Tiffany jewelry. The American jeweller is titled as the King of Diamonds; this chapter exemplifies that beyond having the most beautiful gems, artistry is in the brand ethos, a legacy carried on by Schlumberger and Elsa Perretti. Nature is their muse. I particularly love George Paulding Farnham's use of enamel with gold and diamonds, immortalizing the Oncidium jonesianium orchid, native to Paraguay, in a most lifelike interpretation. For the latest collection, chief artistic officer Reed Krakoff designs jewelry made to be worn as well as displayed as Objets d' art.
Bogliolo says of Krakoff: "He has a natural sense of elegance, which you see in things that would be very close to being tacky, but he manages to really to push things to that level of good taste that is beautiful. It's perfect. He is quintessentially New York, and that is perfect for our brand. He is 80 percent creative, but he has a 20 percent business sense."
In the Tiffany Love chapter is a glimpse into the love story of millions represented in eight big circles. In each circle is a setting, including Tiffany's famous engagement ring, the Tiffany Setting, and the new Tiffany True ring. But there's more to this signature Tiffany sparkle.
"For any solitaire diamonds you buy at Tiffany, you have in the certificate the country of origin, whether it's from Botswana, Canada, or Russia. No other jeweler can give you that information," Bogliolo points out.
For over 20 years, Tiffany is the only luxury jeweler in the world that buys 90 percent of its diamonds directly from the mines, starting from 0.18 to 100 carat. It isn't only ethical. "When people say Tiffany diamonds sparkle more, there is a reason. If you are a wholesaler of diamonds, what do you do? When you polish the diamond, you maximize the carat and the size because it's more money. In Tiffany, we maximize the symmetry. And so we lose in weight to make it perfectly symmetrical because symmetry is what gives sparkle. We have internally our own 1,500 artisans cutting and polishing stones." (For example, the Tiffany Diamond was cut from a 287.42 carat raw stone.)
Next month, expect this sparkle in men's jewelry. Tiffany already has the traditional men's pieces such as cufflinks, tie bars, and signet rings. With Reed's direction, the newly designed collection is "real jewelry," and will carry rings, bracelets, chains, and pendants in gold and sterling silver. For Boglio, "It's something only Tiffany can do."
He continues, "The DNA of the brand is self expression. Tiffany has an emotional side as a brand that is not about status, or ostentation, but it's a brand that is about celebrating the most beautiful moments of your life."
"We are the first brand that advertise gay couples with engagement rings. We are the first brand that really takes a strong stand on jewelry, saying, you can express yourself as a man through jewelry, which is very relevant in the world, especially with the younger generations, and especially in Asia. If you go have a look at the editorials in China, you will find a lot of men who wear the women's designs. I think with our men's line, it will happen exactly the opposite. A lot of women will want to buy it because they are very unisex."
On the rooftop is a cafe concept much like the The Blue Box Cafe "so you can have breakfast at Tiffany's," which first opened in New York two years ago, 58 years after the movie premiered to iconic status. "We didn't spend a dollar in advertising, but it is just the most difficult restaurant to get a reservation in New York," Bogliolo says. The Blue Box Cafe is now open in Hong Kong and will open soon along with the Shanghai store.
Tiffany has the best diamonds, but there's more to the American jeweler and luxury brand than diamonds. Back at the Greenbelt 4 flagship in Makati, whether it's a new Tiffany Blue mug or a Tiffany T necklace in rose gold or trying on an engagement ring for size — inside is a piece of a dream that everyone can own.
* * *
Tiffany & Co.'s "Vision & Virtuosity" at the Fosun Foundation is open to the public for an entrance fee of RMB20 (around P150) and will run through Nov. 10. All tickets sales will benefit the Fosun Foundation and its charitable programs.