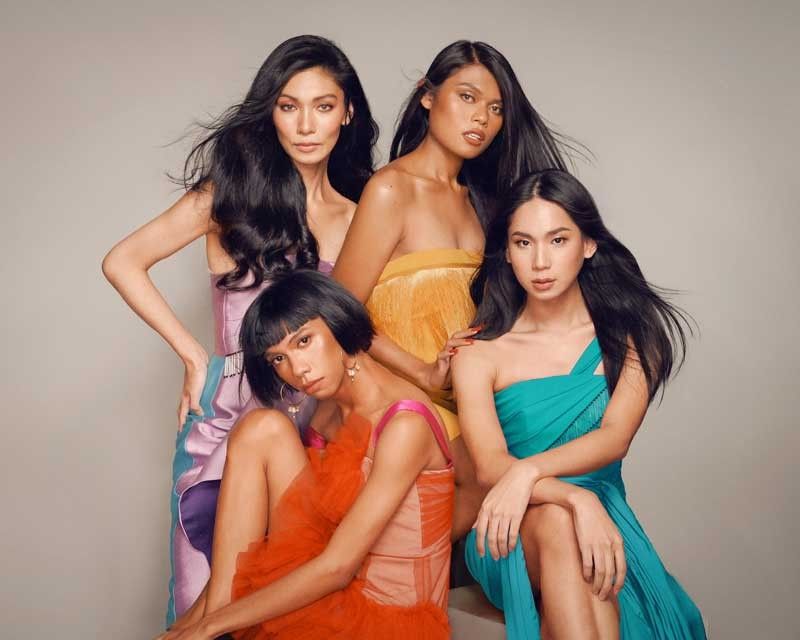 Clockwise from top left: Taki, Johnrey, JV and Mimiyuuuh
While there is still so much work to be done, YStyle celebrates Pride with the bold new faces of the LGBTQIA+ who discuss what Pride means to them, how it feels to shatter the mold and how they make it look so damn good.
Every June, the word "Pride" takes on a whole new life as it wraps around the LGBTQIA+ community. But the idea of Pride is not one without its own set of complications, especially in a conservative, predominantly Catholic society like that of the Philippines. The currency of machismo seems to be stronger than ever, and the passing of the Sexual Orientation and Gender Identity and Expression Equality Bill (SOGIE) is taking much more time than it should. LGBTQIA+ Pride, in this country, has definitely been a long and hard-won concept.
While there is still much work ahead, strides are being made by the resilient and blossoming local community. The number of recognizable figures living their truths grows by the day, slowly permeating mainstream consciousness. These figures are breaking open archaic notions of gender identity and sexual orientation with their intelligence, competence and impeccable fabulousness, and it brings us extreme pleasure to see that their visibility is only rising. We at YStyle celebrate Pride with the bold new faces of the LGBTQIA+, discussing what Pride means to them, how it feels to shatter the mold, and how they make it look so damn good.
Taki
For 24-year-old model Taki Yoneyama, coming to terms with her gender identity was a circuitous path. She says, "I knew I was born into the wrong body when I was six or seven. But I thought I was an effeminate gay boy for a long time because I didn't see anyone in media who looked the way I felt." It wasn't until she was 16 years old, when she first got her own laptop, that the internet led her to information that would change her life.
Still, it wasn't as easy as just diving into a big change, because there was definite resistance from her family, where anything less than hetero was not tolerated. She received threats of physical harm from her grandfather, who once said that she would be shot if she broke convention. "I hate lying, but I had to do it for a while even to just survive. I had to put up with relatives asking me how many girlfriends I had because I was such a good-looking guy, and I felt sick to my stomach."
The turning point for Taki was being accepted into SLIMS for fashion design. It was there that she met varying personalities of varying identities, all of whom were spectacularly free. "Everyone was (free to be) themselves, whether it was colorful or outrageous. I hadn't been around so many people who were so different but also like me. It was like coming home, and those friends became kind of like my family."
She took a big step in 2017, starting her hormone replacement therapy, where she said she noticed an immediate difference. Her breasts began to develop, the distribution of fat in her body had changed, and she felt that her face had softened. "I looked in the mirror and I wanted to cry. I had never felt so beautiful before."
"I had to be brave to be myself. I had to ask myself, if I don't live my life right now, then when? And that's what Pride means to me. It's a celebration of individuality and uniqueness, but it's really also courage." Taki adds, "Living my life, to me, is Pride. Coming to terms with your sexuality and identity isn't easy, and to be able to stand on your own two feet and be able to go out there, that's already Pride." —GT
Johnrey
Beauty influencer Johnrey makes inclusivity through makeup his mission. To the tune of 100,000 subscribers on YouTube, the 22-year-old vlogger boasts a self-created platform that wasn't altogether expected. He shares, "It's insane to me until now. I mean, one day I was vlogging, then, excuse me — boom! Punch me, pinch me and wake me up. All of this feels like a dream."
Johnrey speaks to a targeted demographic of young Filipinos who are looking to find joy in makeup — for those looking for non-mainstream products that celebrate their consumers for who they are. Products that don't conceal you, but celebrate you instead. And more often than not, his followers see themselves in him and his content: they're dark-skinned morenas too, or individuals of color who don't subscribe to society's skin-whitening ideals.
"You know, for me, it's about representation," says Johnrey. "I do this for all of my fans — people of color, people who have dark skin and dark lips like me, I want to make sure they all feel beautiful, and that they have a right to use makeup and feel confident, and feel pretty about themselves."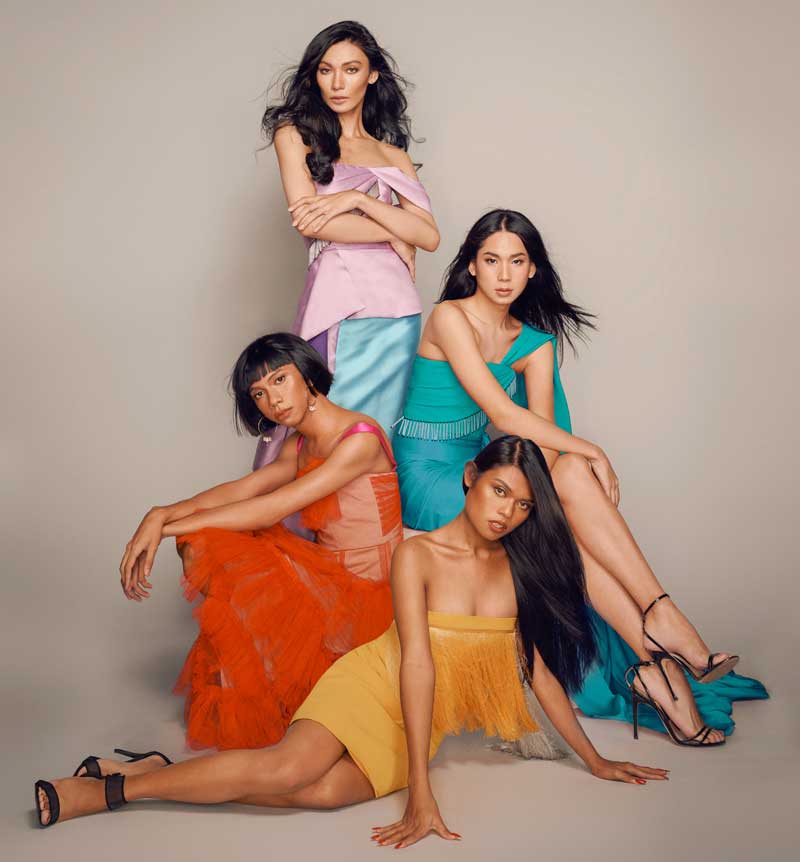 It's an idea that lends itself well to the LGBTQIA+ struggle — seeing yourself, or people like you or people you admire on a screen is a luxury not afforded to most and as a queer content creator, Johnrey makes sure to make his YouTube platform a safe space and an avenue for showcasing his identity to the world.
"I think it's important that you're not ashamed of who you are," he says, "whether you're dark-skinned, light-skinned, a gay boy, a gay girl, whatever — who you are is normal, and this is our community and we're here to lift each other up."
"Loud and proud," he adds, "the way it's supposed to be." —MY
Mimiyuuuh
Mimiyuuuh gets all of us to laugh by being himself. The Dalagang Pilipina-senstation has gone viral for capturing the Filipino youth zeitgeist through lipsyncing and dancing videos. IRL, he's a walking meme, as funny as he is portraying himself in weekly vlogs (some with millions of hits), and as genuine as he is polite — with a "po" dotting every sentence like an extra exclamation point.
"Ako po ay full-time YouTuber and ako po ang nag e-edit, nag sh-shoot ng videos ko po. Ako po ay isang content creator! (Laughs) Ayun po!" says Mimi, by way of introduction.
More than just his videos, the 22-year-old is also a fashion plate (with noted individuals from #TheIndustrie counting themselves as fans). Having graduated with a degree in fashion design and merchandising from DSL-CSB, Mimi admits she had no plans of finding fame: "Actually po, gusto ko talaga maging designer dati–pero sa ngayon po, overwhelmed po ako sa mga nag l-look up sa akin."
With his massive reach built on the idea of self-love, it was sweet surprise to Mimi when he discovered that a majority of his fans are young, unapologetic gay boys who see themselves in his content. "As in ayon po! Mga batang bading nag papa-picture sakin! Nakakatuwa," shares the content creator, "na somehow, i-kinaya kong i-touch mga lives nila."
Asked for a piece of advice for his young fans, and with Pride season in full swing, Mimi has this to share: "'Wag mo i-kahiya yung sarili mo, yung identity mo —be you, pero take your time din po sa pag ki-kilala sa sarili mo. Enjoy the process and once you've found yourself, let's celebrate."—MY
JV
Multi-hyphenate JV Librea wants to remind you: gender roles are a construct. "Labels suck. They constrict you too much." Says the 22-year-old creative with a laugh, "All of this is artificial, you know? And the minute you wrap your head around that, it's easier to embrace who you really are."
His philosophy? "You do you, as long as kindness is at the center of everything you do."
JV is a multi-slasher, juggling roles such as deejaying (as one half of a DJ duo called The Long Islands), bag designing (for eponymous label Librea) and also modeling — but, he adds, "I model only when people want me to."
As a queer individual himself (a cis-gender male who, by society's constricting standards, presents as a woman with dresses, heels and skirts), to live with Pride is to breathe. "People like to label you based on what you wear, or how you look," says JV, "but for me, why does something you put on top of yourself have to define what's inside? This is just me, and I'm proud of who I am.
"Especially in the times we live in," the creative adds, "we're often reduced to just being tolerated and the thing about Pride is to know that it's more than just a celebration." JV notes that it's important to recognize June as a commemoration of those who went before us, celebrating those who paved the way and struggled to give us the rights and privileges we enjoy ("Although, they're not many nor complete, they're there" he adds).
JV advocates for everyone, especially young queers making sense of the world, to see more than just the rainbows: "Immerse yourself," says JV. "Don't be afraid to make mistakes. Go out and enjoy the world, make friends with those people you don't understand. Embrace diversity — and always remember, progress is never a straight line."
"As a person, and as a community, we will have drawbacks, we will have setbacks, but just keep moving forward," JV shares.
"Pride is a way for us to remember those who came before us. This is our community and if we remember to look back, we'll know how to lift each other back up."—MY
* * *
Metro Manila Pride is happening on June 29 at the Marikina Sports Center. If you'd like to make donations, please log on to gogetfunding.com/pride2019 or @mmprideorg on Instagram for details.
Photos by BJ PASCUAL
Creative Direction by DAVID MILAN
Produced by MARTIN YAMBAO,
MARBBIE TAGABUCBA
and FRANCINE GACRAMA
Fashion by MARTIN BAUTISTA
Makeup by OMAR ERMITA of MAC Cosmetics on TAKI and JV LIBREA,
ANTHEA BUENO on JOHNREY and MIMIYUUUH
Hair by JAY AQUINO