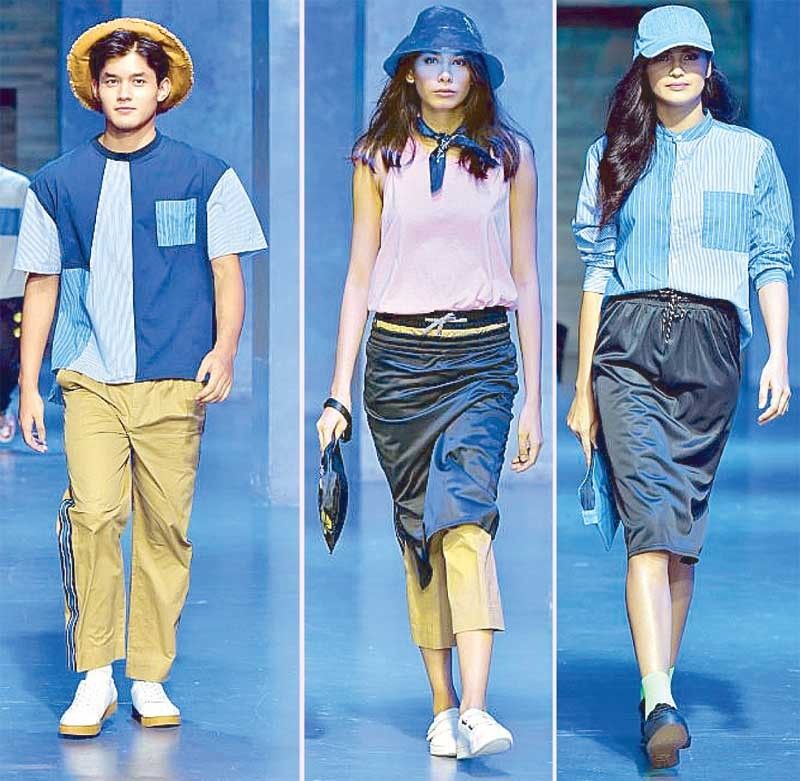 SUMMER IN THE CITY: Rafe x Bench
Photos by JOEY VIDUYA
Bench Fashion Week Spring/Summer 2019
MANILA, Philippines — YStyle presents a rundown of this season's ready-to-wear collections by local designers and favorite fast-fashion brands.
SUMMER IN THE CITY: Rafe x Bench
In a mix of tropical floral prints, patched work shirtings and tailored denims, New York-based designer Rafe Totengco debuts his sophomore collab collection for Bench. Inspired by the relaxed island vibe of Siargao, the collection is a lineup of casual but elevated basics that feel just as at home in the city. Our highlights include a paneled denim bomber with embroidered gumamela patches, a spliced oversize tee, and a bright yellow floral print seen on dresses and skirts. It wouldn't be signature Rafe without a full complement of accessories — we especially loved the fanny packs, knapsacks and printed scarves. If his first outing was any indication, this collection won't stay in stores for long. — MY
SELFIE-READY: American Eagle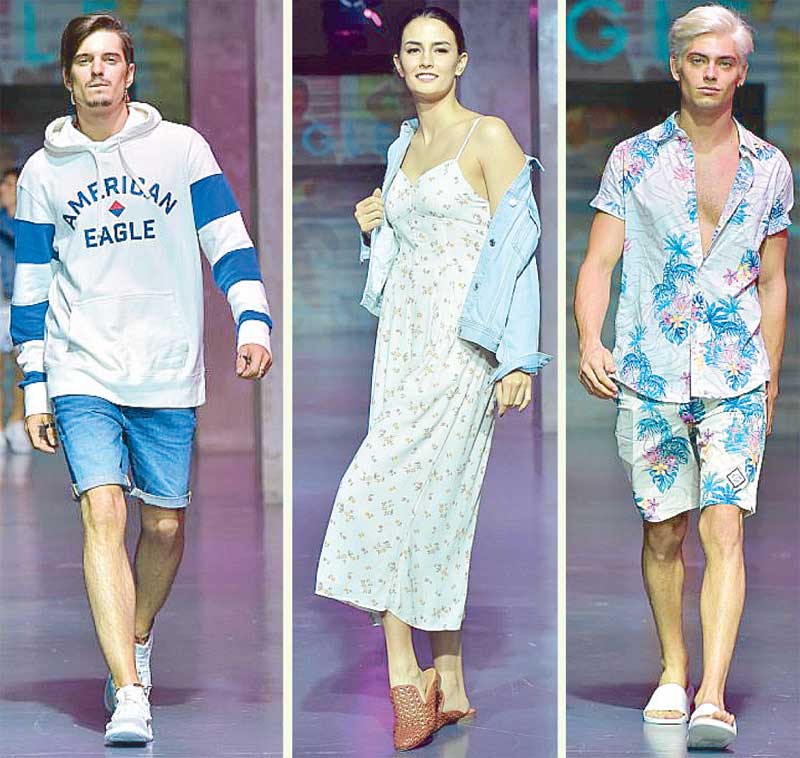 Wearing American Eagle's newest collection, models came walking down the runway snapping selfies with phones connected to a projector that displayed their photos in real time throughout the Bench Tower Playground walls. It's part of the brand's campaign, #AExME, that turns the self-promotion medium into a celebration of individuality — as well as an Instagram casting call. The latest collection highlights top trends for the selfie generation like retro Parisian and one-piece clothing like dresses, jumpsuits and rompers for women and "wash & dye" effects and stripes in resort wear-inspired pieces for men. Perfect for traveling — and the photos you're going take, of course. —MT
MODERN SOPHISTICATE: Assembly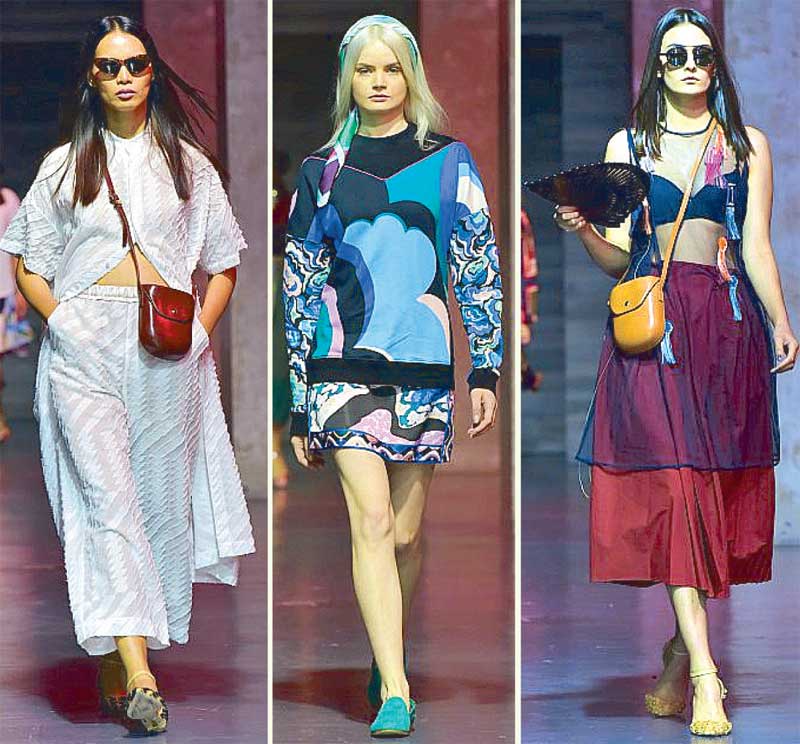 For Bench Fashion Day 2, luxury multi-brand store Assembly showcased their edit for spring/summer 2019. With a covetable lineup composed of London-based designer Christopher Kane, Italian label Pucci, cult brand Mihara Yasuhiro and so much more — the runway has a lot to unpack for the Assembly clientele. Our highlights include the Emilio Pucci prints in various iterations (from shirts, to sweaters, to scarves) and the delicious selection of shoes from Casadei, Rupert Sanderson and Philosophy di Lorenzo Serafini, just to name a few. —MY
FEMININE MYSTIQUE: Kashieca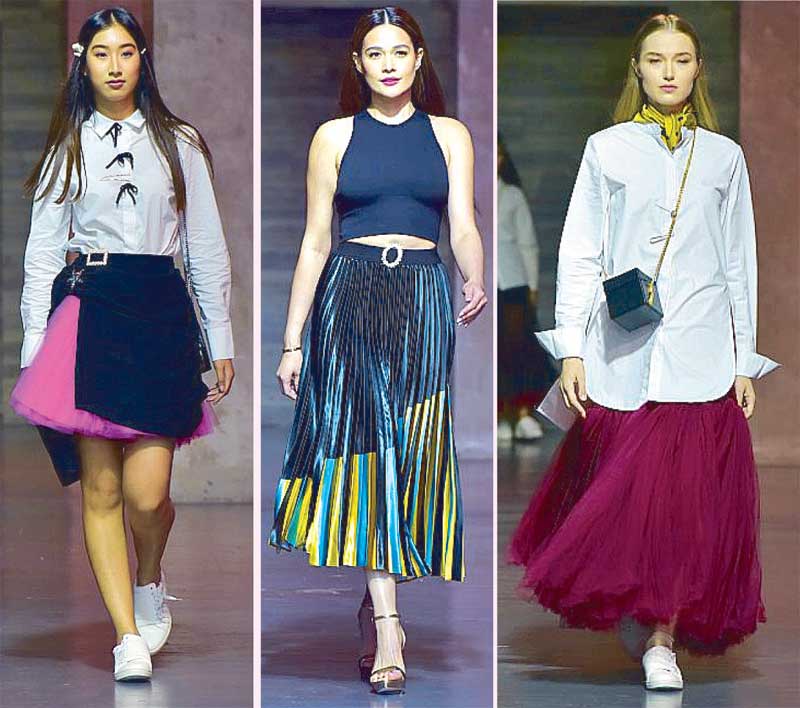 There was a playful sense of eclecticism for this season's Kashieca woman. The brand delivered their signature feminine frocks and smart separates, but this time, with a free-spirited approach to different prints and textures. Let's observe: split panel skirts with complementary polka dots, festival-ready florals and plaid-on-plaid for the schoolgirl motif they often revisit. There were tulle looks and geometric prints, too — culminating in a finale exit by the ultimate Kashieca girl herself, Bea Alonzo — flanked by veteran supermodels like Marina Benipayo and Tweetie de Leon. The actress was in winning form in sleek Kashieca top and a pleated lurex skirt. There's a lot to discover here for any fashion fan. — MY
EASY CHIC: JC Buendia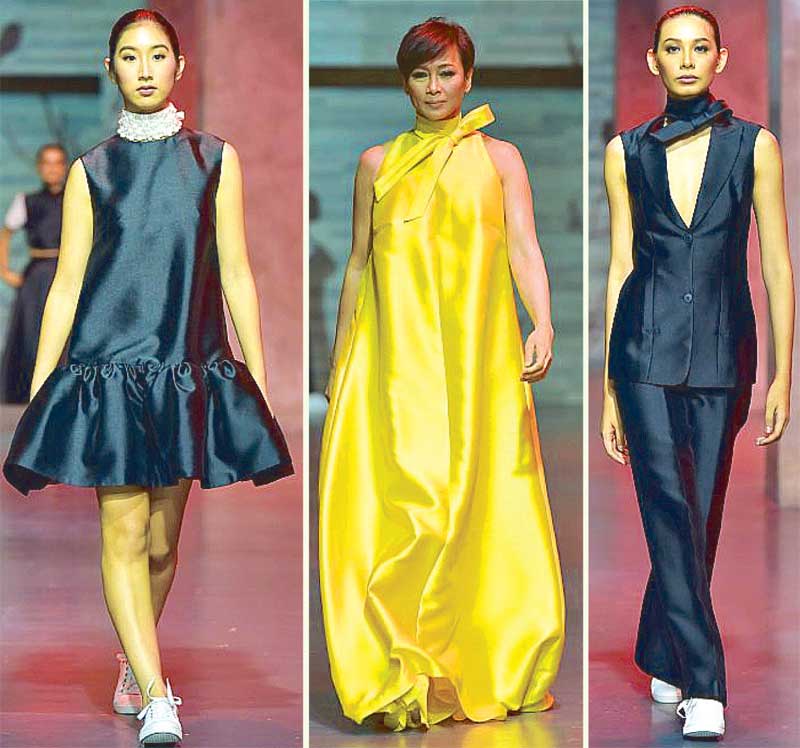 "My fashion career shares the same birth year as Bench and I found it fitting to inject the spirit of '87 in some of my pieces," shares the designer JC Buendia, referring to the unexpected '87 jersey patches sown into a cropped coat paired with a bowed tulle skirt and a tee worn with a sleeveless suit. It is also with the experience and perspective that only time can offer that JC presents a new kind of black tie for ladies — one that prioritizes comfort without all the sloppy connotations the word may have in a category like formalwear and with all the ladylike, tailored trappings you'd expect in a JC Buendia. This youthfulness reverberates throughout the collection with a pop of floor-length buttercup yellow, and flounces in strapless tops, sleeves and LBD mini hemlines. Another addition for comfort? "Pockets have become a must for evening gowns," he explains, referring to a floor-length gown. Rounding out the modernity of the collection are menswear details like detachable collars and tailoring not only in suiting but also in jumpsuits and dresses. — MT
CHEEK TO CHEEK: Bumgarner Studios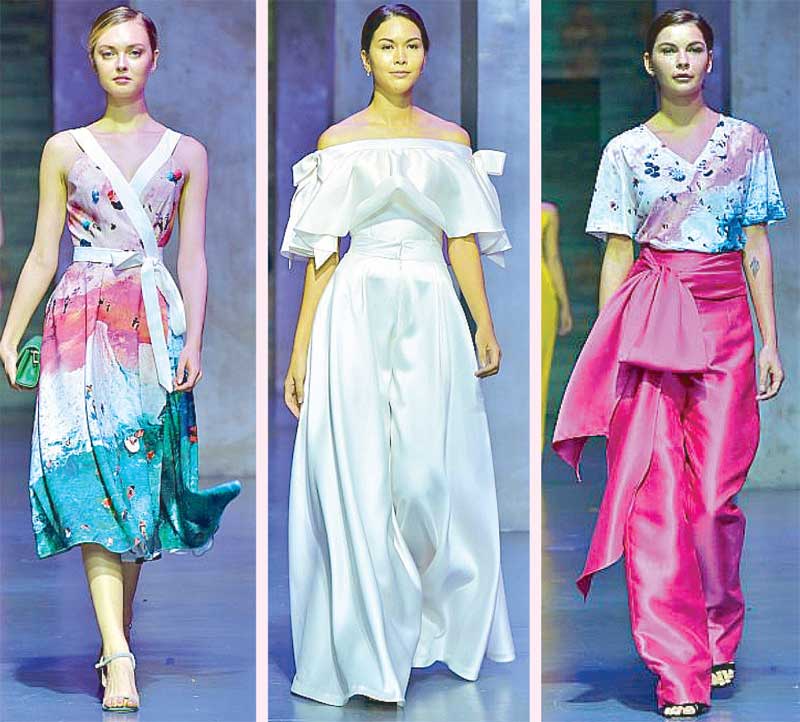 Mark Bumgarner's eponymous ready-to-wear label Bumgarner Studios made its runway debut for Bench Fashion Week. For spring/summer 2019, the designer applied his house codes of sumptuous prints, rich fabrics and superb attention to detailing for a decidedly feminine collection. There were plenty of bows (some outsized, some small and trailing along on a split sleeve). There were flounces in structured silks, ruffles in gazars — but our highlight belongs to the finale of abstract prints in a cool color palette; smartly cut as a cinched shirt paired with an elegant trouser or signature romantic Bumgarner as a corseted dress on Laura Lehmann. The designer completely filled the runway with his cheeky line of bags, shoes and jewelry — literally Bumgarner Studios from head to toe. — MY
TO THE STREETS: Human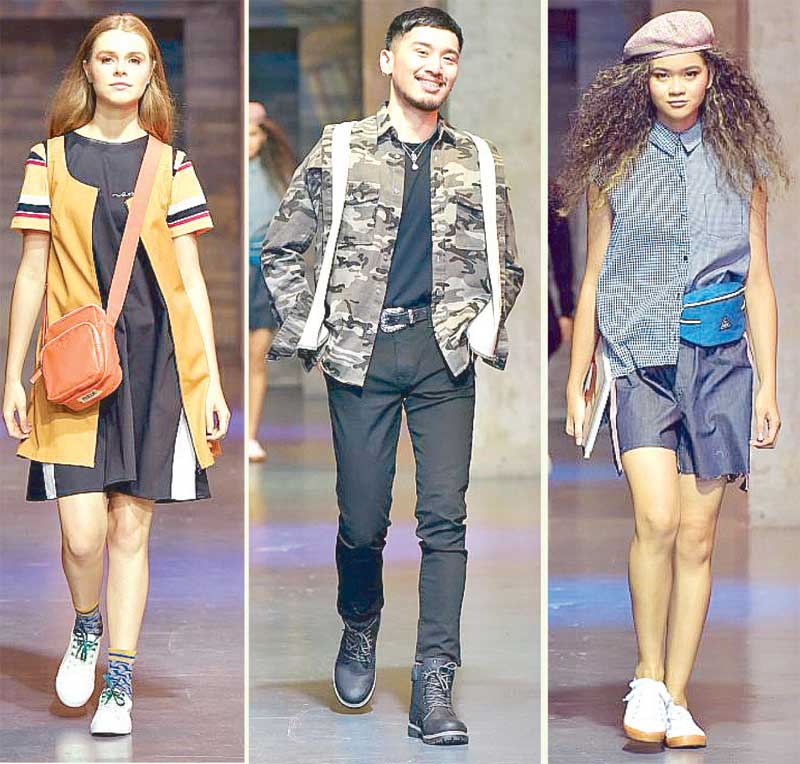 Level up your street style game in Human's spring/summer 2019 collection. Graphic tees, pullover sweaters, denim co-ords and lots of light layering will help you embody that youthful summer vibe. Mix and match pieces from the collection and accessorize with fanny packs over the shoulder to complete your entire look. Take notes from the latest and best from Human. — FG
DECONSTRUCTED FEMININITY: Bagasáo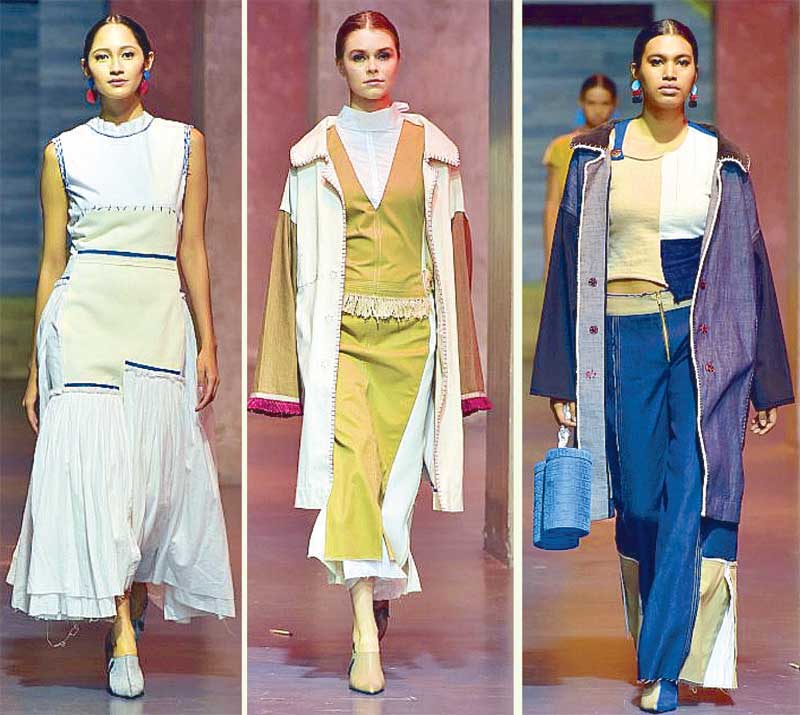 Seph Bagasao opens Bench Fashion Week with a collection entitled "BLUR." Inspired by the American artist Georgia O'Keefe, the lineup pays homage to femininity in all its form. The 12-piece collection showcased a play on contrast stitching as seen on the coats, raw hemlines on the patches of deconstructed denim, and the designer even accessorized with bags from his collaboration with The Fore. Earth tones and textured pieces ruled the runway; and it's clear that the collection left all of us wanting more. What else do you have up your sleeve, Seph? — FG
SHOW YOUR STRIPES: Bench Active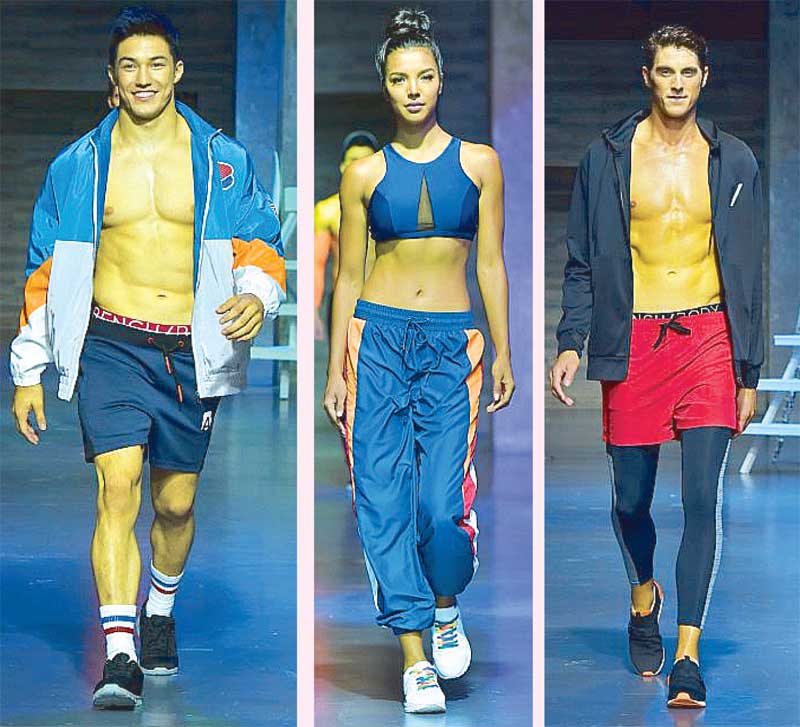 Gymnast and Olympic bronze medalist Arthur Nory closed the Bench Active show in a flurry of cartwheels and backflips, wearing shorts from the latest collection — a gravity-defying inspo to get moving. The latest collection makes a statement in graphic stripes and color blocks of vibrant primary tones, with '90s-style baggy joggers, cuffed hoodies, coordinating short tracksuits and bucket hats for both men and women. In matted activewear textiles, the pieces can be interpreted into streetwear as well as athleisure. — MT
UTILITARIAN CHIC: Renz Reyes?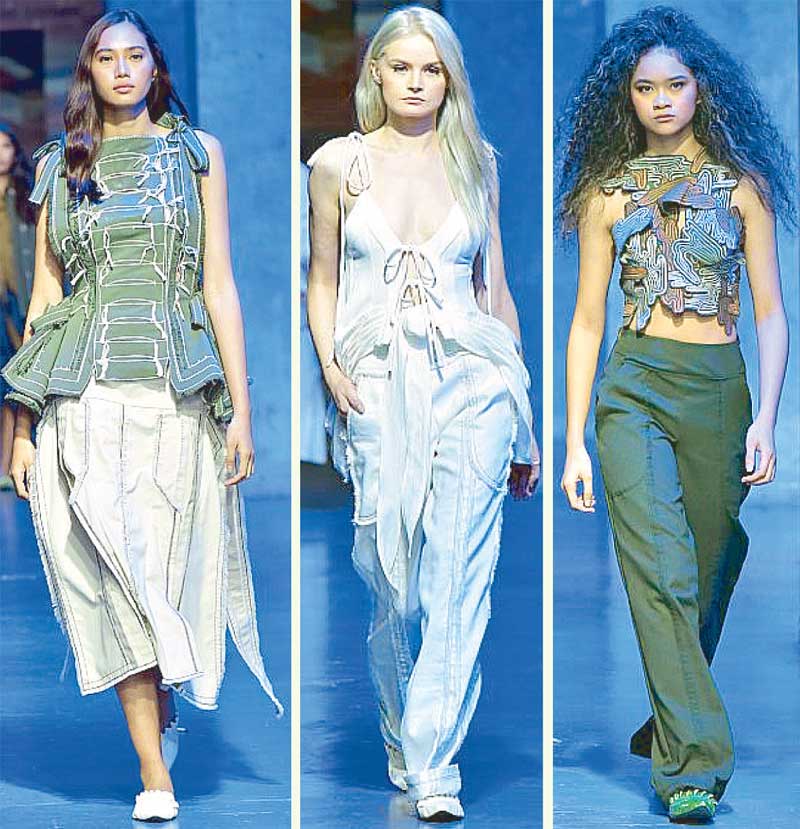 Designer Renz Reyes takes us to great heights with a collection that combines craft and fine art. The lineup draws inspiration from the Bauhaus movement, showcasing Old World techniques as seen in his use of different textiles and graphic iterations. Frayed edges and exposed denim pockets were also seen down the runway in a slew of rich, earthy tones. — FG
GO THE DISTANCE: Bench Swim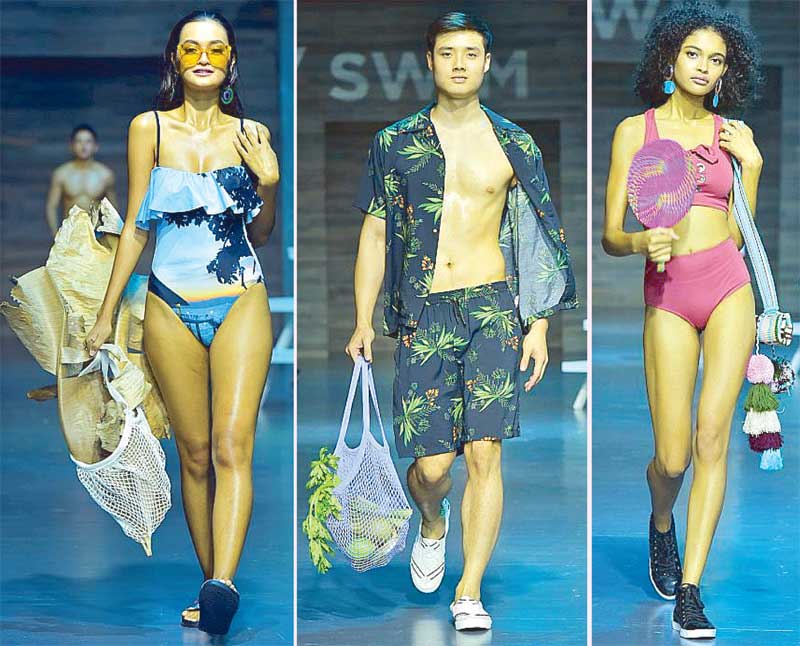 There are two kinds of beach-goers and there's something for both in the Bench Swim spring/summer range. Performance-wise, Bench Swim is two-time Olympic gold medalist Conor Dwyer-approved, demonstrated not only during the show but also at Bench's sports clinic. Bench Swim collaborated with top photographers Mark Nicdao and Jake Versoza to lend their perspective on our beautiful country by integrating scenic images onto the collection's athletic silhouettes — ideal for beach sports like snorkeling or surfing. Another line in the spring/summer collection is for frolicking under the sun, featuring muted tropical botanical prints with ruffled necklines for women and board shorts and camp shirts for men. — MT
TRADITION AND MODERNITY: Ched Studio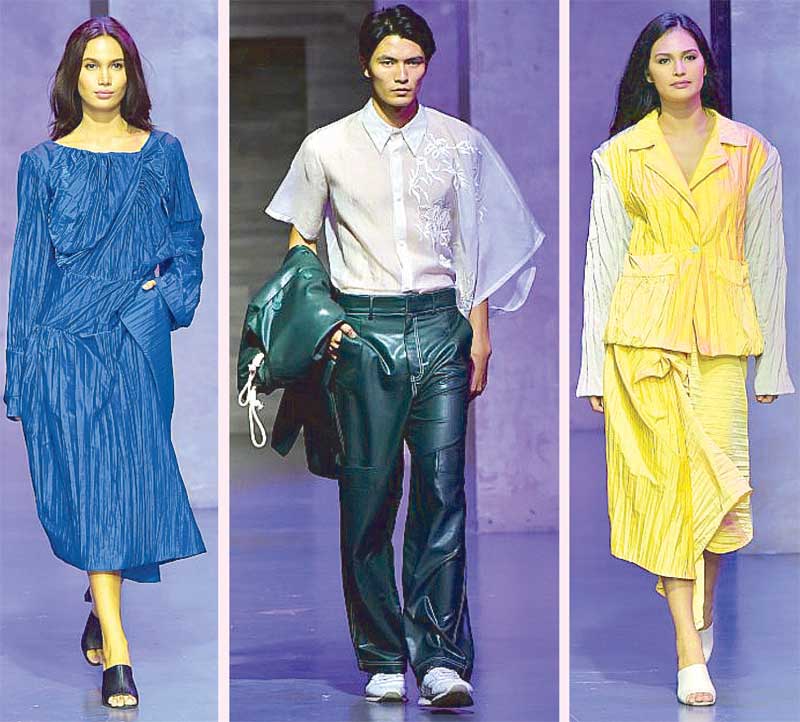 All eyes were on Ched Studio as he delivered a collection that married timeless silhouettes with modern design. Think asymmetrical barongs tailored in jusi fabric, buttery soft leather-like trousers and coats paired with micro-pleated skirts and draped dresses. The lineup came down the runway in punchy tones of canary yellow and electric blue. Talk about a show-stopping collection that's seen in unexpected shapes and styles. — FG
SUMMER HAZE: Cotton On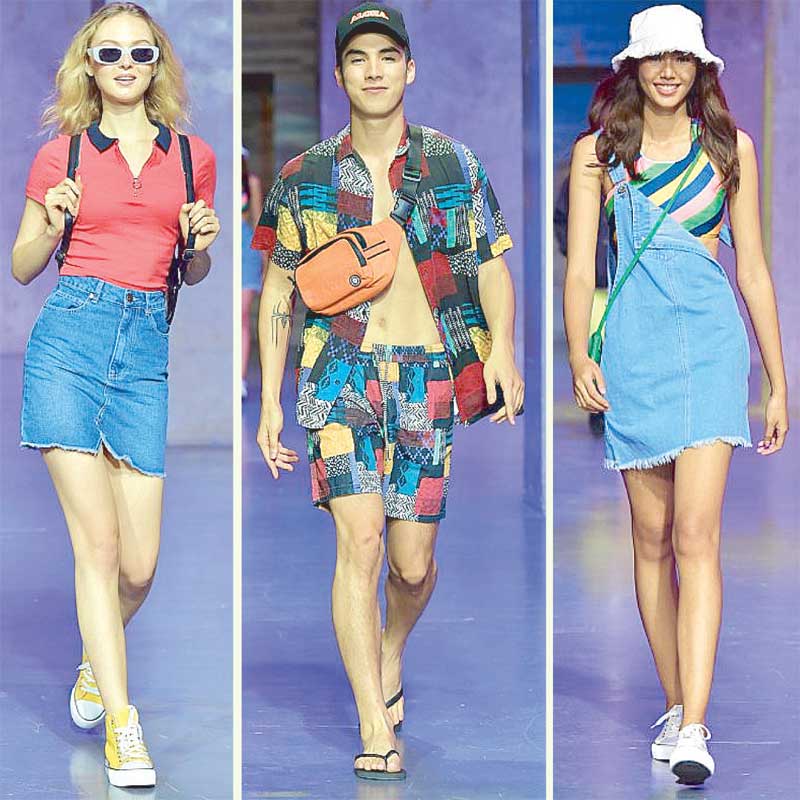 Equip yourself for your next getaway with the latest from Cotton On. Bright hues in retro tropical prints as seen on button-up shirts and jumpsuits will make it easy for you to stand out in the crowd. Looking to stay cool? The latest tube top and sleeveless shirt offerings will cool you down for the summer heatwave that's upon us. Keep it young, energetic and bold from the spring/summer collection. —FG