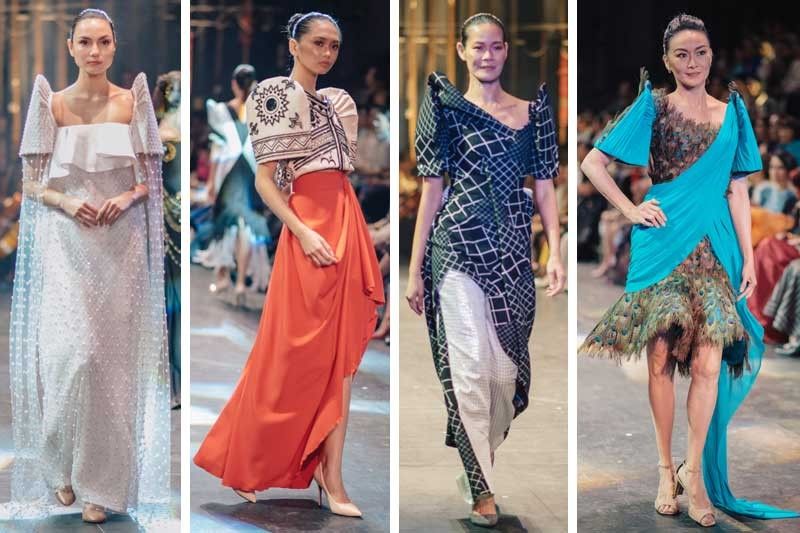 Meet The Ternocon 2018 Finalists
David Milan
(The Philippine Star) - November 23, 2018 - 12:00am
MANILA, Philippines — The story behind the winning ternos as told by the regional designers of Bench and the Cultural Center of the Philippines' recently culminated nationwide terno-making convention and contest with the guidance of artistic director Gino Gonzales, chief mentor Inno Sotto, Luzon mentor JC Buendia, Visayas mentor Cary Santiago, and Mindanao mentor Len Cabili.
Marlon C. Tuazon
My balintawak was inspired by Filipino women, using a floral print that symbolizes woman power and exudes class and elegance.
My formal terno was inspired by loving pearls since I was a kid, and my mother as well loved pearls. When I started working, I promised myself to give my mother more pearls and that's why I did a gown made of illusion tulle and made the pearl the accent of my creation.
Maria Nenita M. Morden
My long gown terno was inspired by the Boxer Codex (early Manila manuscript) pintados, a traditional Visayan tattoo/patok. The nude gazar top is all hand-beaded and hand-embroidered. It took me three weeks to finish the beadings and embroidery because at the same time I was taking care my two-year-old son.
Michael Joseph G. Bawar
For my long gown terno, I pictured my country muse draped in solihiya yet thought of making it more fluid; hence, I used organza as my main fabric. The fabric was cut into strips, sewn into 1/4-inch pieces and woven the same way as a solihiya and took months to finish.
Dan Ryan Duran
My balintawak design was referencing how Thailand westernized their traditional wear through the influence of Queen Sirikit having clothes made by Balmain. I imagined a similar story for the Philippines with a queen having clothes made by Vionnet. I did a one-cut dress with everything connected but the sleeves.
Santi Obcena
My balintawak was inspired by the mythical dragon that swallowed the moon, the Bakunawa, in Philippine folklore. We used hand-dyed vintage cotton lace to mimic the scales and appliqued it on a skin-tone mesh dress. We also used beads and rhinestones to simulate the way the dragon rose from the sea to devour the moon.
Irmalyn Codilla Raquedan
My long gown was inspired by the Baybayin text on the front part of my terno, directly translated as "proud to be Filipino." The emblem on the terno sleeves was taken from the work of one of our renowned Filipina tattoo artists, Whang-od, meaning "traveler." Both were woven using strips of cotton bias tapes. The terno upholds/symbolizes the pride of being a Filipino wherever she goes.
Brylie Hiponia
My balintawak was inspired by the character from the online game Mobile Legends. It inspires me that this generation plays with more mobile games.
Rochelle Claire Podico Baliong
My long gown was inspired by the old crochet collection with different patterns from different people, sewn together to make one masterpiece. The pieces are dyed with shades of pink to give it a fresh look. My purpose is to bring back the art of crochet as embellishments on gowns and to showcase the traditional ones made by our grandparents.
Christon Soto Bautista
My balintawak was inspired by the millennial woman and the modern Filipina. I used denim fabric and combined it with gintlo Bla'an malong fabric. It's modern with a touch of the culture of the Bla'an tribe.
Krizna Tan
My balintawak inspiration was Leron Leron Sinta in Yakan tribal prints. Playful colors in a balintawak romper for the millennials. Simply playful and energetic.
Geomarie V. Hernandez
My balintawak was inspired by rock formations found all over the Philippines. When you look at those rock formations, it imitates lines and shapes.
Jofel C. Cegayle
When I arrived in Manila last May 7, doon ko nakita ang inspirasyon ng balintawak ko. It's an exposition of black and white, of light and darkness, of hope and surrender, symbolizing the contradiction of the Filipino culture.
Felizardo Parreño
My canary-yellow organza balintawak was inspired by the flora found in Mindanao that I recreated as embellishments. This handmade orchid flower includes the most beautiful orchid waling-waling and dendrobium schuetze found in the mountainous regions of Mindanao, matching the cocoon skirt to complete the ensemble.
Kate Marie Villarin
My balintawak was inspired by bayong/woven basket and art deco ideas represented by the linear/geometric details (the triangles).
Dan Ryan Duran
For the long gown, it evolved as I was given a new set of fabrics. The new one is an ochre chiffon and black tulle. I tried to make the chiffon float around the body as though it was suspended with the tulle. Both of my garments are also constructed with a corselet base that aided in standing backless even without shoulder strap anchors.
Basil Malicsi
My balintawak was inspired by the SOGIE Bill that was recently passed in Congress. So I created a watercolor painting of a Sarimanok which I then turned into a digital print. The different bright colors, for me, symbolized the LGBTG's fight for identity and equality.
Carlo V. Pagunaling
My long gown was inspired by the character of Urbana, from the play Urbana at Felisa. Urbana is a girl from an urban area. She is strong and brave. It's an interpretation of what I'm looking forward to: a brighter future. The common factor of the two garments is the polka dot because I believe everything starts from a dot and it will end with a dot.
Vincent Eduria Calicdan
My balintawak was a Talaandig executive dress made of red peau de soie fabric that represents the strong and magnificent Talaandig culture, the most popular ethnic group in Bukidnon. I accentuated it with logbak, colorful beadwork that symbolizes the unique culture of the indigenous tribe of Mindanao. This dress was modernized but with the presence of the authentic balintawak sleeve and logbak, it is the terno of the Bukidnon tribe — their culture and their social values.
Marc Leo Aguilar
My balintawak was also inspired by the guava leaves that are very abundant in our locality. Aside from its captivating color, the tree produces a nutritious fruit eaten mostly by the locals. Its color may stand also as the color of nature.
Stef Tirado
My balintawak was inspired by the famous bodjong — a big-sized shell creature that produces a loud sound. Also the dragonfly as embellishment, which means change.
Nicanor Nava Alabanzas
My formal terno was inspired by Pilipina. A bandage dress and bamboo tree embroidery, which represents the modern Filipina, who is more resilient with grace and respect.
Jasmine Sison-Ibones
My long gown was inspired by petals of bromeliads in patadyong plaids, to showcase the rich culture of the Ilonggos.
John David Datoy
My long gown was inspired by the hand-embroidery designs of famous couture houses in other countries — a violet tulle terno gown with hand-embroidered Philippine iconography details all over it. I believe that it is the right time that we explore other details to put on our fashion dresses without setting aside the things that we can be proud of as Filipinos.
Steve Genzola
My balintawak was inspired by retro chic.