Dyson the hairbender
November 2, 2018 | 12:00am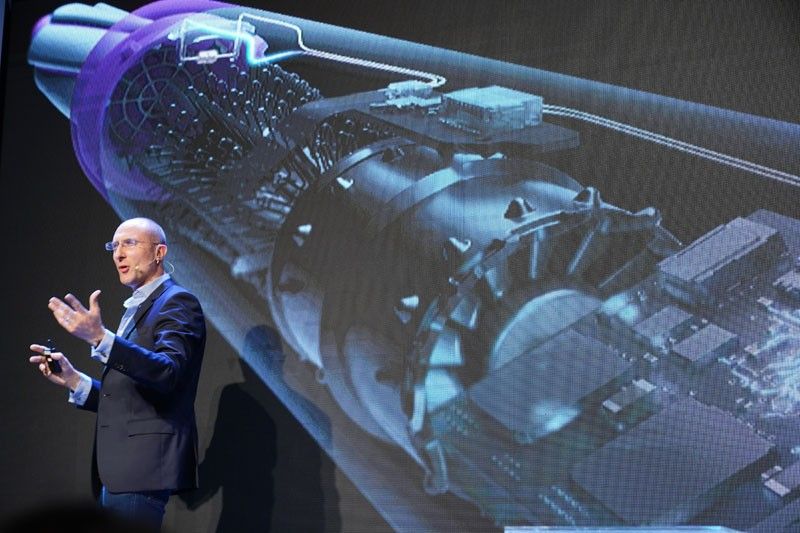 Dyson manipulates air once more with the Airwrap Styler
BANGKOK, Thailand — To call Dyson an appliance company would be an injustice, as it has proven with each new product rollout that it operates on an entirely different plane. For the record, it's a technology company — one that operates with a sense of wonder and creates seemingly magical objects that are instantly deemed de rigueur by just about everybody. The Dyson Airwrap Styler, for example, is a long-awaited solution to a problem so old, we thought it would never be solved — it is also a beautiful object that makes a tedious part of our day just a little bit more fun.
After the successful Dyson Supersonic Hair Dryer, Dyson launches the Airwrap, an all-in-one hair styler that can curl, wave, smooth and volumize hair. It is the company's second product release under the Personal Care category, but the idea of it actually came way before the Supersonic. What was the problem that Dyson wanted to solve? A problem that all women know so well: heat damage and unsatisfactory results from hair styling devices that do only one thing at a time. It took Dyson six years to perfect the Airwrap; midway, the company released the Supersonic, which was produced in three.
This is how the Airwrap's complete set is able to come with a Pre-styling Dryer that uses the Supersonic's technology, a Soft Smoothing Airbrush for a smooth, bouncy blowdry, a 40mm Airwrap Barrel to create loose curls or waves for thicker hair, a 30mm Airwrap Barrel to create voluminous or tighter curls for most hair types, a Firm Smoothing Airbrush that straightens and tames coarse hair, and a Round Volumizing Brush that creates volume and shape in thinner, straighter hair.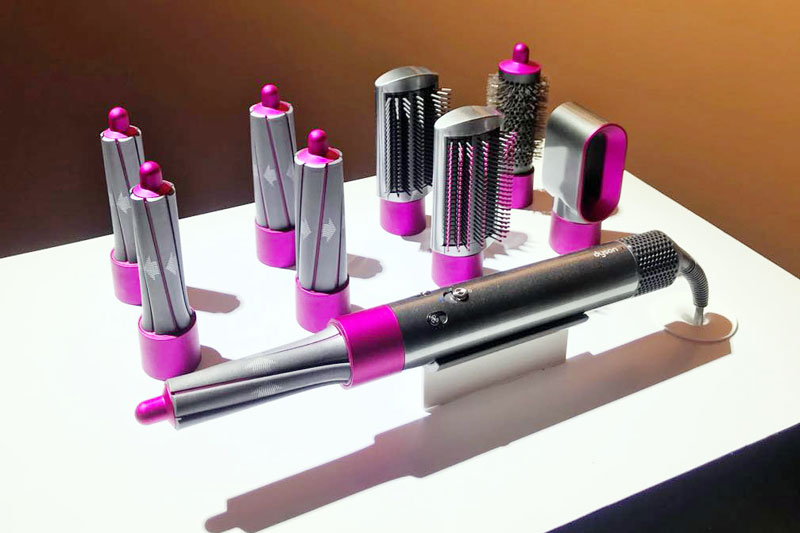 The Dyson Airwrap Styler Complete Set includes the pre-styling dryer, two 30mm barrels, two 40mm barrels, firm brush, soft brush and round brush, available at Dyson Demo Stores in Greenbelt 5, SM Aura Premier, The Podium and S Maison.
In action, the product looks enchanted. At the ASEAN launch at Park Hyatt Hotel in Bangkok, The STAR got to witness what most have only seen on Dyson's Instagram page — that Jetsons moment when hair just easily wraps around the Airwrap barrel (on its own!), as demonstrated by no less than Dyson's head of engineering, Adriano Niro. Within seconds, the hair is released from the barrel's gentle but determined grasp — and it's not only curled, it looks like the handiwork of a pro.
At the styling area of venue, I got to try it on myself. My stylist picked the Soft Smoothing Airbrush for my hair, which she says is "many but with thin strands." "The key is to use it on damp hair. Just hold a bunch of hair at the ends and brush through," she explained. In a single swipe of the Airbrush, my hair was smooth, tame, silky, shiny and bouncy. But more importantly, there was no smoke, the barrel was not scalding (I touched it), and it was over in five minutes. What is this sorcery?!
The Making Of The Dyson Airwrap
With a problem to solve, Dyson engineers used the Dyson's fast, high-pressure digital V9 motor to harness a phenomenon known as the Coanda effect, which occurs when a high-speed jet of air flows next to a surface, and, due to differences in pressure, the airflow attaches itself to the surface. Dyson's team of aerodynamicists used this principle to create a way to style hair using only air, combined with heat. The objective was to achieve great styles while preventing extreme heat damage.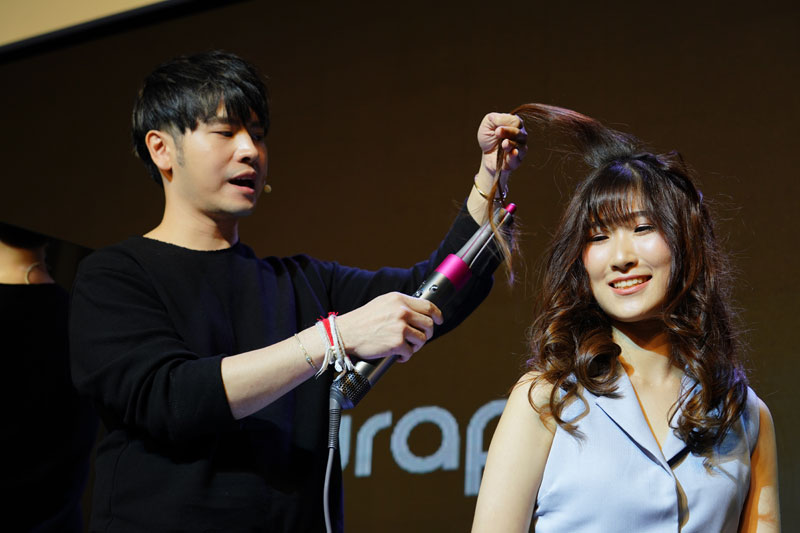 How it works: As the Dyson's V9 motor spins, an area of high pressure occurs at the top of the styling barrel. This pressure creates a high-velocity jet of air dispersed out of six slots around the barrel, generating the Coanda effect, which allows hair to curl automatically around the barrel to style.
What is extreme heat? At department stores, when people try to sell us straighteners or curlers, the selling point is always how high the heat goes. For years, it was always more heat equals effective styling device. It's odd how we're not at all alarmed by smoke, or burnt hair smells as long as it works. But, in an interview with Dyson's advanced insight engineer, Veronica Alanis, she reveals that, according to Dyson's lab tests, anything above 150 degrees disables hair's natural resilience or ability to go back to its original shape. "That's what we call extreme heat damage," says Alanis. "Temperature is something very hard to measure, but we still do it. This is why not a lot of products do it, because it's difficult. We have a thermistor, which is a thermometer, and it measures temperature at the outlet at 40 times per second. If, for whatever reason, the temperature reaches 150, it will tell the computer, 'I'm getting to 150. Regulate me.' And then the heater will regulate it. So the Airwrap will never go above 150 degrees."
Alanis has been working with Dyson since 2016 and co-leads the Verification Module for all Hair Care projects. Apart from being an engineer, she is also a woman with long hair. "I've been there. I've spent my whole teenage years just styling. Doesn't really matter if it hurts, or burns, as long as it looks great. We wanted to make sure that people could have an alternative to avoid extreme heat damage but still look great. Then you have by-products of that. You can definitely get a more natural style with it, and it may be faster to use, but the main problem is keeping hair healthy."
According to her, this is the product that had the most women working on it, just because there are more women in engineering now and therefore more women in the company. "But it definitely gives you a different perspective," she says. "All my colleagues, yes, they can work on the swivel and make it work right, but they don't understand how difficult it is to get the hair on the back part of the head flat. You have a straight front, but the back is always wavy!" She adds, "There are a lot of very bright people at Dyson and we all get excited about challenges and problems. So the way that we work normally, is we have teams working on several different things, but we always have that interaction between the teams to make sure that everything follows the same idea or goal, and that the result solves a real user need."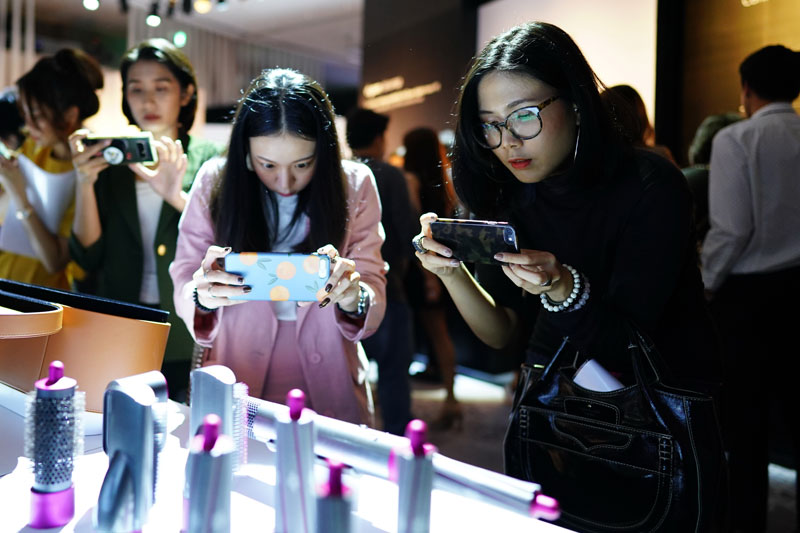 Journalists, bloggers and social media influencers try out Dyson's latest Personal Care product in Bangkok.
Alanis says understanding hair types was the biggest challenge of the project. "We have a research team, product innovation, product development, and then we have the technology center. In research, even before we had an idea of how it was going to work, we had to understand the problem. We did a lot of focused groups in different territories," she says. Of course, within the team, the women engineers had a lot to contribute. "Me, as a user, I really pushed for the brush. But there was a time when the brush was not good enough. And I was one of the people saying, 'Don't get rid of brush! It's so quick, and it makes my hair very, very smooth, and it only takes me eight minutes in the morning!'" She adds, "Maybe two years ago, we had a product that could have been launched, and it would have worked great on maybe two types of hair, but not all the types. And that's not Dyson. I remember, I almost cried saying, 'This product is ready to go out.' But the business side decided that it wasn't ready and we needed to make it better. So we did a lot of user trials, a lot of tests with different hair types, and we understood that no one attachment would fit everyone. So that's when we decided to create the volume and shape, and the smooth and control options for more diversity."
Dyson, The Beauty Brand
Above everything else, Dyson sees itself as a solver of problems, but, with every personal care product it launches, and considering the design of its products alone, more and more people are associating the company with beauty. "I think Supersonic was really humbling for the company, because we were entering into a new industry. We had no idea about the beauty industry. We are a technology company. A vacuum cleaner, it cleans the floor and you can see it's clean. And everyone likes a clean floor. But a hairdryer, it will dry your hair, but not everyone will like the same style, and not everyone has the same carpet. We all have different carpets and we all want different things. So it was really humbling to see that what we've created as an idea, as a side project, turn into a whole category. I think that's what gave the push to the business directors to say, 'Actually, yeah, we are doing something nice for people, so let's just keep doing that,'" Alanis shares.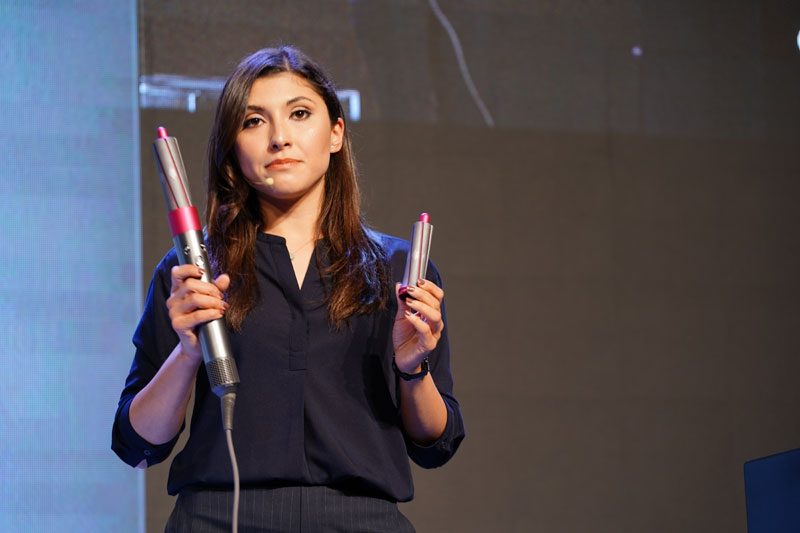 Dyson Advanced insight engineer Veronica Alanis demonstrates the Dyson Airwrap.
The fact is, Dyson is in the eye of the beholder. A vacuum cleaner user will see it as a vacuum cleaner company. A fan user will see it as the maker of the bladeless fan. The 27-year-old company is only getting started, and has been exploring various categories and markets for years now. Pretty soon, motorists will see Dyson as a car company, with its £2.5-billion, electric car project finally getting a 2021 launch date. But for beauty consumers, Dyson is a beauty brand that has delivered some of the best hair products we've ever seen.
What will Dyson come up with next? Definitely something that has to do with air manipulation. A train? An airplane? Maybe an Airwrap-like device that addresses air pollution? On a personal note, the Airwrap left me smitten. I never style my hair because it takes forever to dry, and with underwhelming results. It took the Airwarp five minutes to make my wavy hair smooth and shiny — no burns, no hot wind on the face, no tangling with the brush. The day following the launch in Bangkok, a friend who was based there messaged me: "I'm at the Dyson in Siam Paragon store. The line is so long!" It was 9 a.m. We know a good buy when we see one, and at P29,500 for a complete set, most of the guests found themselves saying, "Not bad!" It's a Dyson, after all.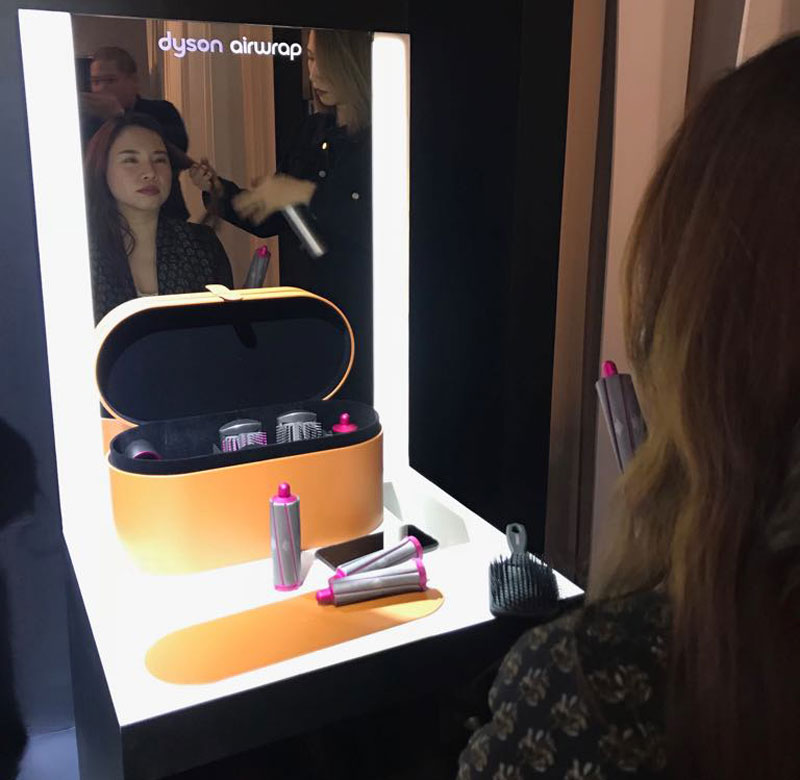 The author gets her hair styled using the Dyson Airwrap Styler's Soft Brush, for bouncy, shiny hair.
* * *
The Dyson Airwrap Styler In Numbers
6 years spent in development
£24 million investment in research and development
642 prototypes
230 engineers and scientists
1-click attachments and cool-touch tips
8 attachments for the Dyson Airwrap Complete Set
6 attachments for the Dyson Airwrap Smooth + Control
5 attachments for the Dyson Volume + Shape
2-year guarantee on parts and labor
* * *
The Dyson Airwrap is available at Dyson Demo Stores in Greenbelt 5, SM Aura Premier, and The Podium. For information, follow @Dyson and hashtags #dysonairwrap and #dysonhair on Instagram.