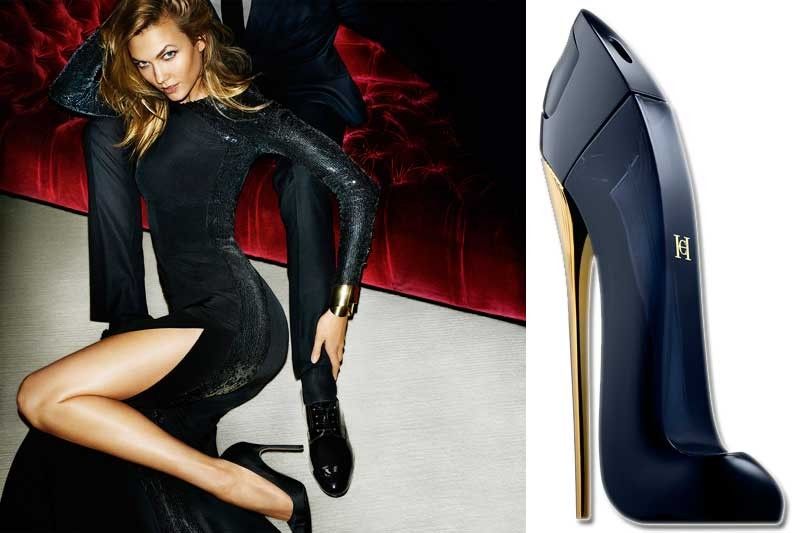 Good girl in a bottle: Karlie Kloss is the face of Good Girl by Carolina Herrera. The navy-hued pump with a gold, striated heel packaging (right) emits an ultra-fine mist of the floral oriental fragrance thanks to an internal pressure system that took four years and 600 tests to perfect.
MANILA, Philippines — Well-behaved girls seldom make history," paraphrases Karlie Kloss, the face of Carolina Herrera's fragrance Good Girl, the modern day supermodel-slash-coder who glides sinuously down cobblestone streets like it ain't a thing into the incandescent New York City night for the 2016 perfume's campaign. She wears a little black dress — but it's sequined all over, highlighting her 6'2" frame. It's a classic LBD but not quite, with a low back and thigh-high slit. She wears black pumps, a ladylike, sophisticated wardrobe standby, but this one's pointy toed and stiletto heeled — it's sexy.
Much like the eau de parfum packed in a bottled shaped like a teetering stiletto — a rich, navy-hued pump with a gold, striated heel. In a market saturated with straightforward, minimalist packaging concepts, it's an unexpected dose of glamour for your dresser table and a conversation piece whenever you whip it out of your clutch for retouch. It's a new classic, a bottle out for iconic status to rank with Guerlain's Shalimar. Also unique to the fragrance is the ultra-fine mist you get with every spritz, like floral-oriental air. It took four years and 600 tests to nail this internal pressure system that allows the scent to diffuse perfectly when pressed.
The fragrance itself is a contrasting infusion of floral white Sambac jasmine and tuberose with the deep gourmand notes of roasted tonka bean and cocoa. Together, they represent the duality of a woman's character. Jasmine is a House of Herrera fragrance signature. The very first Herrera perfume of almost 30 years ago was jasmine- and tuberose-based. The designer Carolina Herrera was known to mix her own oil blend for her personal use.
"My mother has always said that mystery is one of the most important qualities a woman can have. There is nothing more boring than an open book," says Carolina Herrera Baez, the creative director of Carolina Herrera Fragrances and Herrera's daughter, who headed the scent's concept and design of the bottle. "She loves the idea of mystery and naughtiness — but goodness — in a woman. This is where this all came from. We can be both good and naughty; it's the yin and yang."
The nose of the fragrance is Louise Turner, a first-time collaborator for Carolina Herrera fragrances. Turner's portfolio includes the cult favorite Lazy Sunday Morning by Maison Martin Margiela, a floral woodsy musk for its Replica line; Fahrenheit 32 by Jean Paul Gaultier-era Christian Dior, which was one of the first florals created and targeted specifically for men when it came out in 2007; and celebrity fragrance Glow by Jennifer Lopez. Turner has a proclivity for multi-dimensional florals. In Good Girl, she uses flowers as the first whiff of freshness that develops into the gourmand notes, keeping its sweetness from being cloying.